Capistrano Unified School District gives initial approval to reopen schools, with online options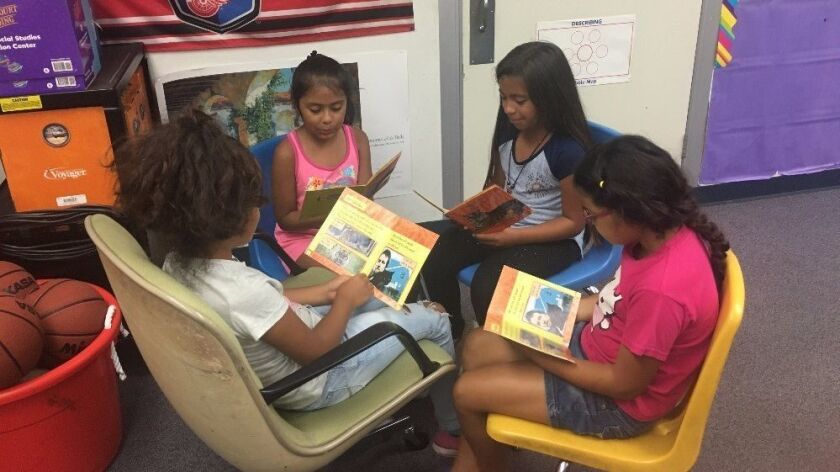 The Capistrano Unified School District board of trustees, representing the largest school district in Orange County, approved a reopening plan on Wednesday night that gives students the flexibility to learn 100% online, 100% on campus or to evenly split their time learning virtually and in-person.
Parents have until July 31 to submit their preference to the district.
The board voted 5-2, with members Krista Castellanos and Amy Hanacek dissenting, after an hours-long discussion that went past midnight.
While board President Jim Reardon praised the plan as "monumental and amazingly executed," Hanacek felt the board should have fully committed to a 100% online curriculum for at least the fall semester.
"We are kicking the can down the road," Hanacek said. "It's not going to get better. The nature of this virus, we can try different options, different social gatherings, but at the end of the day, somebody is going to have to carry the responsibility for a death or a sickness when we are asking for in-person versus virtual learning.
"I feel like to serve students, we make a decision now ... We do virtual learning … we keep as many students, adults and community members safe as possible."
The board will meet again on Aug. 5, and decide whether in-class schooling is feasible based on the new infection rates and other health conditions in the county. School is set to resume on Aug. 18.
Orange County is currently seeing record spikes in COVID-19 infection rates and hospitalizations.
Reardon said the board can finalize whether it will hold in-person classes at the next meeting. But, he's in favor of approving the plan now because of the flexibility it provides the district.
"The question is, do we approve of the plan, and are we going to be responsive to the condition in early August so we can make a final determination about whether the in-classroom offering is realistic," Reardon said. "If we don't approve this plan, we have no plan.
"I think we need to look at this plan as the framework for what we will be doing to maneuver the community conditions that we cannot yet foresee. Those conditions are not just between now and when school starts. They will continue to evolve throughout the year and beyond that perhaps."
According to the plan, K-5 students have the choice to be on campus 100% of the time, learn 100% online, or evenly split time between the two options. Secondary grade students have the option to evenly split time between online and in-person learning or do 100% virtual learning.
In order to transfer teachers to help with other extended learning opportunities, the board also voted to reduce elective requirements and to not include health as a requirement for one year for the 2021 and 2024 senior classes.
For the proposed in-person learning plan, face masks will be required for students. The schools will have extra face masks on site for every student in case a child forgets it at home. Social distancing will also be observed and students will eat their meals in designated areas.
Students will have their temperatures taken before school at bus stops or on campus, and additional hand-washing stations will be added.
Registration data taken by the district so far shows that 64% of parents support 100% on-campus learning for elementary schools, while 21% of families support the 50% on-campus choice and 15% prefer the 100% online scenario.
The data also shows that 85% of parents of secondary school students choose the 50% on-campus scenario and 15% of parents chose the 100% online program.
About 50 residents signed up to speak at the meeting, though many were not on the phone when their time came to speak.
"To say we can resume ... is a scary thought," said Rachel Sadler, who teaches special education at Castille Elementary School. "We work in closer proximity than any general education classroom. In special ed, there is no social distancing."
The Capistrano board vote came on the heels of the Orange County Board of Education's controversial decision to send students back to campus without requiring masks or social distancing. The board's vote was merely a recommendation and has been met with staunch opposition from many school districts.
"Local school districts are not bound to any recommendations that were approved by the county Board of Education," Capistrano Superintendent Kirsten Vital said at the meeting, clarifying confusion among residents. "The county Board of Education has no direct oversight authority of this board's decisions on reopening."
School districts around the county are in the process of deciding how they want to reopen in fall.
The Irvine Board of Education recently chose to allow elementary students the option of in-person schooling, distance learning or a combination of the two, similar to the Capistrano board's decision. Middle and high school students can do 100% online or a combination of in-person and virtual learning.
The Newport-Mesa Unified School District this week decided on a plan for reopening schools, which includes an option for K-12 students to be placed in a virtual school, among other parts of the reopening plan.
---
All the latest on Orange County from Orange County.
Get our free TimesOC newsletter.
You may occasionally receive promotional content from the Daily Pilot.