'I could not imagine a more infected group of officers': Details emerge in case where deputy beat Black man
An O.C. sheriff's deputy was caught on video repeatedly punching Mohamed Sayem, a Black man, in 2018.
Orange County sheriff's deputies involved in the "vicious" beating of a Black man have faced investigations for prior misconduct, including Tasering a suspect in the back of a patrol vehicle and filing dozens of false police reports, according to court documents recently filed by the public defender's office.
The beating of Mohamed Sayem made national headlines after dashcam footage of the incident surfaced in 2018. Sayem was allegedly intoxicated and sleeping in his car in a parking lot in Stanton when a group of deputies confronted him in mid-August of that year.
"The victim was beaten to the ground and then terrorized," according to the court documents. "While lying face-first on the pavement, the victim looked up at the assailant and his accomplice — both well-armed — and asked whether they were going to shoot him. The second assailant said he would 'like to.' When the victim asked whether he meant this, both remained cruelly silent."
The district attorney's office charged Sayem with a felony of resisting an officer through force or violence.
When reached for comment this week, sheriff's spokeswoman Carrie Braun responded with former Sheriff Sandra Hutchens' statement at the time.
"The deputy used force appropriate for the situation to gain control of an uncooperative, assaultive and intoxicated person," Hutchens said. "Any assertion otherwise substantially misrepresents the facts, and serves only to swell an anti-law enforcement narrative."
The public defenders' account laid out in the recently-filed documents dispute Hutchens' claims.
"I could not imagine a more infected group of officers at the scene," said Assistant Public Defender Scott Sanders,
who in 2016 discovered that the district attorney's office and sheriff's department were illegally using jailhouse informants to obtain confessions.
According to the court documents and the widely-viewed video, Deputy Michael Devitt "yanked" Sayem from the car and punched him repeatedly in the face, yet Devitt changed his account in teletype entries made on scene and in his final report, claiming that Sayem stepped out of the car and tried to grab his safety vest.
Devitt is currently under investigation unrelated to this case. The public defender's office received the documents on the details of that investigation in court on Friday, though they were placed under a protective order despite Sanders' objection.
While he was on the ground, Sayem asked the deputies whether they were going to shoot him and Deputy Eric Ota said he would "like to." Ota omitted this from his report, the documents say. Ota never faced an investigation for his alleged comment.
Then, as Sayem sat bloodied in the backseat of Devitt's patrol car, Deputy Blake Blaney "mused nostalgically" of another fight he had been in.
"I got in another good one last week," he told his fellow deputies after laughing, the court documents say.
Blaney was the first sworn member of the Sheriff's Department to illegally access inmate calls to their attorneys in 2015. He didn't report this or face any punishment for the misconduct.
Meanwhile, Sgt. Christopher Hibbs, a supervising officer on scene, was attempting to make sure his audio recorder was on.
"It says on," Hibbs said, according to the documents. "On is on, right?"
One of the deputies was heard on the recording saying, "You're recording this now?" Another said, "You've been recording this the whole…" But before the deputy could finish his sentence, Deputy Brant Lewis walked over and turned Hibbs' recorder off, the documents say.
That left about an 11-minute gap in the audio recording of the incident. Without the audio being recorded, Devitt "changed his version" with his teletype, the documents say.
Sanders said Hibbs' dashcam footage was the only one the department said existed.
At the time, Lewis was being internally and criminally investigated for writing false reports and failing to book evidence on time, the documents say. Lewis was a key subject in the highly publicized evidence mishandling scandal.
"...and just three months earlier [Lewis] was interviewed by an investigator and sergeant with his attorney present about actions that should have led to felony prosecution," the documents say.
"Brant Lewis, inexplicably is out in the field even though he is one of the 17 key subjects in the evidence booking scandal," Sanders said. "He's out in the field, it makes absolutely no sense. He walks up to his supervisor, unaffected by the criminal investigation he is in… He still felt comfortable walking up to his supervisor and turning off his microphone."
According to the documents, Lewis filed 47 false police reports and was late to book evidence on several occasions, including one instance where he was 227 days late, and another after 158 days after a suspect had already pled guilty. Lewis also claimed on nine separate instances that he seized evidence that was never booked.
Lewis was never charged for his actions and still works in Stanton.
Hibbs, who was tasked with writing the use of force report, was prosecuted a decade prior for allegedly Tasering a suspect who was already detained in the back of a patrol car, the document says. Hibbs wasn't convicted and was eventually promoted to sergeant. That incident also occurred in Stanton.
The document says that the Sheriff's Department and county counsel attempted to hide the existence of the report, "because they knew disclosure would reveal that the OCSD has unlawfully and systematically hidden this type of report from courts…" Hibbs allegedly left out of the report that Devitt had changed his version of events, the documents say.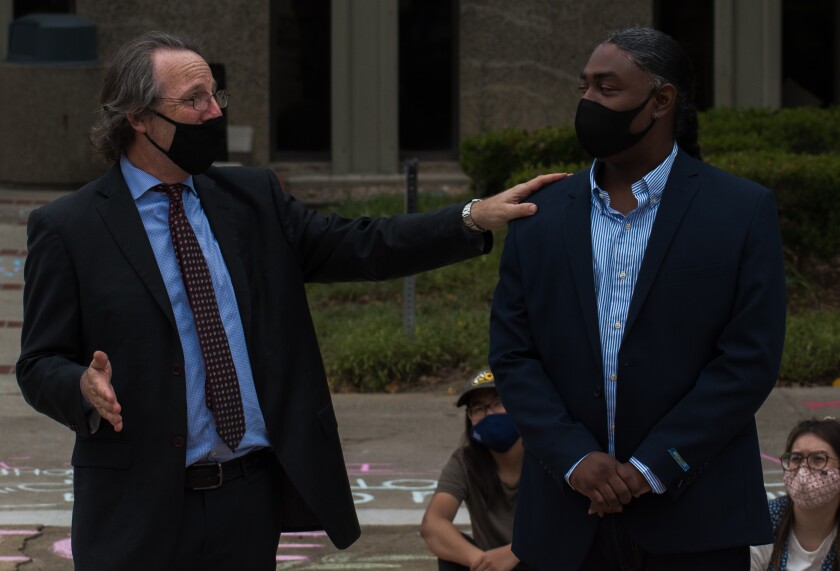 Through seeking the use of force report, the public defender's office discovered that the Sheriff's Department has hidden use of force reports for years.
"This is not debatable — in court, county counsel denied the report existed, but later came back and admitted its existence," Sanders said. "This would lead to a study by us and our analysis in the current motions that approximately 98% of use of force investigations are improperly hidden from the Pitchess/peace officer discovery process."
The public defender's office estimates that over a five-year span, 3,667 of the 3,742 use of force reports, or 98%, were unlawfully hidden from courts and defendants, court documents say. These reports may have included cases where suspects sustained a broken nose, an orbital fracture and a fractured arm.
Sanders said he doesn't understand why the district attorney's office is still pursuing the case.
"After all this the question is why are we still in this litigation…" Sanders said. "You file these felony charges on [Sayem] which are so impacting on his life...it's just insane. You are going to stick with it no matter what. You just don't want to give in...They should absolutely walk away from this litigation right now, just to be smart."
D.A. spokeswoman Kimberly Edds said Tuesday the office will not comment on the Sayem case because it's pending litigation.
Sayem's case is again starting to gain public attention in the wake of the killing of George Floyd and the rise of the Black Lives Matter movement.
OC Protests and Black OC, local Black-run activist groups, held a rally outside the courthouse on Friday to draw attention to the case and show solidarity with Sayem.
"Today we began this process by calling upon OC District Attorney Todd Spitzer to do the right thing in the case of Mohamed Sayem," Black OC said in an Instagram post. "Moving forward from here, we will raise awareness about Mohamed's case and all involved parties, amplify our communities presence and participation throughout every step of the trial process, and we will not fail to remember OC District Attorney Todd Spitzer's action in this moment: whether it's because he recognized the legitimate plea of our community and did the right thing in the case of our brother Mohamed Sayem, or whether it's because he turned a deaf ear and blind eye to POC in OC in the matter of Mohamed Sayem."
Zoe-Raven Wianecki, who runs OC Protests, said they are planning on holding a protest at Sayem's next hearing on Sept. 2.
---
All the latest on Orange County from Orange County.
Get our free TimesOC newsletter, coming in August.
You may occasionally receive promotional content from the Daily Pilot.