HIV drive-through testing program launches in Santa Ana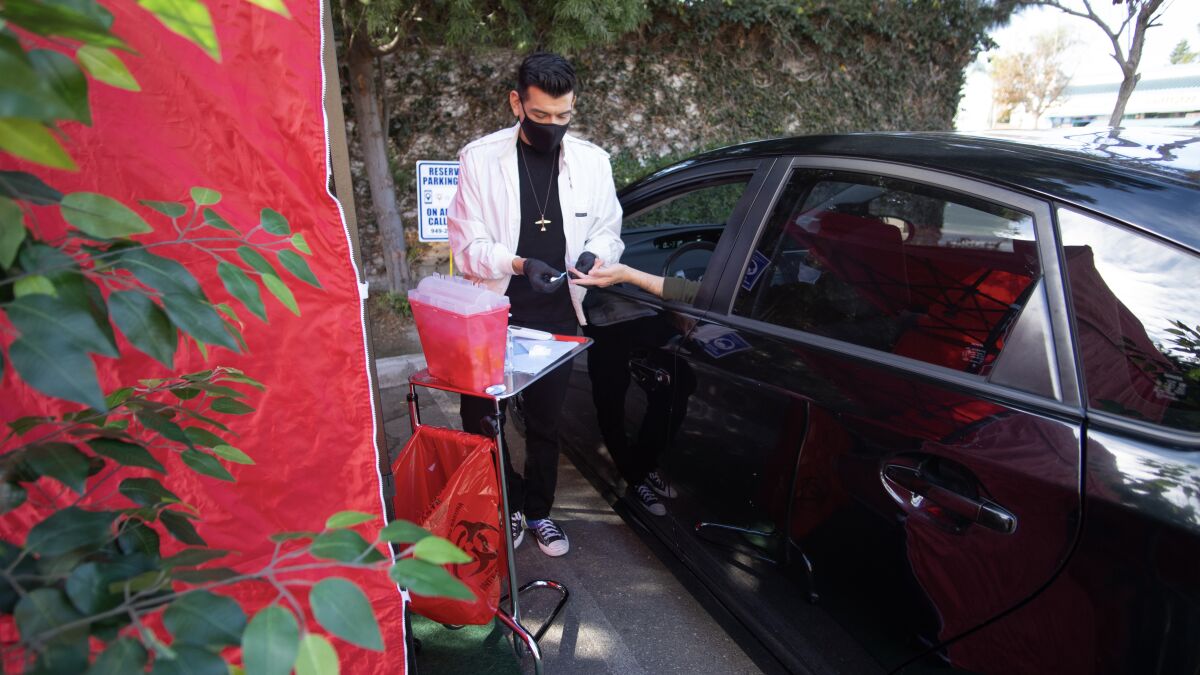 Radiant Health Centers launched a pilot drive-through HIV testing program in September. Since the service was successful, it became one of three ways the center conducts testing, and it plans on extending the drive-through hours soon.
"Across the nation, it appears that HIV-positive rates are falling, but we honestly believe it's because people are not accessing testing services at the same rate that they were previously," Philip Yaeger, Radiant Health CEO and executive director, said.
Orange County Health Care Agency reported that at the end of 2019 there were 6,449 people living with HIV in the county who were aware of their status. Santa Ana and Laguna Beach had the highest HIV-positive rates. The agency estimated about 904 people are unaware of their HIV status.
Radiant Health, a nonprofit offering specialized medical care and social services to the LGBTQ community in Orange County, is continuing with in-person testing through its Irvine facility by appointment only, at-home test kits and drive-through testing services.
As colleagues fall victim to the COVID-19, hospital employees say new patients and healthcare workers exposed to the virus should be tested in house. Meanwhile, O.C. rates continue to climb.
Manny Muro, prevention navigator, said the center has already diagnosed a few HIV-positive clients through the at-home test kits and drive-through service.
The at-home test kits are mailed out to people with a return service. But the center started receiving concerns about privacy as roommates or family members could see the center's package when it arrived. Then, the drive-through service was launched catering to those who are uncomfortable coming into the clinic and receiving a mail test kit.
Clients can call to schedule a drive-up appointment at the nonprofit's Santa Ana location. Over the phone, testing staff conducts a quick sexual health survey and answers any client questions. Medical forms that require an electronic signature are sent out through email to minimize physical interaction.
When clients arrive at Radiant Health's drive-through location, staff administer a finger-prick blood test while the client remains in their car. Results are available in about one minute, and treatment or prescriptions are also available that same day if necessary. The service also includes PrEP (pre-exposure prophylaxis) and PEP (post-exposure prophylaxis) counseling.
Other STI testing can be set up as in-person appointments at the Irvine clinic.
"Orange County has made great strides towards the end of the HIV epidemic but COVID-19 has really made health-related inequities more apparent," Muro said. "We needed to think outside of the box in developing innovative ways to ensure our community has access to health services."
Although Radiant Health initially started in 1985 with the focus on helping people die with dignity during the height of the AIDS epidemic, it has undergone multiple transformations as new effective medications were developed from protease inhibitors to PrEP and PEP.
The nonprofit rebranded from AIDS Services Foundation Orange County to Radiant Health and in 2019 expanded its medical care to address health service inequities in the LGBTQ community.
Yaeger said use of the nonprofit's food pantry, housing and mental health services have skyrocketed during the coronavirus pandemic. It ran a mental health campaign with the goal of raising $50,000 and reached $48,000. The center was able to hire a part-time counselor, who is now seeing clients who have been on a waitlist.
Though the center's ultimate goal is to no longer need to offer HIV services, for the time being Radiant Health has been able to meet the rising needs of clients through private funders, grants and coronavirus relief funds.
"We're doing what we have to do and, thankfully, the community has been there to support us as well," Yaeger said.
If you go
What: Radiant Health Centers HIV drive-through
Where: RADAR office, 2708 Westminster Avenue, Ste 110 in Santa Ana
When: by appointment on Mondays between noon and 4 p.m. (Testing hours will expand soon)
Cost: Free
Info: radianthealthcenters.org or (949) 809-8764
All the latest on Orange County from Orange County.
Get our free TimesOC newsletter.
You may occasionally receive promotional content from the Daily Pilot.