Attorney wins bid to use deputy's criminal case in separate lawsuit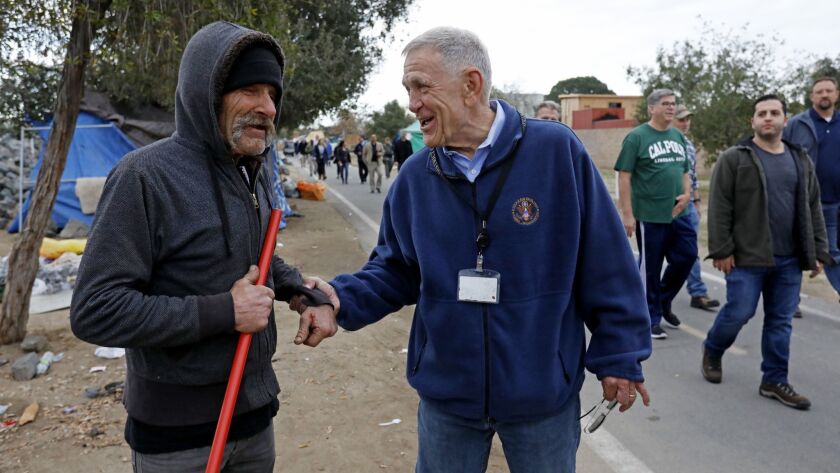 When prosecutors announced perjury and report falsification charges against an Orange County sheriff's deputy in February, a lawyer for a homeless veteran in a separate civil rights lawsuit took particular interest.
Not only was the deputy, Chad Renegar, the same deputy who confronted Narine Mkrtchyan's client, Jeremy Holloway, at O'Neill Regional Park in January 2018, Mkrtchyan told TimesOC last month that the criminal charges lodged against him were similar to what she believed happened to Holloway.
Now, under a new order from a federal judge, Mkrtchyan is allowed full access to the Orange County district attorney's office criminal file against Renegar. And not only can she review everything, she can try to incorporate it into her own case against Renegar and the county.
"Now I can actually freely discuss it in a public forum," Mkrtchyan said in an interview.
Legally, it's not a particularly remarkable federal court order: U.S. District Judge David O. Carter simply removed a protective order that was put in place when the criminal investigation into Renegar hadn't yet resulted in charges.
But it also comes amid similar legal battles in Orange County Superior Court over sheriff's records related to the mishandling of evidence by deputies, some of whom have been charged criminally. And it gives Mkrtchyan more chances to challenge Renegar's credibility if the case goes to trial as it's scheduled to next month.
"This is very relevant, and I'm happy that the judge recognized that," Mkrtchyan said.
Mkrtchyan believes Renegar falsified reports about his encounter with Holloway, which stemmed from a domestic violence investigation and ended with Holloway being repeatedly shocked with a Taser.
U.S. District Judge Cormac Carney is among a minority who believe trials in the Central District of California should continue despite the pandemic and is dismissing cases as a result.
A Marine veteran who served in Iraq, Holloway still experiences vision loss, headaches, a backache and emotional distress from the encounter with Renegar, according to the lawsuit, which names as defendants six other sheriff's deputies in addition to Renegar.
The district attorney's office announced the criminal case against Renegar in a Feb. 9, 2021, news release that said he'd forged a victim's signature in 2019 while falsifying a report about a stolen license plate. According to prosecutors, a sergeant rejected the original report because it said the plate had been stolen in Santa Monica, so Renegar wrote a new report that said it had been stolen in Rancho Santa Margarita. He's to be arraigned on the two felony charges April 23.
Meanwhile, lawyers defending Renegar and the county against Mkrtchyan and Holloway's lawsuit opposed their request to lift the protective order on Holloway's criminal file. That put the county in the unusual position of advocating for Renegar's criminal conviction through the district attorney's office while simultaneously arguing his conduct was irrelevant to the civil suit against him.
The lawyers fighting Mkrtchyan's bid for Renegar's criminal file also questioned Mkrtchyan's and Holloway's motives.
"It appears Plaintiff's true reason for wanting to lift the protective order on these documents is for the purposes of trying this case in the court of public media by making the documents public," according to a court filing from Tamara M. Heathcote, an attorney with the Santa Ana-based firm Lynberg & Watkins. The firm frequently represents the county of Orange in lawsuits.
The judge disagreed with Heathcote's assertion, saying Holloway has "provided valid reasons for his request."
"The Court cannot deny this request by simply assuming that the Plaintiff may have some malicious intent in making such a request," Carter wrote.
Heathcote's opposition to Mkrtchyan's request offered a different view of Holloway's encounter with Renegar. According to her, Holloway "unconvincingly denied" allegations from campers' that he'd assaulted a woman, but because the woman had fled, he wasn't arrested.
"Holloway thereafter pressed his luck by threatening the campground witnesses against him as soon as officers departed the scene," according to the document. "When deputies returned in response to frightened campers' latest "911" calls, Holloway was subdued and arrested. After warrants subsequently issued for Holloway's arrest, he responded by: (1) filing this pestiferous litigation, and (2) by fleeing California for the East Coast."
Trial is scheduled to begin May 25.
Meghann M. Cuniff is a contributor to TimesOC.
---
All the latest on Orange County from Orange County.
Get our free TimesOC newsletter.
You may occasionally receive promotional content from the Daily Pilot.