Survey: O.C. arts community lost $121 million and thousands of jobs during pandemic
The Orange County arts community has lost more than $121 million and 2,700 jobs since the beginning of the pandemic, according to a recent survey from the nonprofit Arts Orange County.
Richard Stein, president and chief executive of Arts OC, said that arts organizations and venues are tied to social gathering.
"So, when it's not possible to gather that way in a pandemic, it really shuts everything down," Stein said.
As COVID-19 cases continue to decline and vaccines are distributed, some arts organizations can finally start to plan for recovery. Earlier this month, state officials said theaters and concert halls can reopen on June 15.
But it could be a long and arduous recovery.
The 38 organizations that responded to the survey predict it will take them, on average, until at least July 2022 to recover from the pandemic.
"That's hopeful," said Paula Tomei, South Coast Repertory managing director. "That's certainly not, I don't think, when we feel we'll be back."
Tomei said the theater is currently planning its 2021/22 season and hopes to reopen its venue in October.
It has a lot of recovering to do as the theater had to cut 45% of its budget and lay off or furlough nearly half of its staff.
Tomei said it's also hard to predict when South Coast Rep will be able to recoup its financial losses because it's dependent on whether the public is comfortable enough to see in-person performances.
"It's really going to depend a lot on our audiences — who's coming back, when are they coming back and how many are coming back — so it's still very unknown," Tomei said. "But at least there's a vaccine, there's optimism, there's a conversation about lights at the end of the tunnel that are bright."
In the meantime, South Coast Rep is providing virtual content to its audiences. A production of "Red Riding Hood" will be offered for free to Orange County schools. The theater will also stream play readings to the public in an effort to continue their Pacific Playwrights Festival in some form.
The theater is also partnering with Mission San Juan Capistrano this summer to put on outdoor shows.
"We're still not inside, so virtually a year and a half later we'll be coming back, which if you would have told us last March that was what was happening, I think anyone in the field would have said, 'Oh no, that won't happen,'" Tomei said. "It took us a while to really accept the fact that we weren't going to be able to produce live theater for a longer time than we had planned."
The pandemic also took a toll on smaller arts organizations.
After the stay-at-home order in March 2020, Relampago del Cielo Grupo Folklorico, a Santa Ana-based cultural arts nonprofit, suddenly needed to find a way to engage with the more than 300 kids who take its weekly dancing classes.
The organization, which supports the preservation of traditional Mexican performing arts, decided to offer online classes.
Marlene Peña-Marin, artistic director for Relampago del Cielo Grupo Folklorico, said the organization offered the classes for free to help financially ailing families. The organization hosts kids from Santa Ana, Garden Grove, Anaheim and Tustin.
A little more than 100 kids took the online classes during the pandemic.
"We realized that at this point, we didn't know if families were losing their jobs or whether they were able to work," Peña-Marin said. "Obviously, the extracurricular activities were not going to be a priority. Putting food on the table becomes a priority. So we decided to stop charging tuition altogether."
Peña-Marin said the organization has lost about $700,000 in revenue, stemming from the halted tuition and inability to perform. The nonprofit had an ongoing contract to perform for a couple of Disney shows, which in the past provided a substantial sum for the organization.
Peña-Marin said they were able to "keep the lights on" with the help of a $50,000 CARES Act grant and $11,000 grant from the city of Santa Ana. The nonprofit has also used up a fair amount of its reserves.
Despite the financial hurdles, the nonprofit was able to keep all of its teachers.
The organization has reopened its doors for in-person classes and is back to charging $45 a month. It will still offer classes online for those who aren't comfortable returning yet.
Peña-Marin believes the organization could recover within six months to a year.
"What we charge monthly is minimal in comparison to what other dance studios charge, we really try to keep it as affordable as possible," Peña-Marin said. "I always tell everyone that we work out of a box, but how we do it is amazing. And it really is through the commitment of our staff and of our board."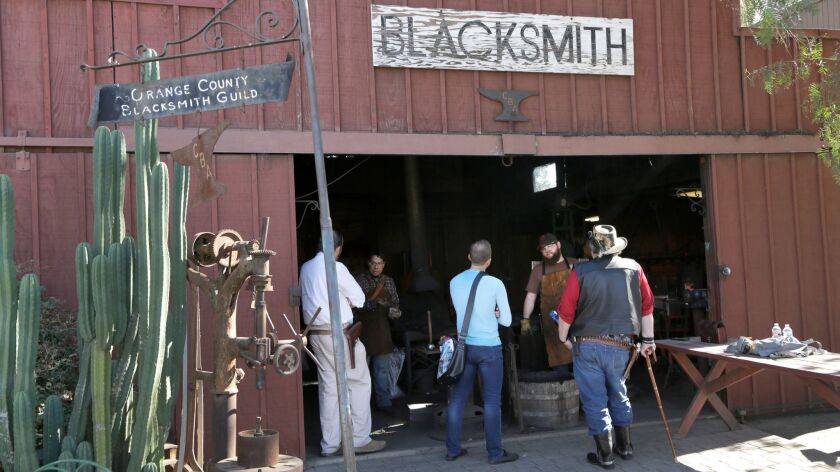 The Heritage Museum of Orange County got creative over the last year.
Jamie Hiber, executive director of the museum, said the nonprofit created a blog and podcast and held virtual field trips to stay engaged with their members through the pandemic.
The online content has delved into topics such as unknown heroes in the Black community and the mass removal of gay and lesbian workers from U.S. government positions in the mid-1900s known as the Lavender Scare.
The museum's membership doubled. However, the museum lost nearly all of its revenue sources during the pandemic and became completely donor-driven. The museum's primary income comes from field trips, weddings and other events.
Hiber said they had to cut staff from 23 to eight members. The members who were laid off primarily worked during field trips and weddings.
"Until we can get those field trips going, I can't really bring any of them back, which is really hard because we're like family," Hiber said. "It's difficult, personally, but professionally, I just can't.
"I am starting to slowly bring one or two people back to help with these weddings as we get going. But it's not going to be all at once. It's definitely going to be a slow process."
The museum is reopening on Sunday, but it will continue its blog and podcast.
Hiber said it may take about two years at least for the museum to recover from the financial toll of the pandemic. While other revenue sources may return, it may take a while for field trips to become a regular occurrence. Hiber said they have been in discussions with school districts, and they aren't going to be planning field trips until possibly 2023.
The museum does have its first wedding scheduled for Saturday.
"So I know that revenue will start coming in from that, but the canceled weddings and the refunds just about did us in," Hiber said. "It was awful."
Some of these arts organizations may get more outside help. Arts OC has been urging federal, state and local governments to provide funding to the arts community.
On Tuesday, the Orange County Board of Supervisors approved $5 million for arts-related small businesses and nonprofits.
---
All the latest on Orange County from Orange County.
Get our free TimesOC newsletter.
You may occasionally receive promotional content from the Daily Pilot.