Judge grants new trial to convicted Sunset Beach killer as snitch scandal continues to impact cases in O.C.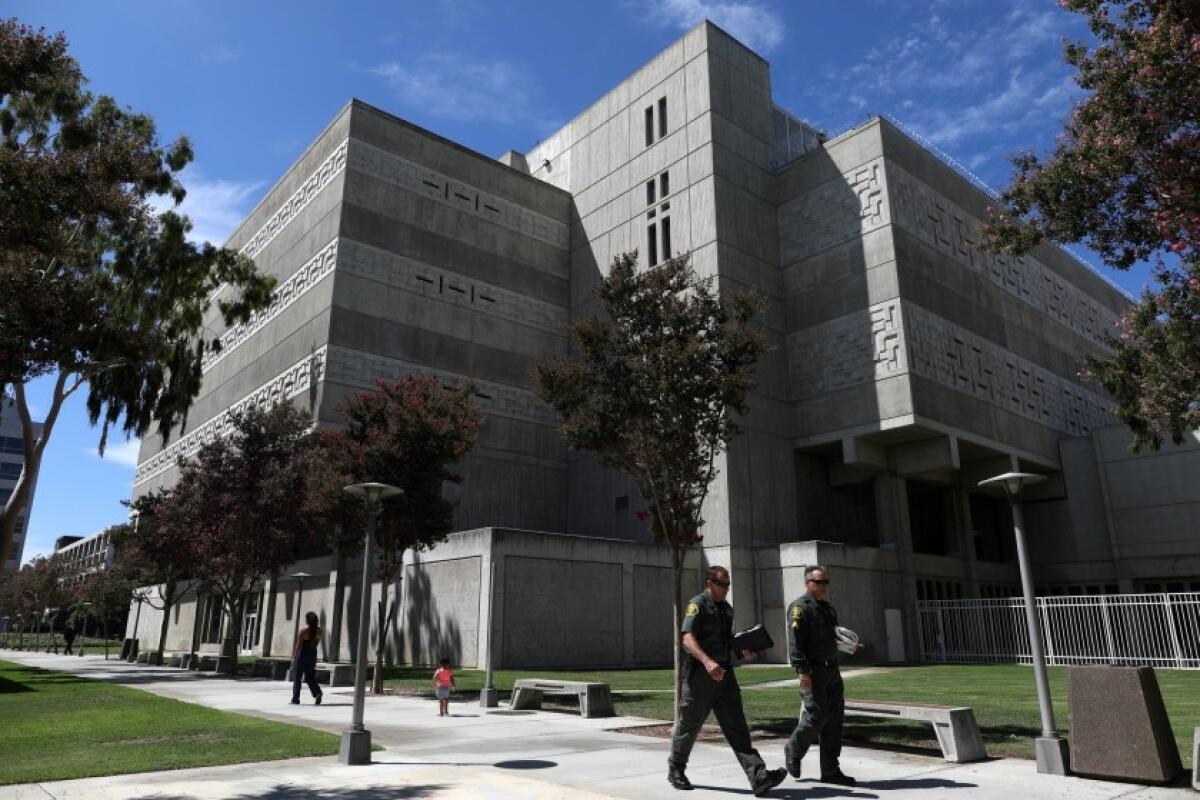 Though it's been seven years since the Orange County snitch scandal was first brought to light, it continues to impact important cases.
This week, Orange County Superior Court Judge Patrick Donahue granted a new trial to a man convicted in 2010 of stabbing a Sunset Beach man to death after sheriff's deputies declined to testify in court about their alleged misuse of illegal informants to obtain incriminating information from accused defendants.
Paul Gentile Smith was sentenced to life in state prison for torture and murder after he stabbed his longtime high school friend Robert Haugen so many times that he almost decapitated him in his Sunset Beach apartment in 1988. He then set the apartment on fire.
Some of the most damning evidence that led to Smith's conviction came from conversations he had with a jailhouse informant.
Dist. Atty. Todd Spitzer's office requested the new trial late last week after deputies refused to testify. The request came amid a set of hearings that were requested by assistant public defenders Scott Sanders and Sara Ross regarding whether Smith's constitutional rights were violated when he was allegedly targeted by informants. The public defenders also allege that this information was withheld from defense attorneys.
Spitzer indicated this week that he is hiring an outside firm to conduct an independent investigation to the case.
Sanders uncovered the snitch scandal during the trial of Scott Dekraai, who was responsible for the county's worst mass shooting, killing eight people inside of a Seal Beach salon in 2011. Sanders found that sheriff's deputies and prosecutors had targeted high-profile defendants with jailhouse informants to obtain confessions and incriminating information, a violation of their constitutional right to have an attorney with them. An Orange County judge ended up removing former Orange County Dist. Atty. Tony Rackauckas' office from the case.
"We have confidence in the facts that resulted in the defendant's 2010 murder conviction," Spitzer said last week in a statement about the Sunset Beach case. "Irrespective, we had no choice but to concede a new trial as a result of a failure by the prior district attorney administration to provide proper discovery to the defense in addition to the recent revelation that Orange County Sheriff's deputies and investigators would refuse to testify."
When Smith was booked at the Orange County Jail, he was placed in L-20, which was identified during the informant scandal as one of two "snitch tanks" where high-value defendants and informants were routinely placed.
Sanders said three informants — Art Palacios, Paul Martin and Jeff Platt — then worked to get information from Smith. The most conclusive evidence against Smith came from Palacios, who testified that Smith had admitted the murder to him. However, Sanders said that the two other informants were concealed from the defense.
A 2009 interview of Platt wasn't made known to the defense until 2019.
"The interview of an informant related to this case was in the Orange County Sheriff's file the entire time," Spitzer said. "There are numerous references throughout the investigation that this individual was also an informant. Another informant who testified at trial also referred to this first informant repeatedly when investigators interviewed him.
For more than a year since Hector Hernandez was shot and killed by a Fullerton police officer in his frontyard, his family and friends waited for the results of an investigation into his death.
"The Orange County district attorney's office, under the prior administration, had a responsibility to determine that first informant was interviewed and to turn that information over to the defense. That was not done until nearly nine years after trial."
Sanders said it's clear why prosecutors dreaded the disclosure of the interview and chose to withhold it from the defense.
"In the interview Platt describes how he, Palacios and Martin obtained the alleged confession," Sanders said. "He admits that they were not simply good listeners, but that they worked Smith to get him to speak about the crime."
The prosecutor in charge of the Smith case was Brahim Baytieh, a high-ranking member of Rackauckas' administration and now Spitzer's senior assistant district attorney.
Sanders said that Baytieh, a candidate for Superior Court judge, intentionally withheld information on the informants from the defense. Baytieh regularly argued against the existence of the Rackauckas department's use of jailhouse informants as the scandal played out over the years.
"The evidence is ultimately overwhelming that Baytieh knew that Platt was an informant soon after Platt was interviewed in July 2009," Sanders said. "Baytieh intentionally withheld knowledge and evidence that Platt worked alongside the testifying informant Art Palacios, as well as informant Paul Martin."
Sanders said Baytieh can't claim that he wasn't aware of Platt's role as an informant. He referenced that in 2009, Palacios told investigators that Platt was attempting to assist Smith in assaulting or killing lead investigator Raymond Wert and witnesses. But Platt was never prosecuted for the alleged plan. Sanders said this shows that Baytieh knew Platt was an informant.
"But if Baytieh believed Platt had conspired to kill or assault, Baytieh would have had Platt investigated and prosecuted," Sanders said. "That never happened and Platt was allowed to remain out of custody on his felony case as he allegedly engaged in discussions with Smith aimed at bringing violence to Investigator Wert and others. Very clearly, the entire prosecution team realized Platt was an informant beginning in 2009."
D.A. spokeswoman Kimberly Edds responded to Sanders' claims about Baytieh in an emailed statement on Thursday.
"The Orange County district attorney's office tries its cases in a court of law as professional prosecutors," she said. "Despite promises and reassurances from Public Defender Schwarz, Mr. Sanders continues to try his cases in the press. We do not engage in such tactics."
Sanders provided a response to the D.A.'s statement.
"This D.A. policy of not discussing cases with the press is one that apparently applies only to this case," Sanders said. "And it just so happens it's on a case where prosecutor who oversees evidence disclosures withheld evidence for a decade, while still finding time to appear with his investigator on a re-enactment documentary about the case."
O.C. Sheriff Don Barnes responded this week to the department's alleged use of illegal informants in the Sunset Beach case.
"The People v. Smith case is a 1988 homicide that went to trial in 2010, long before the discovery of issues regarding the use of informants in the jail," Barnes said in an emailed statement. "The department has rectified those issues and implemented policies and numerous safeguards. I trust the criminal justice system has processes in place to address this matter appropriately and have confidence that people will be held accountable for their criminal acts."
Pete Hardin, who is hoping to unseat Spitzer in next year's election, took aim at his opponent this week, stating that Spitzer promised to clean up the office after the snitch scandal.
"Instead, he just cosigned on it," Hardin said in a statement. "At the center of the scandal is Deputy D.A. and candidate for judge, Ebrahim Baytieh, who withheld evidence in this case. Spitzer has called Baytieh his 'North Star ... someone you look up to guide you.' That guidance has left our justice system mired in scandal."
Spitzer took umbrage with Hardin's comments.
"In keeping with my promise to restore integrity at the district attorney's office, we asked for the defendant to be granted a new trial at the very first opportunity he had to be heard by the Court," Spitzer said in an emailed statement. "Criminal attorney Pete Hardin is standing side by side with a charged murderer and is intentionally trying to jeopardize the retrial of a case where the victim was stabbed 18 times, nearly decapitated, and then lit on fire. Hardin's baseless attacks are intended to distract voters from the fact that he wants to turn Orange County into Los Angeles, where criminals are put first by their D.A., and victims are always last."
All the latest on Orange County from Orange County.
Get our free TimesOC newsletter.
You may occasionally receive promotional content from the Daily Pilot.