Amen to ramen! 3 exciting new ramen shops debut in Orange County just in time for cold weather
A good bowl of ramen can be a religious experience. But even a bad bowl, such as those you boiled in college for pennies on the dollar, always satisfies especially when the weather starts to chill. There's just something naturally therapeutic about slurping noodles from a steaming bowl of broth when it's cold outside.
Three new ramen spots have opened in Orange County in recent months, each one distinctly different from the others, serving its own version of slurpable autumn comfort.
LE SHRIMP RAMEN
3333 Bristol St., Costa Mesa
(714) 884-4693
Le Shrimp Ramen is owned by Singapore-based Paradise Group, the company that recently opened Paradise Dynasty inside Bloomingdale's South Coast Plaza. Right now, as its big sister inspires lines around the building and press coverage with its Din Tai Fung-threatening juicy pork dumplings, Le Shrimp Ramen is in the literal shadows. It exists downstairs and tucked in a windowless corner inside Collage, the new food hall that's slowly emerging around Paradise Dynasty as its anchor.
But since its July opening, Le Shrimp has dutifully done its own thing: a bowl of ramen featuring a broth coaxed from fresh shrimp and pork bones. And when I sipped it for the first time, I realized Le Shrimp's ramen is the next step in the modern evolution of a dish that originally came from China to become a Japanese cultural icon.
Topped with two giant whole prawns, bouncy shrimp meatballs and fat wontons, its Signature Shrimp Trio Ramen eats like three dishes in one. The broth has hints of lobster bisque and Singaporean laksa. Then, after you Hoover up the noodles and drink the last drops of soup, you set aside the chopstick and dig in with your hands to peel the shrimp as though at a seafood boil.
Perhaps even better are the supporting dishes that surround the ramen. The crispy chicken cutlet is halfway between karaage and katsu. And the poached lettuce in soya sauce is halfway between salad and stir-fry.
GYUTAN RAMEN
4187 Campus Drive, Suite M171, Irvine
(949) 336-4733
There has always been a noodle shop of some kind at the spot where the recently opened Gyutan Ramen now stands.
For 19 years, until it shuttered in 2013, Asia Noodle Cafe offered an all-encompassing take on noodles, dabbling in everything from pad Thai, to Japanese ramen, to Chinese chow fun. Back then, it was an oasis of decent, if generic Asian dishes for the UC Irvine student who longed for something other than dorm food.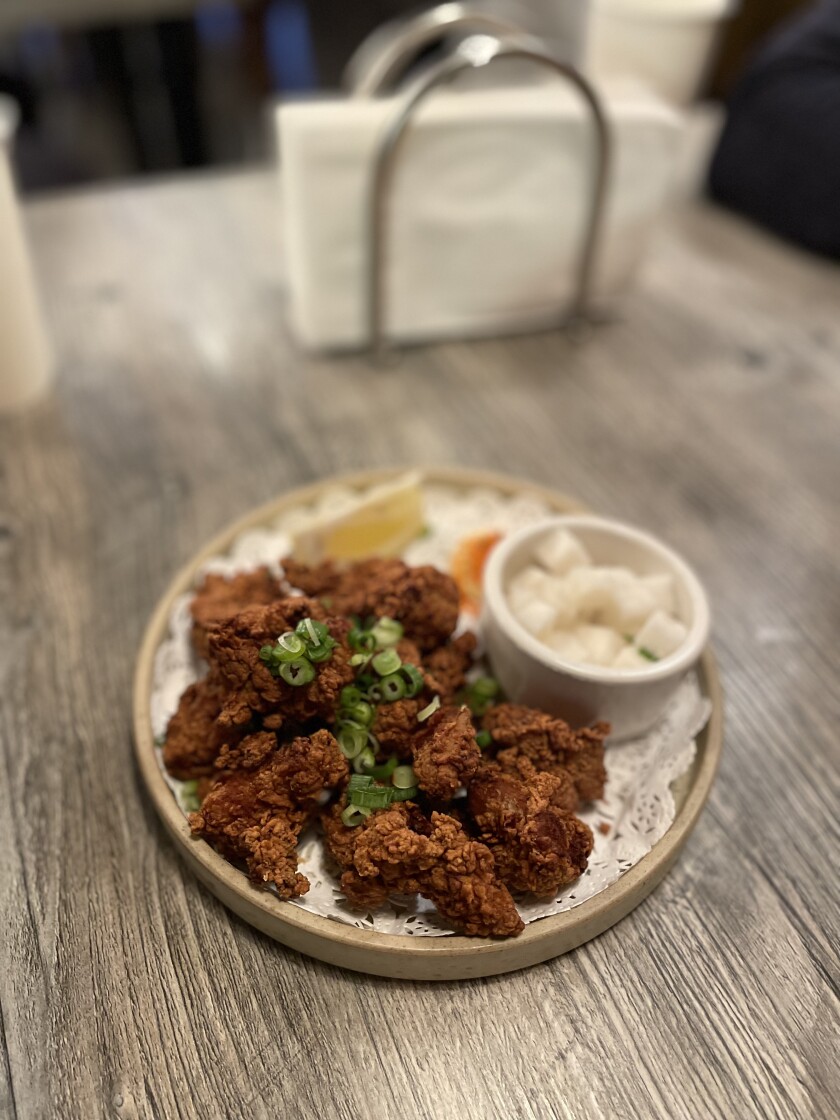 After it closed, Yushoken Ramen moved in and honed in on just the ramen. Yushoken folded last year and now in its place comes Gyutan Ramen, a shop whose title suggests that it features beef tongue as a topping. Palates have come a long way in 27 years.
But if you want the beef tongue ramen, where five char-grilled pieces top your bowl of noodles, you must be lucky. Due to ongoing shortages, the dish is rarely available. Most likely, you'll need to settle for either the pork-based tonkotsu, the chicken-based tori ramen or the veggie miso.
The tori ramen is particularly good. In its simple chicken broth swims chewy noodles, homemade chicken meatballs, shavings of red onion, scallions and a boiled egg — a significant upgrade from dorm room packs of Maruchan or Nissin, that is, until you can get the beef tongue.
RAMEN SHACK
31761 Camino Capistrano Suite 4, San Juan Capistrano
(949) 373-5218
To Orange County ramen nerds, when word got around that Keizo Shimamoto, one of the most respected ramen chefs in America, was moving from New York City to San Juan Capistrano, it was as if LeBron James decided to join their pick-up game.
It's not that Orange County suffers from a lack of world class ramen. Costa Mesa alone, with more ramen shops than McDonald's locations, is home to many great bowls. But while they are largely made by masters who toil anonymously, Shimamoto is as close as it comes to a celebrity ramen chef.
He is, after all, the inventor of the viral Ramen Burger and has appeared not just on all the popular food channels on YouTube but was a guest on Conan, teaching the host how to properly slurp a bowl of noodles.
So it's a certainty that wherever he ended up, his cult is sure to follow. And they have. Lines at his modest shop within walking distance from the mission are routinely long even though he's only been open for a few weeks. But their commitment to him is no match to Shimamoto's commitment to his craft.
He makes his noodles from scratch to match each style of broth, one of which boasts 13 ingredients and a lengthy cook time. Shimamoto estimates that when he counts everything up, about a hundred ingredients are involved in creating a bowl.
When I slurped the Quiet Storm, the ramen with the 13-ingredient broth, I tasted time, effort and expertise more than the physical components. And the texture of the noodles was like nothing I've ever had: firm at first bite but pliant after chewing. A woman nearby was asked by her server how she liked her bowl. "Orgasmic," she exclaimed.
Food writer Edwin Goei is a contributor to TimesOC.
---
All the latest on Orange County from Orange County.
Get our free TimesOC newsletter.
You may occasionally receive promotional content from the Daily Pilot.