Let me shoyu around: How to do a ramen crawl in Costa Mesa, Orange County's unofficial Ramen Town
Costa Mesans, did you know you live in Orange County's unofficial Ramen Town? If you haven't noticed, in and around the three square blocks of Baker Street, there are now seven uniquely different ramen shops that compete with varying styles of noodles, soups and toppings. And that's not counting the sushi bars, izakayas and udon shops that also serve ramen. To put it in perspective, there are more places to get ramen in these three blocks than there are Subway shops in the entire city.
As the restaurant critic for OC Weekly, I noticed the trend back in 2013 and dubbed the city as O.C.'s "Ramen Town." Recently, both the critic for O.C. Register and Costa Mesa's Convention and Visitors Bureau referred to this area as "Ramen Row," which is alliterative and catchy.
Whatever you call it, ramen is here to stay in Costa Mesa. And because it is concentrated within three walkable blocks, it is entirely conceivable, if not advisable, to do a ramen crawl of all seven shops. If you dare to attempt it, or if you just want to know what distinguishes one from the next, what follows is a guide to all things slurpable in O.C.'s Ramen Town.
Hakata Ikkousha
3033 Bristol St. Suite 131
Costa Mesa
Since it opened in 2015, Hakata Ikkousha has been a dependable standby. When most other ramen shops shut their doors after 10 p.m., Hakata Ikkousha trudges on, staying open until 11:30 p.m. And when the craving for a bowl of noodles hits close to bedtime, a late-night ramen shop becomes a valuable commodity.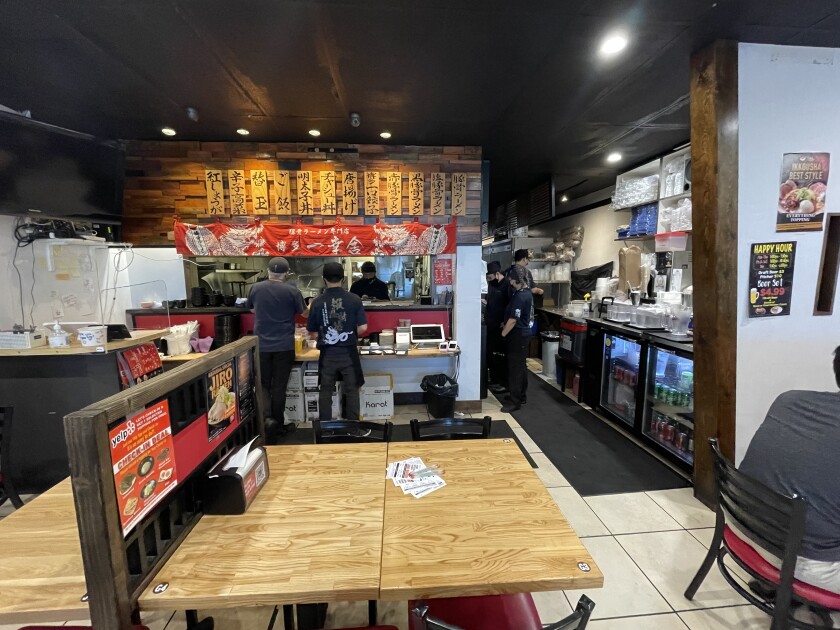 You mark what you want out of a choice of about eight different bowls on a scribble sheet. There are a few tonkotsus, a clear broth shoyu, two misos, a spicy one labeled "God Fire" and a "Black Devil," which combines the black garlic-flavored tonkotsu broth with the spicy. Ancillary items, especially the gyoza and a fried chicken dish called "karaage," are best taken when they have happy hour deals or when they're in lunch combos.
If you've got a few more bucks to spare for more pork, you'll get the extra slices of the deli-thin cuts draped over the brim of your bowl as if drying laundry.
Anyone who can stand it should order the "God Fire," which offers customizable levels of hotness from one to four. Level one is spicy enough. Level four might obliterate your digestive tract and keep you up well into dawn or until you can see a doctor.
Hokkaido Ramen Santouka
665 Paularino Ave.
Costa Mesa
Commanding the corner stall inside Mitsuwa Marketplace's food court since 2005, Santouka is the Methuselah of Costa Mesa's ramen shops. Ask any local ramen connoisseur, and it is likely they had their first bowl of real ramen here. From that experience, they might have learned to appreciate the wonders that occur when you put pork bones under a long boil. They might have learned that the milky broth it produces is the salty pig nectar called "tonkotsu," also known as Hakata-style broth. And yes, it can be a little salty.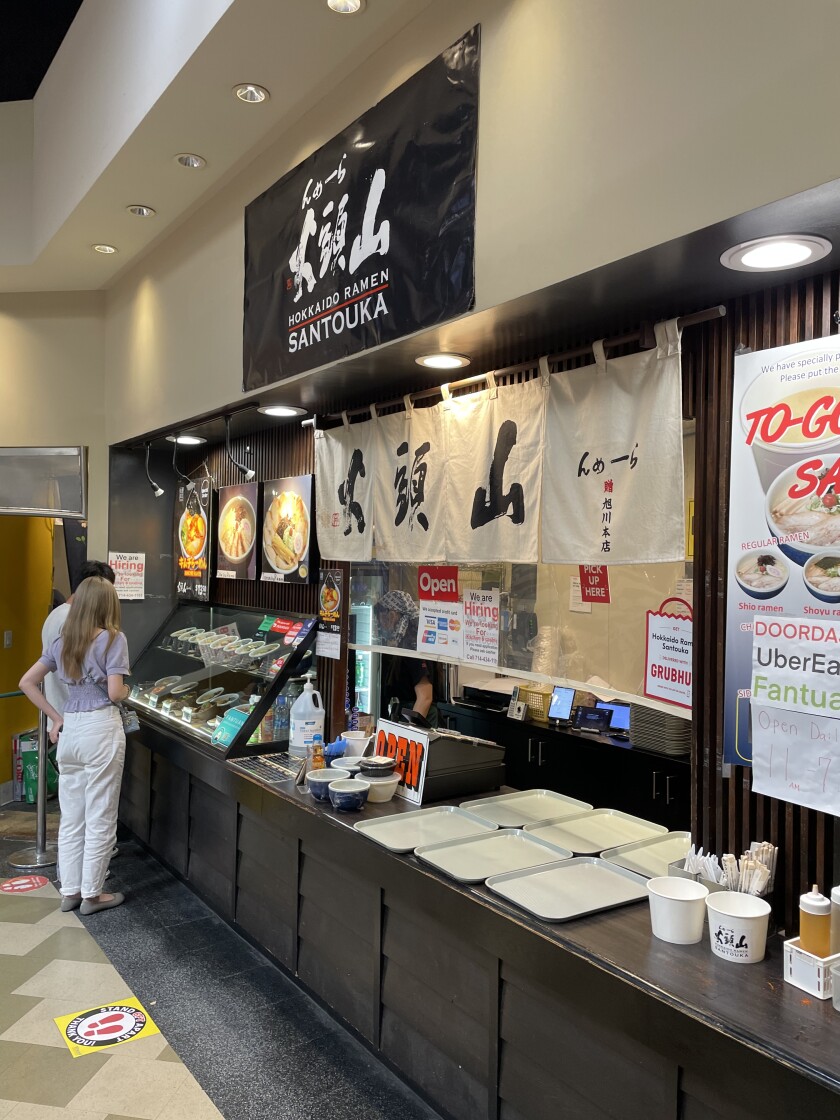 But being the oldest in Costa Mesa's ramen scene also means that in the intervening years Santouka has been overshadowed by those places it inspired. In O.C., it now barely ranks in the Top 10 of most-reviewed ramen restaurants on Yelp. Yet day after day, year after year, Santouka's staff continues to operate their stall with military efficiency to produce bowls of ramen that are consistent, down to the placement of the red pickle plum that garnishes the shio ramen in its signature blue bowl. Such is the quality control that if you order the dish at the flagship store in Hokkaido or any locations throughout the world and the U.S., you'll slurp the same bowl. Santouka's consistency is akin to McDonald's.
Kashiwa Ramen
1420 Baker St. #C
Costa Mesa
When it first opened in 2018, Hideto Kawahara and Hiromitsu Yamanouchi's Kashiwa Ramen featured only a milky chicken broth called toripaitan, the poultry analog to the pork-based tonkotsu. Like its porcine cousin, they made it by boiling chicken bones vigorously at high temperatures until it surrendered all its gelatin, fats and goodness. The result was a soup with a viscosity verging on hand lotion and a concentrated chicken flavor akin to an undiluted can of Campbell's chicken noodle.
Since then, Kashiwa has added a tonkotsu and a vegan broth made from kombu seaweed. There's even an option to do a "swirl," which combines the pork and chicken broths together akin to soft-serve ice cream for maximum umami. The soup possibilities seem endless. You could opt to have it spicy, darkened by black garlic or both. For protein, options include steamed chicken breast, torched pork belly and tofu.
And in the summer, when hot soup loses its appeal, you can get the tsukemen and request the noodles to be chilled, served with a wedge of lime and a bowl of the reduced-to-gravy soup for dunking.
The tsukemen is just one of many additions that distinguishes Kashiwa from the rest. The chefs are innovators on the noodle arts who have their ear on not just the newest ramen trend but the general zeitgeist. They once did a Mexican-inspired elote ramen garnished with Hot Cheetos. You can even get CBD ramen here. Offered at a 25 mg or 50 mg dosage, it comes with a warning to enjoy it "at your own risk." Also be warned that the risk of addiction exists for even the non-CBD bowls of ramen.
Kitakata Ramen Ban Nai
891 Baker St. B21
Costa Mesa
When Kohryu, a ramen cult favorite known for bowls flecked with deep-fried bits of green onion, closed in 2014, it didn't take long for another to take its place. In Ramen Town, the noodle continuum ensures that when one shop reaches its end, another begins. Thus began the first American outpost of Kitakata Ramen Ban Nai, a chain that, at the time, already had 60 locations in Japan.
But what you notice immediately is that Kitakata is unlike the other ramen shops in the neighborhood. First, there's the broth, which is clear and light, not milky and rich. Compared to the heavy cream consistency of the Hakata-style broths that pervade Ramen Town, the soup here is virtually spring water. Unlike Hakata ramen, you don't get full sipping the Kitakata broth.
You get your sustenance from the noodles, which are thicker, sort of bloated. With a line weight closer to udon and an imperfect crinkle that makes it curly, the noodles are a signature of Kitakata, the town from which the chain takes its name. The coveted texture is attained by incorporating more water in the dough. The resulting chewiness also makes the noodles perfect for tsukemen, where they're presented either cold or hot, served with a side bowl of dipping sauce made from reduced pork broth intensified by soy and dashi.
One of the more popular bowls is the green chili shio ramen. With red onions, Napa cabbage, thin slices of chile, and a beehive of shredded scallions, it achieves a balance between the vegetables, the fatty pork belly slices, the broth, and the weighty noodles — a perfect bowl of ramen in a town full of them.
Ramen Zetton
735 Baker St.
Costa Mesa
More than any other ramen shop on this list, Leo Morita's Ramen Zetton has a quirky vibe. It's probably the mascot that he's chosen — a kaiju alien monster that looks like a cross between the Michelin Man and a beetle. He has at least one Zetton figurine displayed inside his eatery, which will make anyone who hasn't watched the 1960s Japanese TV series called Ultraman ask, "What is that thing?"
A better question, though, is how Morita can afford to offer lunch specials that are, pound for pound, the best bargain on this list. For the cost of one bowl of ramen elsewhere, Morita pairs any ramen from his menu with a rice plate that's a substantial meal by itself. And if you take his signature bowl of Zetton Ramen — a pork-based soup that has shades of curry in the broth — you'll already get the works. There's half an egg, blanched bean sprouts, green onion, nori and a massive amount of pork chashu enough for three separate bowls.
When you eat it with a side of his pork katsu rice, which can be smothered in a zesty tomato paste or Japanese curry, you'll waddle out so full and enormous, you feel like you've turned into a giant kaiju monster yourself.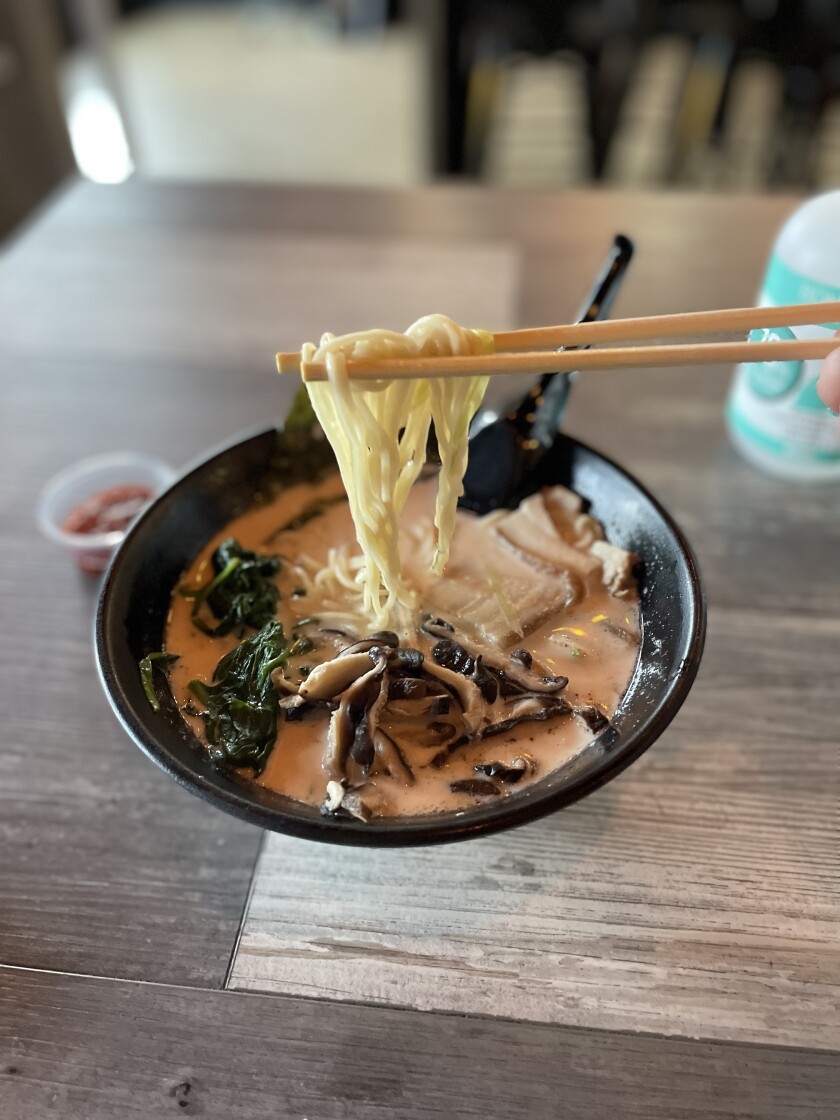 Slurpin' Ramen Bar
2981 Bristol St.
Costa Mesa
Slurpin' Ramen Bar is part of a chain that started in L.A.'s Koreatown in 2015, and it shouldn't be considered a slight to refer to it as the Spirit Airlines of ramen. In fact, it should be a compliment. With ramen prices going up along with everything else, Slurpin' offers real value. It does the job and gets you there. Order your ramen and only pay for the toppings you want.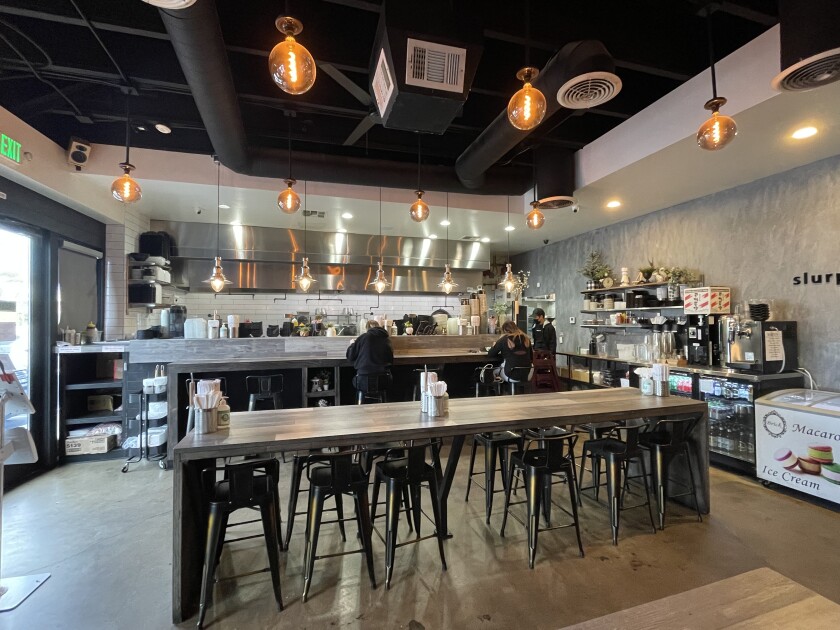 If you opt for the base-level ramen, you won't find a cheaper bowl in town. This basic meal, called "Slurpin'," already has all the essentials — garlic, seaweed, black garlic oil, green onion and your choice of meat. The noodle is straight and chewy, and the soup is inoffensive to those not used to the oily, thick and pork-forward Hakata-style. Slurpin's version of tonkotsu broth is not too rich and not too salty.
Not only are the flavors and the price made to be accessible to ramen noobs, but the handsomely appointed shop is also conveniently located at the Camp, the outdoor mall popular with local trendsetters. When the eatery moved in there last year, it became the first ramen restaurant in the neighborhood to cater to both hipsters and Japanese alike — not to mention the bargain hunters.
Mogumogu
2969 Fairview Road
Costa Mesa
Imagine taking ramen noodles, leaving out the broth but piling on toppings such as grated garlic, fish powder, seaweed, chives, seasoned minced pork, excessive amounts of green onion and a poached egg ready to burst its runny yolk over everything. This is the specialty at Mogumogu, the newest shop on this list. It isn't ramen but a soupless subvariant called "mazemen." And according to the menu, it offers three distinct experiences if it's eaten in stages.
First, you mix all the ingredients together for 30 seconds to form a uniform pile of noodles that looks like carbonara. "The better you mix, the better it tastes!" the instructions say. Next you eat, enjoying the garlic punch, the umami of the fish powder and the richness of the pork that clings to the noodles. Then, halfway through it, you pause and douse the remainder with the house vinegar. The vinegar ups the acidity, adds zing and changes the flavor profile into something new. Finally, once you've hoovered all the noodles and are left with the dregs of meat and sauce, you dump in the spoonful of rice they supply. You mix the sauce into the rice and get your last dish: a sort of meaty risotto.
There is, of course, traditional ramen with broth on the menu. In fact, there are three kinds. But when you're exploring Ramen Town, follow that "When in Rome" adage; eat whatever everyone around you happens to be eating. At Mogumogu, it's the mazemen.
---
All the latest on Orange County from Orange County.
Get our free TimesOC newsletter.
You may occasionally receive promotional content from the Daily Pilot.