Finding nori: Fishing for the most affordable sushi meals in Orange County
Let's be clear: Sushi has never been, nor will ever be, a cheap food. Its quality is inextricably tied to price — the more you pay, the better the experience. There is, however, a threshold at which your money stops paying for the sushi and starts paying for the atmosphere, location and whether the chef has been on TV.
This list trims all unnecessary fat to reveal three of the most affordable Orange County sushi restaurants where you can order omakase, choose your meal from a menu or pluck it from a sushi conveyor belt. Not included are all-you-can-eat sushi restaurants, which exist and thrive, but whose value proposition works only if you have a bottomless stomach and guiltless soul.
Read on to find the best sushi meals without getting into deep sushi debt.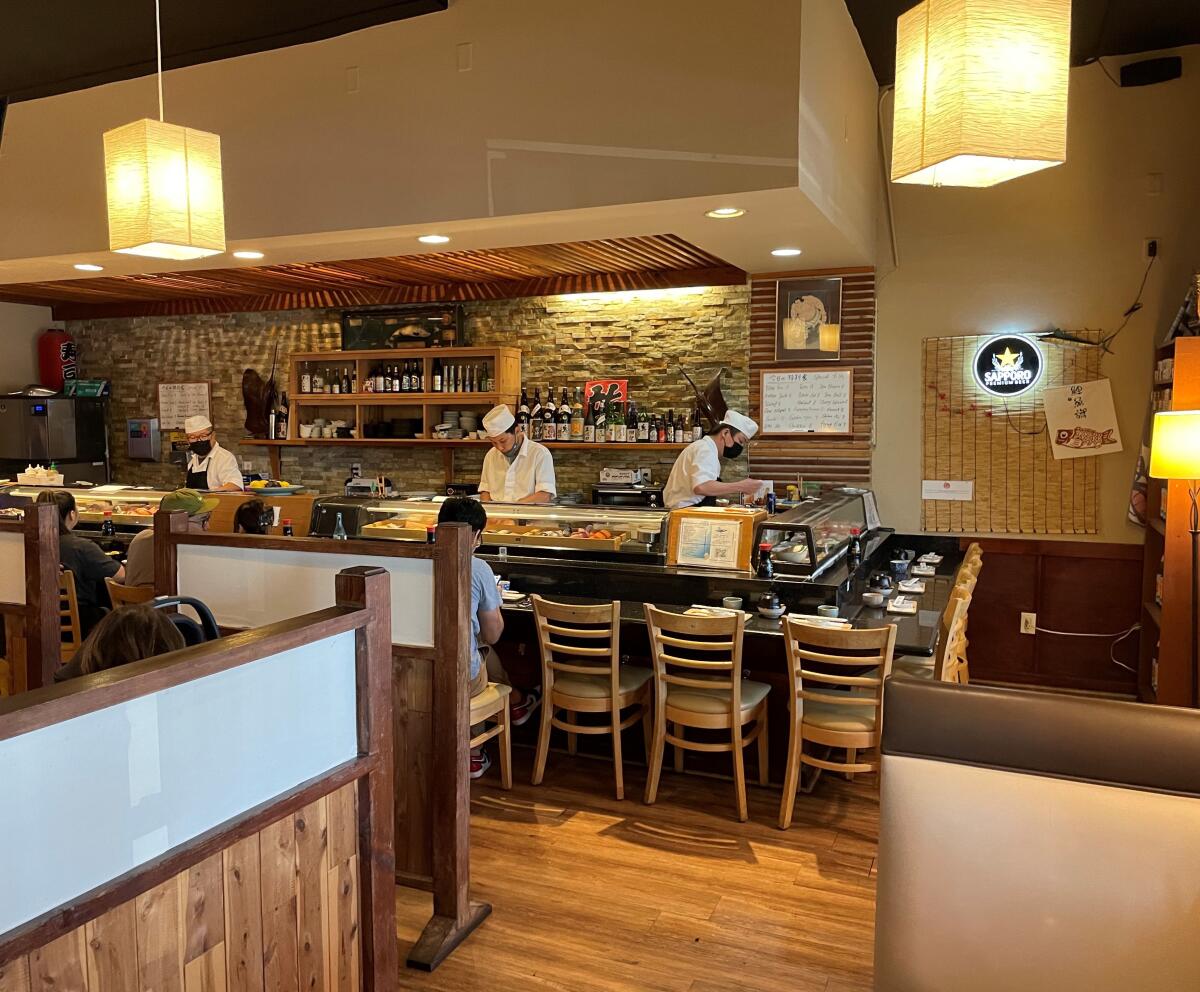 Most affordable omakase
Kaigen, 1736 N. Tustin St., Orange
When you say "omakase" at a sushi bar, it gives your itamae (sushi chef) a blank check to give you a multicourse sushi meal with the best he has to offer. The average rate at Sushi Noguchi in Yorba Linda — one of the best places for "omakase" — is $70 to $150 per person, a reasonable rate considering the chef's skills, the quality of the fish and the quantity of food. Nobu in Newport Beach charges between $150 to $200 per person. At Ootoro in Irvine, omakase will set you back $300 to $500 per person.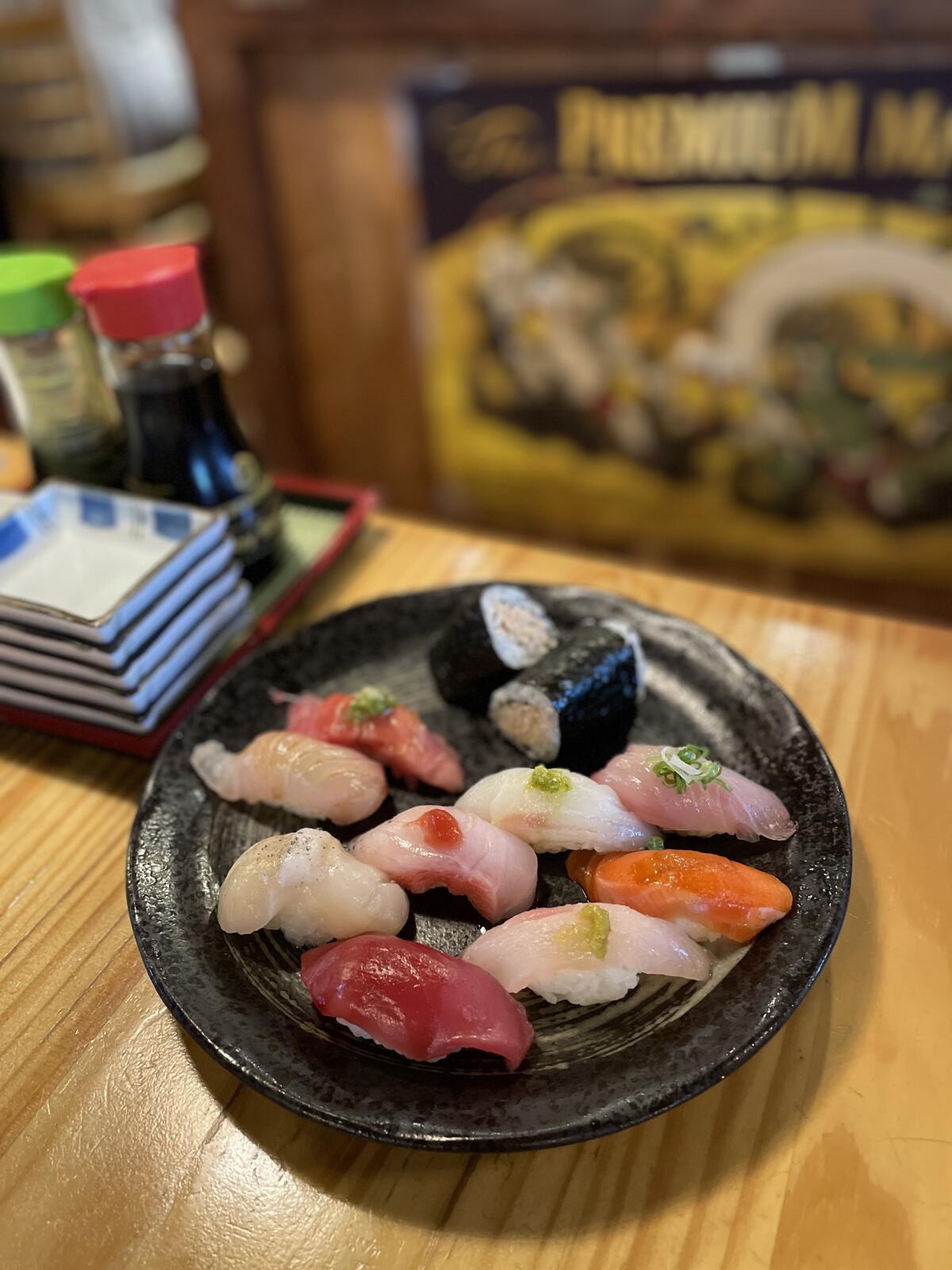 By comparison, Kaigen's $39 sushi omakase — for a nine-piece nigiri, one hand-roll, a bowl of miso soup and salad — is an anomaly. Not only is it on the lower end of the price spectrum for omakase in today's inflationary times, it would've been considered cheap 10 years ago.
Kaigen's chefs slice good quality fish. But just as important is the rice, which is prepared perfectly — not mushy, not dry — exactly the right consistency. It doesn't fall apart on your chopsticks yet melts in your mouth.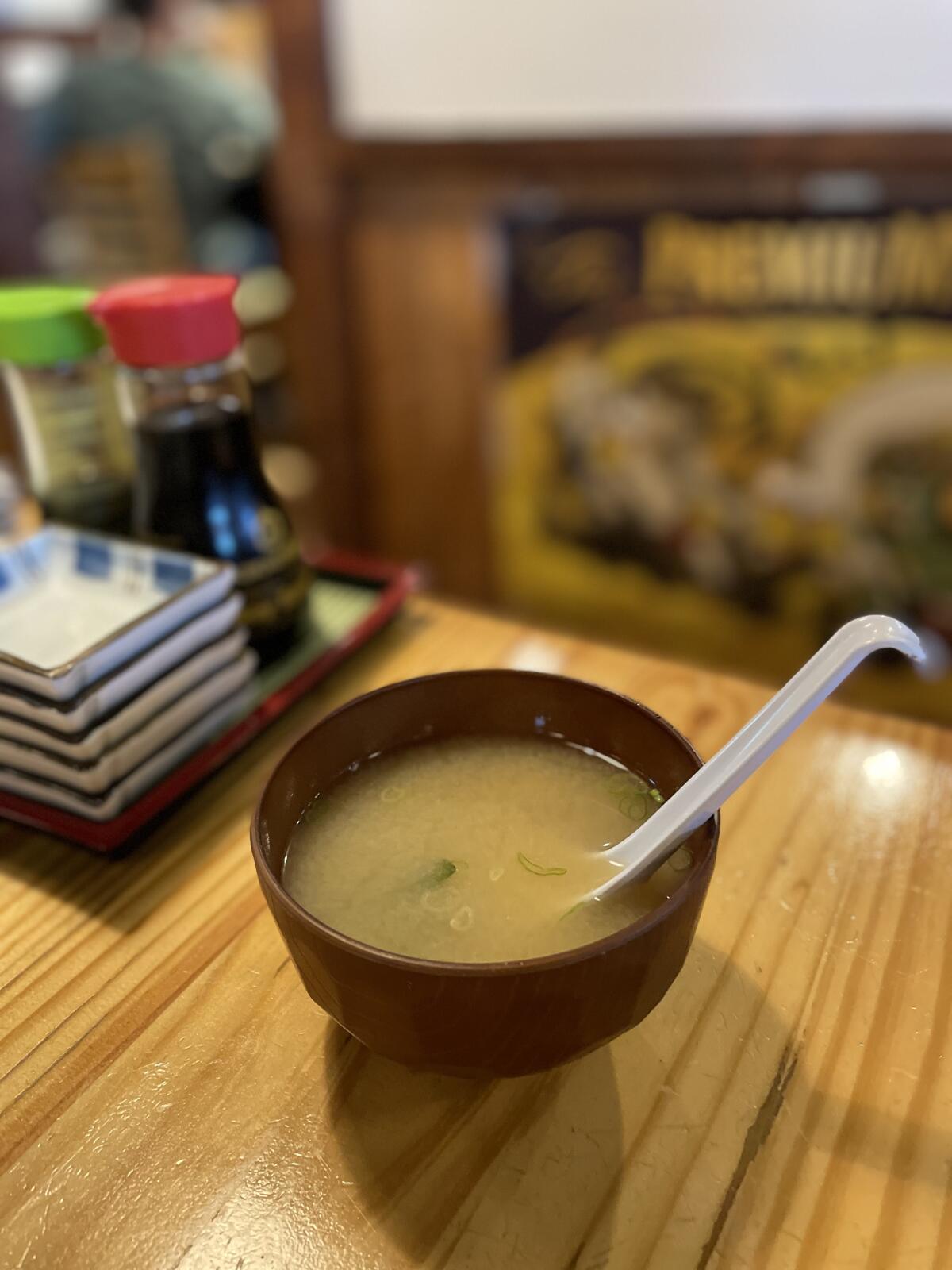 As with all omakase, what you will be served will vary from visit to visit, but there will likely be thick cuts of scallops sprinkled with black pepper and the coveted piece of fatty tuna belly called toro. All pieces will be dolloped with a topping or dosed with a sinus-clearing amount of wasabi.
To get the most of Kaigen's omakase, it is best to sit at the sushi bar in front of a chef, not at the tables. Not only will the nigiri come out at a prescribed pace, prolonging the enjoyment, there is a better chance that your itamae might slip in an extra piece at no additional charge.
Even though it opened in 2016, Kaigen is presently enjoying a boost in popularity on Instagram where its $39 omakase price caught the attention of local influencers who descend upon this strip-mall eatery to document it on their own social media feeds. It still, however, exists in relative obscurity; waits longer than 15 minutes are uncommon.
Most affordable for ordering from the menu
Eat's Sushi, 1175 Baker St. E25, Costa Mesa
Though Eat's Sushi has a bar counter, no one sits there. This isn't the kind of sushi joint where you can toast a cup of warm sake or build a rapport with your sushi chefs. Instead, you will be seated at a table or booth, surveying the picture menu and then marking your order on a sheet of paper.
What you see pictured in the photographs is what you get on your plate. There are no surprises here — except for the prices, which are at bargain rates.
Since it opened late last year, Eat's Sushi is out to build customer loyalty. The service is obsequious, but the prices are quite possibly the most affordable in O.C. for a non-conveyor belt sushi restaurant. A four-piece California roll currently stands at under $5. Other four-piece rolls range from $5.75 to $7. An amazing four-piece jumbo scallop sashimi plate with truffle oil and yuzu is offered at $8. But the real deals lie in their nigiri, which starts at $1.75 a piece for morsels that fetch higher costs at comparable restaurants.
The madai is topped with a pinch of yuzukosho (a paste made from yuzu and chilies); the unagi is burnt with a caramelized edge; and the bay scallops are creamy. A Yelp check–in even entitles you to a free can of soda.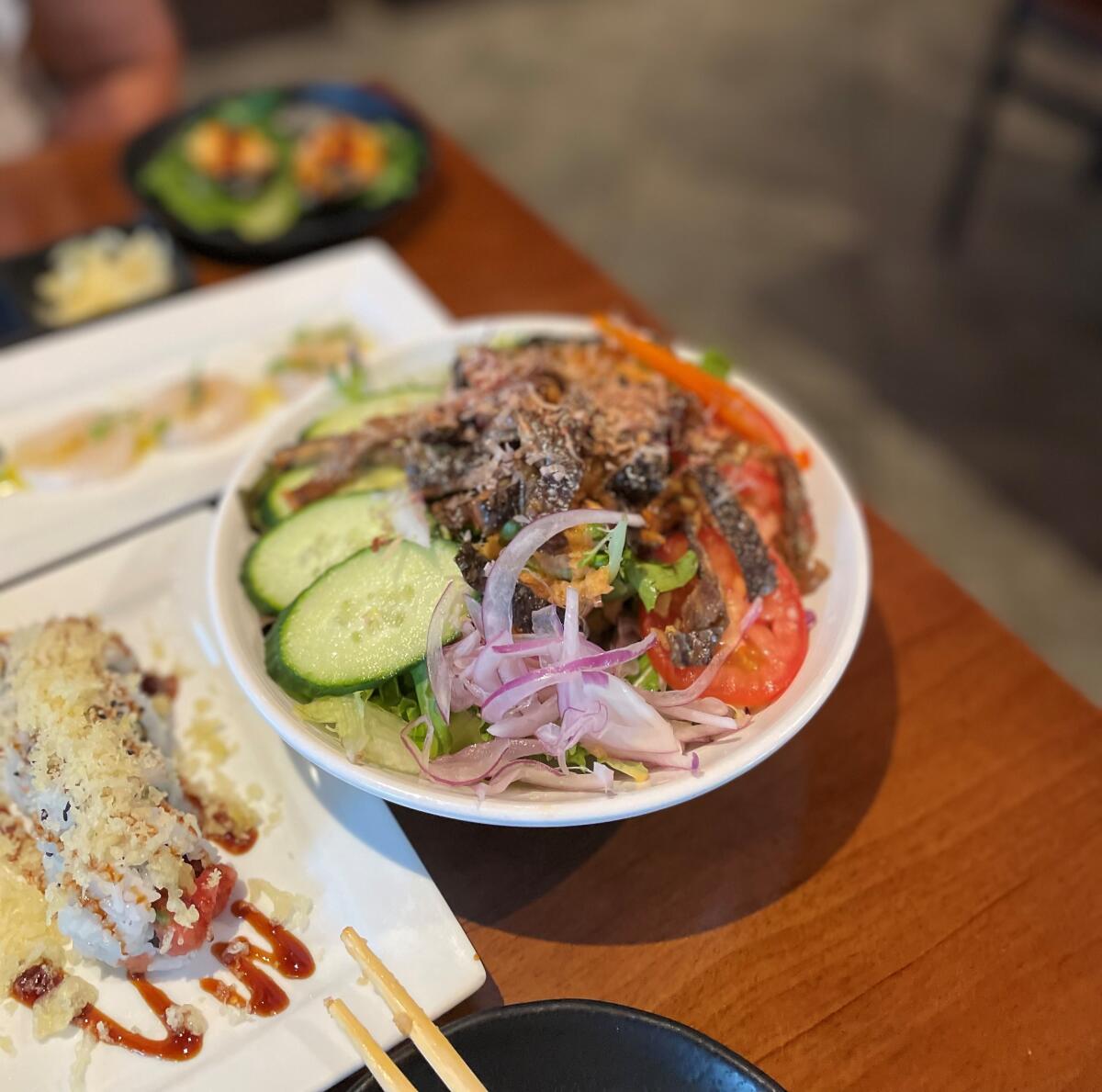 Don't ignore the cooked foods, though. The tempura and fried soft-shell crab are rushed to your table crispy, hot and greaseless. If you order a salmon skin salad, you get a big bowl of greens with crunchy pickled carrots, cucumbers and shards of salmon skin that affirm it's the best crouton ever invented.
Salmon collar — the boomerang-shaped piece from near the gills with meat as soft as whipped cream — is broiled delicately and served with a ponzu sauce amped up with chili.
Twenty-five dollars per person is all you need to budget to have a filling meal here. But be warned: With the prices and the dizzying selection of Japanese dishes (Eat's Sushi even offers ramen and udon), it is far too easy to overorder.
Most affordable revolving sushi
Kaisen, 3855 S. Bristol St., Santa Ana
Many conveyor belt sushi restaurants have come and gone in Orange County over the past decade. But after more than 15 years, Kaisen still brings in its loyalists who might remember that once upon a time, its cheapest plate cost 99 cents. Though those days are gone, the lowest priced nigiri plate is still $1.25 while its higher tiers tick at $4.50. This may explain Kaisen's longevity and enduring appeal: the value.
If you're still unfamiliar with the concept of conveyor belt sushi: Picture sitting in front of a miniature baggage carousel while plates of sushi ride by in plastic domes. You see something you like, you take it. And at the end, a server comes by to tally up your stacks of color-coded empty plates to get your total.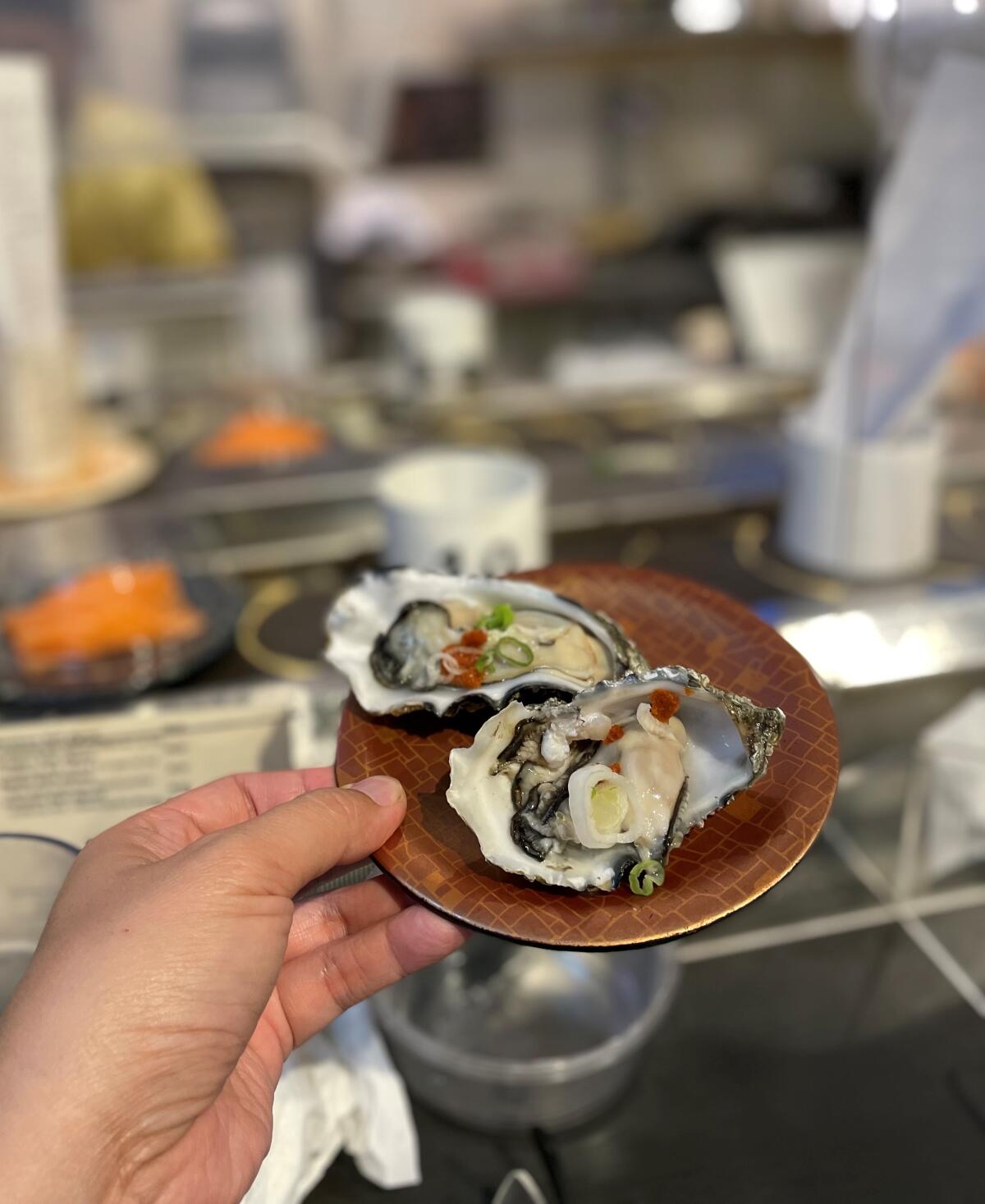 All told, since each nigiri plate comes with two pieces, you can feast on potentially 24 pieces of sushi after having only spent $15. For comparison, at Kura in Irvine — arguably the most popular conveyor belt sushi in O.C. at present — all plates are $3.35, more than double Kaisen's price for its lowest tier.
And though Kaisen isn't as popular as Kura, where the wait can exceed three hours, there's always a constant flow of diners to ensure turnover of the stock.
You should not, however, limit yourself to what's pre-prepared for the conveyor belt. Pick up an order sheet, scribble your table number on top, and order the live oysters, the salmon skin hand-roll and the scallop nigiri.
If there's anything that's changed over the years (other than the plastic sheets that now separate the booths and the sushi chefs), it's that the conveyor belt offerings tend to lean on salmon and California-roll-based pieces. You may never see the delicate anago nigiri or fish roe sushi unless you request it explicitly from the order sheet. Though it turns the experience to that of a non-belt sushi restaurant, you still pay the rock-bottom prices.
All the latest on Orange County from Orange County.
Get our free TimesOC newsletter.
You may occasionally receive promotional content from the Daily Pilot.