O.C. companies join trek to Vegas for CES 2023
The world's tech community descended en masse on Las Vegas this week, all in search of the Next Big Thing at CES 2023 — the world's largest technology show.
More than 100,000 vendors, analysts, industry affiliates and media crawled Las Vegas' myriad convention facilities at the annual event, which was canceled in 2021 and was held on a much smaller scale in 2022. This year marked the first time that major companies like Google returned to the consumer electronics show since the start of the pandemic, and a sense of pent-up energy was palpable.
Many Orange County companies were among those to make the trek, with the dual goal of getting their products to market and seeing what everyone else was doing — all in a hedonistic atmosphere in the theme of what is now called "revenge travel," after so many trips were postponed or canceled due to the pandemic.
Celebrities abounded at CES 2023, with Paris Hilton pitching herself as the Queen of the Metaverse, Paula Abdul launching a line of audio glasses, Project Venkman pitching Bill Murray NFTs and Twisted Sister's Dee Snider representing new Sennheiser earbuds that might be seen as pseudo hearing aids. Imagine Dragons performed at a private concert for Dolby, while Snoop Dogg served as DJ at an Amazon party.
But for many local O.C. companies, the focus was a bit more conventional.
A rainbow-hued future
Fountain Valley-based gaming and esports product company HyperX launched a variety of new offerings this week at CES, from Xbox gear to mice.
"HyperX engineers and designers are constantly listening to today's gamers and working to innovate and drive the industry forward with new, impressive and exciting solutions," said Mark Tekunoff, the company's public relations manager.
But the company's biggest announcement was its HX3D initiative, which takes advantage of the new relationship forged by last year's acquisition of HyperX by HP. HyperX will use HP's 3D color printing technology to allow gamers to create custom 3D gear and accessories like keycaps for keyboards, headsets, mice and other products.
"CES is an ideal venue for HyperX to showcase its latest solutions, providing the opportunity for one-on-one time with industry media, partners and more," Tekunoff said.
HyperX also has a special relationship with Las Vegas outside of CES week via its famed HyperX Arena, a 30,000-square-foot venue for esports competition inside the landmark Luxor pyramid that's the first such permanent space on the Las Vegas Strip.
HyperX is also heavily involved in the Southern California community, sponsoring local school esports teams and working with Riot Games and the SoLa Technology and Entrepreneurship Center for underserved students. HyperX helped craft an esports arena at the center filled with their peripherals.
'Rooted in Anaheim'
Targus, which became a household name as the first company to start making laptop bags in the 1980s, is celebrating 40 years in 2023. This year, Targus' prime location in the busiest part of the CES show floor was the perfect place to launch a bevy of new devices and bags including a zero-waste backpack.
Targus got its roots in the United Kingdom before moving to Anaheim.
"We've been in Orange County for more than 20 years," said Andrew Corkill, Targus' vice president of global marketing and e-commerce. "We're really rooted in Anaheim; that's our worldwide headquarters and where most of our employees are based."
Targus employees stay involved in the community through participation with hunger relief nonprofits and also donate each year to support Native American communities.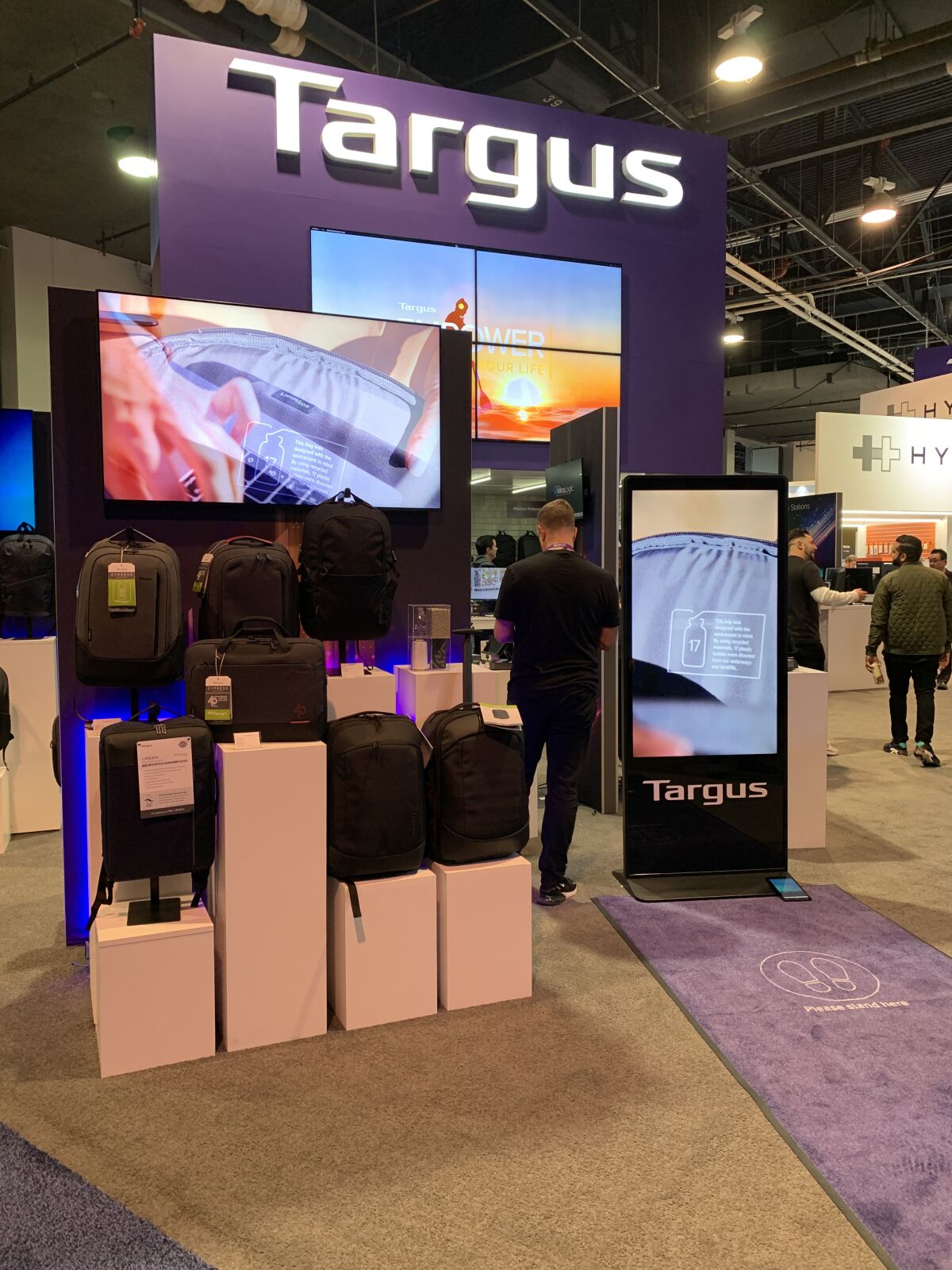 As with many other companies, at the start of the pandemic, the Targus office emptied out and white-collar employees began working from home. "But all of our warehouse workers still went into work every single day during COVID," Corkill said. "Those guys were the frontline workers for us, because they didn't skip a day; we were able to keep the warehouse running."
Corkill said the Targus CEO initially took the "old school" approach that work-from-home wouldn't allow the company to keep up, but he was pleasantly surprised by how productivity was maintained. "So now we have a very flexible working schedule," he said. Employees can choose to work in the office or from home; the office layout was redone to suit this new hybrid model.
Targus products are all designed by an in-house global design team. The company was an early adopter in sustainability and has focused for over a decade on eco-friendly laptop bags made from recycled water bottles.
In addition to its dominance in laptop bags, the company has spent the past decade expanding into another avenue. "We've always made some mice and some keyboards," Corkill said, "but in the last 10 years we've really focused on entering the tech market. We've been making docking stations, which allow you to improve your productivity by using multiple monitors." The docks are especially popular with enterprise customers, which have seen an uptick in productivity.
"This is the first time that our tech sales have actually surpassed our bag sales," Corkill said. "We have a huge, huge bag business. Now we have a huge tech business."
As with its laptop bags, Targus also has moved into sustainably produced tech accessories, including keyboards made from 85% post-consumer recycled materials.
"We're really focusing on sustainability, making sure that we're reusing our products; we're recycling products and just trying to help the environment," Corkill said.
Targus also has begun focusing on antimicrobial products since the pandemic began.
"When COVID kicked off, we had already been discussing antimicrobial, so we just went straight into launching antimicrobial mice and keyboards," Corkill said. "We also made antimicrobial tablet cases and a backpack made from antimicrobial material. All of those products launched just shortly after the pandemic hit. We wanted to make sure people had something that they felt safer with. Even our eco products have antimicrobial material."
Targus was acquired in October by B. Riley. "That's really got us all excited, because that's a whole new adventure, right?" Corkill said. "You've got a whole new team of people that are helping you now, and helping guide you, and helping to expand what you've already got."
Despite the acquisition, Corkill says Targus has no plans to leave Orange County. "What we are planning to do, though, is to make sure the company continues to grow," he said. "There's tons of opportunity for us." The company will focus on growth, mergers and acquisitions in markets such as Europe, Australia, Canada and Latin America.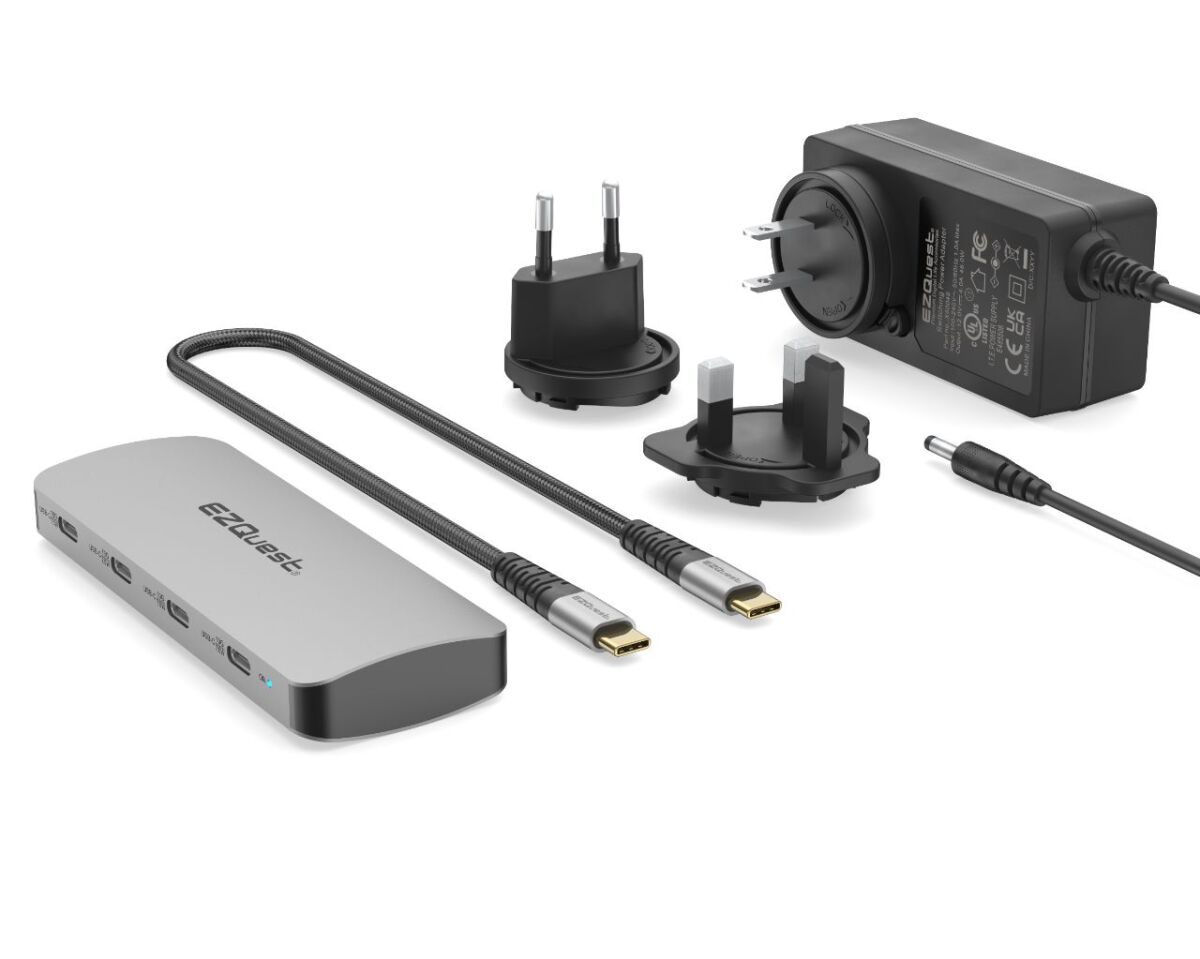 Doing what they love
Yorba Linda-based EZQuest was founded in a garage in Anaheim Hills. Its current bread-and-butter line is its range of USB-C docks, cables and adapters; it was one of the first companies to bring accessories using this connectivity to market.
The new USB-C hubs EZQuest announced at CES allow for screen mirroring, data transfer and charging. They were designed based on customers' real-life needs and preferences.
"The latest laptops and computers are becoming thinner and lighter every year; it can leave users wanting and needing extra ports to make multitasking easier," said Ebrahim Zmehrir, founder and CEO of EZQuest. "These are exciting times for us, so we can do what we love, which is to make what customers need."
Zmehrir honed his gift for intuiting what people want while working for another local company.
"I graduated in Iran with a degree in electronics," Zmehrir said. "I came to the U.S. in 1990. I worked as a technician at VCP computer products. After VCP was shut down, I decided to open my own company in 1994 out of my garage focusing on the external storage market."
EZQuest got its start manufacturing external hard drives with the then-popular FireWire connectivity. The products were an immediate hit, winning awards and receiving "Best Of" nominations from Macworld magazine and IBM.
From there, as technology changed and cloud-based storage became popular, the company pivoted to tech accessories harnessing the new USB-C standard.
Zmehrir said the pandemic has actually helped his company, since the need for accessories due to remote work grew.
"What I have learned since I have been in the U.S. is that you won't know what you are capable of unless you are cornered in and there is no way to escape," Zmehrir said. "Suddenly you will see talents and develop a stronger will to do things that you did not know you had in you."
In the future, the company will continue to focus on innovative USB-C hubs and products, including a dock that takes charging and powering devices to the next level.
'Important opportunities'
All of the Orange County companies interviewed agreed that CES is absolutely integral to their business.
"CES is an opportunity to get a pulse on what is happening in the electronics industry and which direction technology is heading," Zmehrir said. "It is also a forum to meet with people face-to-face to discuss and share ideas for the present and future ... The more you put into this event, the more you can take away from it."
"Targus has been coming to CES for many, many years," Corkill said. The company has experimented with different modes of engagement, from big booths on the convention floor to private showcases in luxury suites. But Targus found customer engagement was highest when it went with a "big bang" approach on the show floor.
"CES ends up being something that's a lot of fun for people. They can see the excitement that is happening here," Corkill said. "I think CES is really worth it. You get to meet a lot of different people and it opens up your horizon a lot. Plus, we take advantage of meeting not only our partners, but our competitors. Even though we compete with a lot of the companies here, there are lots of times when you may end up partnering with those companies. Plus, we get to see everything from telescopes to race cars."
Candice Yacono is a contributor to TimesOC.
---
All the latest on Orange County from Orange County.
Get our free TimesOC newsletter.
You may occasionally receive promotional content from the Daily Pilot.