Birria, done that: the champion ingredient filling tacos in Santa Ana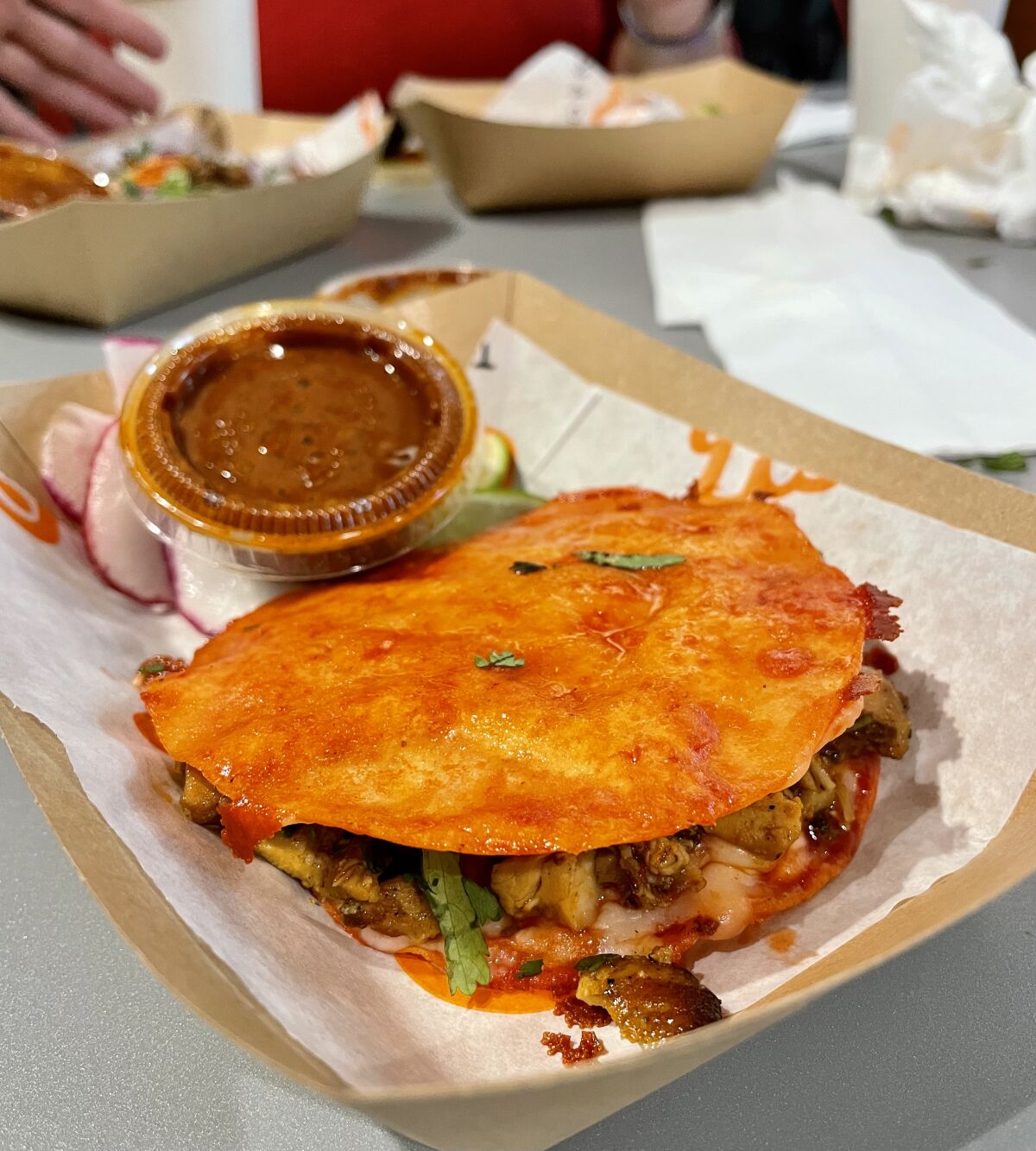 Walk into any Santa Ana taqueria worth its salsa and you'll inevitably find one meat touted over the rest: birria. For the past couple of years, birria has become one of the most sought-after proteins for tacos, perhaps more than al pastor, that ruddy spicy pork option which is carved shawarma-style from a vertical cone of meat called a trompo.
Birria comes from a decidedly less sexy preparation method. It's typically cooked in a pot wherein the meat is slow simmered for hours with an amalgamation of chiles and spices.
When it's ready, this stew seeds as many dishes as there are long-guarded birria family recipes. You could slurp it straight out of a bowl, with the meat falling apart and ladled with the intense cooking liquid called "consomé." But if you've encountered birria already, you probably had it as quesabirria taco, where the chopped meat is stuffed with cheese into a tortilla that's been pan-fried and stained red with the crimson grease skimmed off the top of the stew. And if you've had your taco at a place that specifically distinguishes itself as a birrieria, it will be served with a side cup of consomé to use as you would au jus for a French dip sandwich.
Even Disney got into the action when it introduced its own quesabirria taco last year, which has become so popular at Cucina Cucamonga — the Mexican eatery at Disney's California Adventure — the park imposed a rule limiting guests to two orders at a time.
At this rate, it won't be long before birria displaces the barbacoa at Chipotle. But you don't have to wait until that happens. Here are three Santa Ana birria specialists where you can dive in headfirst into the spicy red birria sea.
The established heavyweight
La Super Birria
1041 W. First St.
Santa Ana
At La Super Birria, you want to start with the big steaming bowl of birria de res itself for about $12, a spicy stew with beef chunks so tender it verges on collapse. And where it doesn't fall apart, it wiggles from the bits of fat strategically left behind. Even if you avoid the fat, this soup is already a decadent meal. It's so rich that before you tuck into it, you must squeeze lime, throw in plenty of onions and sprinkle a handful of cilantro for balance.
When you start digging into the bowl with a spoon in one hand, you must have one of their thick tortillas on the other. The girthy things — hand-pressed and cooked to order — are some of the best corn tortillas in Santa Ana.
In the unlikely event that you're still hungry after you lap up the last drop, La Super Birria also griddles a stretchy quesabirria where the birria meat is tucked with cheese into the fold of its pillowy tortilla. Or you could have it as part of a $12 "Birria Tour," for which you also get a red taco (beef stuffed into a thinner tortilla stained red with the birria grease), a griddle-crisped taco dorado and a cup of consomé.
Just know that everything here involves birria. In fact, since owners Rosie and Edgar Navarrete decided to carve out a tiny section of their decades-old candy business Dulcería El Caracol to sell it in 2015, the menu has exploded to include everything birria-related. These days, the menu boasts birria ramen, birria pizza (called "pizzirria"), even a birria cake.
Birria has so completely taken over the business that the old candy shop ceased to exist. Instead of flimsy plastic picnic tables and fold-out chairs, you now sit in booths and leather-covered thrones while a gigantic LCD and a booming sound system blasts Reggaeton.
The Naverretes have also expanded beyond Santa Ana, with new La Super Birria restaurants in Orange, Stanton, and Long Beach, each one presumably blaring the same music as loud as the flavors you'll encounter.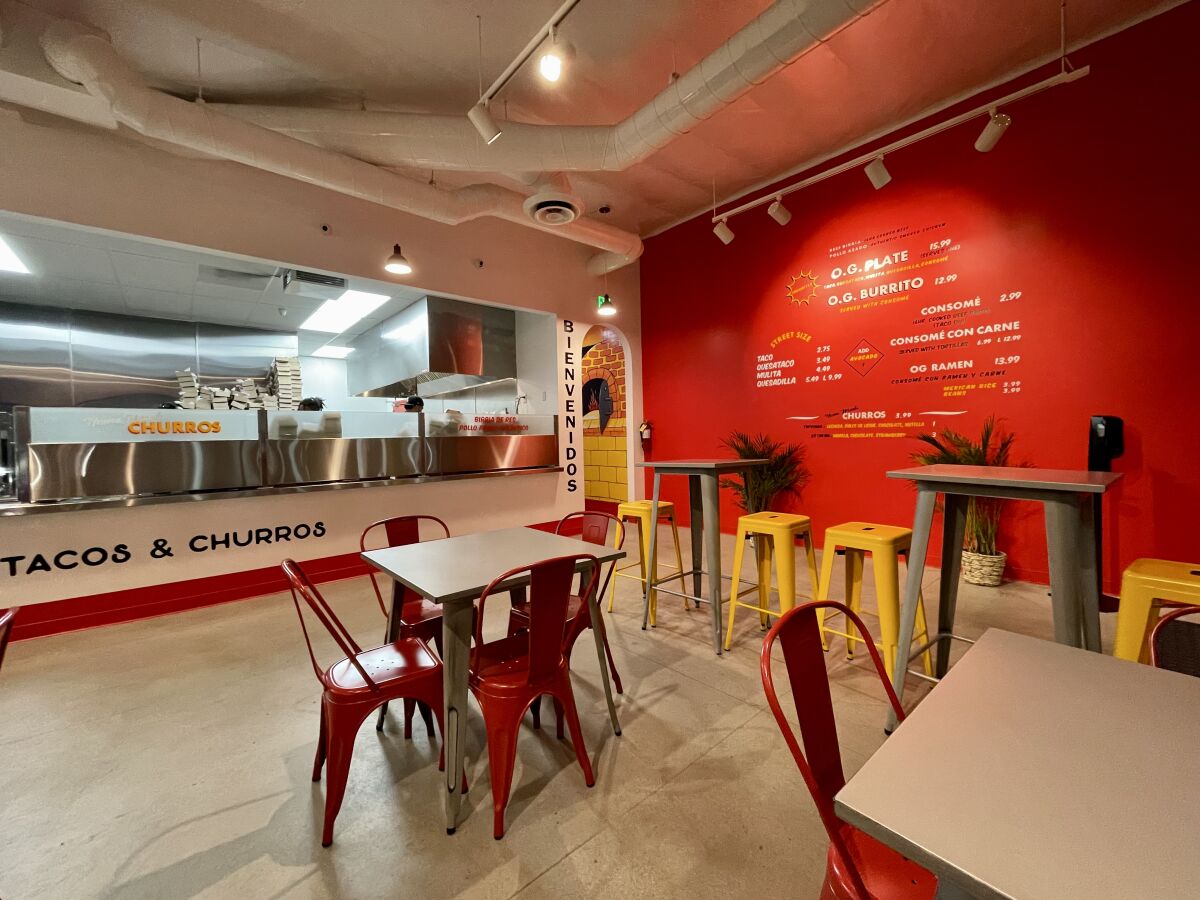 The newest kid on the block
Papi Tacos & Churros
2603 S. Main St.
Santa Ana
The dining room at Papi Tacos & Churros looks generic. If you Photoshop out the menu stenciled on the wall, the place could conceivably be a burger joint or even a Chipotle. But perhaps it's on purpose: the clean, blank-slate quality of the interior design is decidedly un-intimidating for first timers.
In fact, even if you saw the bubbly Papi Tacos & Churros logo from the street, you'd be completely unaware that it's a birria specialist. Since it is located at a Chevron gas station, some might even mistake it for the Food Mart next door where you'd put $20 on pump No. 6.
Once inside, you see no options for carne asada, carnitas or barbacoa. You're forced to fall in love with birria.
This store is the third Papi Tacos location in Southern California. The first made a splash in Los Angeles and social media about two years ago. This third restaurant opened earlier this year in Santa Ana just a few blocks away from historic Main Street.
Papi Tacos is family-owned, but the face of the brand is a man named Omar Ghanim, who appears on its TikTok, Facebook and Instagram as "Papi." On countless videos, Ghanim and his rippling biceps can be seen lifting out hunks of halal beef from a 16-hour simmer and chopping it into oblivion with a cleaver.
And though chicken is offered as a fallback, you want the beef birria as the filling for the taco dorado, quesataco, mulita and quesadilla. The $16 "O.G. Plate" gives you all four and a cup of the consomé for dipping or sipping. If you opt for the consomé con carne, a wad of meat is dropped into the cup of broth. The beef strands are so fine and tender, they're in danger of dissolving into the soup.
Except for the amount of cheese and whether the tortilla cradles the filling or sandwiches it, there's very little difference between the taco, the quesataco, the mulita and the quesadilla. What's constant is the red grease from the stew that's used to fry the tortillas to crispiness and stain it crimson. It will coat your lips, lube your fingers and drip onto your lap.
If you think the grease is excessive, take comfort in knowing that afterwards you're inevitably compelled to order some decadent deep-fried churros caked in cinnamon sugar and drizzled with chocolate, which, let's face it, is way worse for your diet.
The underrated lonchera
La Cascada
1520 N. Main St.
Santa Ana
La Cascada's menu looks like that of a lot of other loncheras in Santa Ana. The list of meats includes birria, asada, cabeza, lengua, chorizo, pastor and tripa that you could choose to fill a taco, burrito or torta. And you would not be disappointed eating any of it, especially the birria de res. But what you want here is the birria de chivo, goat birria, the truck's pride and specialty.
If beef birria is Spotify, goat birria is vinyl. Everyone can appreciate the accessibility of beef birria, but only a true birria connoisseur should seek out and spend the extra money on the unique appeal of goat. And this truck, being one of a few that specializes in the Michoacan delicacy, is one of the best places to make your investment.
The birria de chivo costs at least a dollar more than the birra de res, the beef birria. And if you're already committed to having goat as your taco filling over the beef, you might as well splurge an extra 50 cents on the option of a red taco instead of the regular. The red taco, as of this writing, costs around $3.75, for which the tortilla is dipped in the red grease before griddling. Not only does the treatment make it twice as crispy than an undipped tortilla, it also amps up the taco's inherent scrumptiousness tenfold.
But make no mistake: You will know this is goat and no other meat. Meltingly soft but with a gamy aroma and a savory sweetness double that of lamb, your olfactory senses are never more present and in tune with the ones for taste when you bite into a birria de chivo taco.
Perhaps the only thing that completes the experience is a measured application of the salsa de aceite, a concoction akin to Chinese chili oil. If it's your first time, the cashier might advise you to only apply a few drops from its gigantic squeeze bottle. "It's super hot," he says, "please be careful." Yet you put on too much. And for about five minutes, you wince and try to catch your breath.
But a weird thing happens: your endorphins triggered, you become acclimated to the blinding spiciness of the salsa and the funky smell of the meat. Then you think to yourself: This is the best birria taco you've had in your life. The G.O.A.T., if you will.
All the latest on Orange County from Orange County.
Get our free TimesOC newsletter.
You may occasionally receive promotional content from the Daily Pilot.