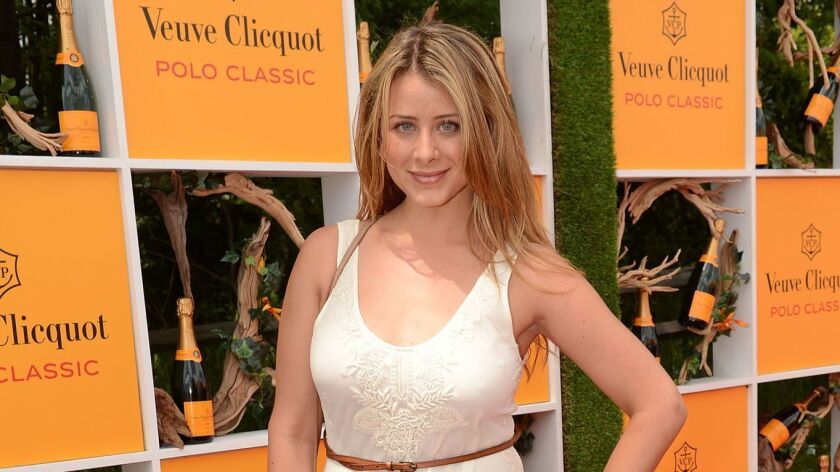 Lo Bosworth will return to her old stomping — or rather, shopping — grounds at Fashion Island this weekend with a greater mission than finding the perfect pumps.
The Laguna Beach-grown entrepreneur and former star of the reality TV show "The Hills" will be the keynote speaker at the 11th annual Style Week OC, which runs Friday through Sunday.
As the founder and chief executive of Love Wellness, an all-natural feminine hygiene brand, Bosworth will host a question and answer panel on Saturday in which she hopes to inspire women to take care of their health.
"I'm looking forward to speaking about how we can create a more open and proactive self-care culture," said Bosworth. "I founded this business to change the experience of shopping and using intimate products from one that can feel embarrassing to one that empowers women to take their own health seriously."
Bosworth will be one of many celebrity fashion and beauty experts presenting at the three-day event, which features free panel discussions, in-store parties and pop-up shops.
Many of the speakers will be traveling straight from the famous New York Fashion Week to discuss fall trends and firsthand experiences from the runway.
Among the Q&A lineup will be actress and former Miss USA Ali Landry, Lauren Bushnell of "The Bachelor," makeup and hair artist Emma Willis, hairstylist Paul Norton and TV personality and stylist Daniel Musto.
Los Angeles-based and England-born lifestyle influencer Louise Roe will also be present on Saturday to share advice for young people looking for a career in media, beauty or fashion.
"I began in the magazine industry in London over a decade ago," said Roe, who authored the fashion and lifestyle book "Front Roe: How to Be the Leading Lady in Your Own Life." "I attended Fashion Week as a journalist and there were no bloggers at all. Trends could be kept a secret and revealed months later once we went to print.
"Stylists were the secret, silent powerhouses behind celebrities, who had selling power. I love how much faster and democratized fashion is now. Anyone can watch a runway show, have an opinion, start a blog or style a cool look themselves."
Roe, who has nearly 700,000 followers on Instagram and more than 221,000 on Twitter, said she hopes to give aspiring bloggers and social media influencers a look into her personal life and career during the Q&A.
Since giving birth to her daughter, Honor, in January, she has had a large following of mothers, she said.
"It makes total sense to me why women would want to follow a 'regular' person who might have a family, a full-time job, but who also has great style," Roe said. "It's far more relatable to buy clothes through a person like that than from a movie star on a billboard or a supermodel on a runway.
"I have a whole host of new mums following me, and the topics that generated have been really interesting. I recently talked about maternity leave and how bad it is here in the U.S., and the article caused such a big reaction, a national magazine picked it up. That made me really proud to ignite or spotlight an important conversation."
Melissa Robles, director of marketing for Fashion Island, said this year's theme is "Birds of a Feather Flock Together in Style" and that it aspires to bring friends and family together to experience fall fashion.
The event will kick off Friday with a pop-up shop in the mall's Atrium Court featuring the Leyla Milani Collection, a line of clip-on extensions, styling tools and hair products.
Unique from past events is the dedicated panel for men's fashion, which will include menswear stylist Ashley Weston, Nobleman Magazine Chief Executive and Editor-in-Chief Doug McLaughlin and menswear and lifestyle blogger Jose Figueroa. Fashion Island menswear lines including Rodd & Gunn, Suitsupply and Garys will be featured.
"The inspiration behind Style Week OC was to showcase fall fashion in a way that wasn't being done yet in Orange County," Robles said. "We wanted to present the season's top trends to our customers in a fun and interactive way, which has ranged from in-store parties and runway shows to design competitions.
"Since launching 11 years ago, it has evolved to bring our customers a more personalized experience where they can hear from highly acclaimed experts and influencers in fashion and beauty."
IF YOU GO
What: Style Week OC
Where: Fashion Island, 401 Newport Center Drive, Newport Beach
When: 11 a.m. Friday through 5 p.m. Sunday
Information: shopfashionisland.com or styleweekoc.com
Jackie Moe is a contributor to Times Community News.
---