In the Pipeline: A resurrected Hells Angel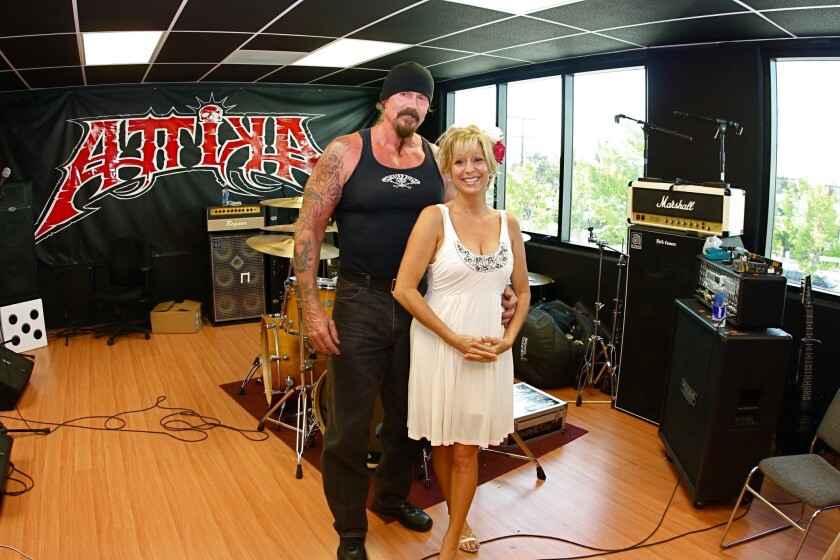 "A cement-covered marshmallow."
That's how Katherine Coones describes her husband Rusty, a 6-foot-5 biker bear of a man who, despite what some might consider to be an intimidating presence, is disarmingly warm and engaging.
On Goldenwest Street right near the 405 Freeway is Illusion Motorsports, the world this couple (along with Rusty's business partner, Rodrigo Requejo) has been building for more than a decade. They call it "the premier motorcycle customizing shop of Orange County," and after a tour, it's obvious why.
Though they'll do tune-ups and other bike maintenance here, it's the design and building that they're primarily focused on. Several dozen bikes in various stages of creation and design are on display, including one $80,000 beauty that Rusty is customizing for a local businessman.
Over the thundering, metallic roar of motorcycle engines, Rusty beams as he leads our tour, stopping to kid with his employees and answer questions about works in progress.
In a second-story loft, a band rehearsal stage is set up with amps, drums and guitars. The name Attika 7 is emblazoned on a banner.
This is where our story starts to come together. Rusty Coones is a guitar player in a heavy metal band. He's also a Hells Angel, founder of the Orange County chapter and current head of the San Fernando chapter.
He's been an Angel for about 17 years, but we don't talk a lot about the Angels because there's a code about that. And that's fine.
In 1999, Rusty went to prison for conspiracy to distribute ephedrine. He was looking at two life sentences, but was sentenced to eight years and ended up serving six.
Rusty told me he could have had it a lot easier if he'd named names, but he wouldn't do that. Because that's not what Angels do. "I don't tell on anybody, ever," he said. "That's just not how I am."
While in jail — including a stint at New York's notorious Attica prison — Rusty said he thought about "all the stupid things I'd done, along with all the good things I'd done. I read a ton of books. And I decided when I was in there, if I ever got another shot at freedom, that I was going to do it the right way and never put my freedom on the line again."
He missed his kids (now 29 and 30) and his wife while he was in. And he rediscovered his childhood love of making music, so he started writing songs on guitar. Soon, he was playing concerts for the inmates, featuring his raw, heavy metal-based songs that reflected his two intense years in solitary confinement.
Just last week, the band Rusty created once he got out of prison, Attika 7, released its debut album, "Blood of My Enemies." The loft at Illusion Motorsports is the band's headquarters, where they practice, hang out and even play occasional shows for fans.
You may have already heard some of the band's music featured in the popular TV show "Sons of Anarchy."
Now, they're heading out on tour, in yet another improbable chapter in the life of Rusty Coones.
"I'm making the most of this second chance I have," he said. "Freedom, with honor, is worth more than anything, and I'm now running my life as honorably as I can.
"Hard work is what I live by now. Here in my shop, in my marriage and in my music. And any friends or family with drug issues, I try to help them. But I've learned that the key is, people have to want help before you can really get anything done."
Katherine told me that just before Rusty got arrested, they had started their bike business, and that she had to keep everything alive while he was in.
But at first, she could not even visit him in prison because they were not married yet. So they found a biker minister who performed the service over the phone — with Rusty on a prison pay phone — with permission from the judge.
She also said she knew he was worth waiting and fighting for, and that when she looked up at the sun and the moon and pictured him under those same bodies in the sky, it gave her hope.
She abstained from doing many things she liked doing until Rusty was free so they could enjoy them together, and today she's a very active partner at the shop.
"I was truly in love," she said, "and I still am. I glow when I am with him."
Katherine and her "cement-covered marshmallow" work hard as a couple to run their business. Rusty, also a former general contractor, actually built the loft his band plays in, and he's proud of how handy he is.
"I love to create things," he said. "This space for the band, and especially motorcycles. I look at every bike as a canvas."
Before I left the shop, Rusty stressed again, "If you're going to be free, you've got to be legit."
And for all he puts into his marriage, the shop and his music, he may just dedicate the most energy to that: being legit.
CHRIS EPTING is the author of 19 books, including the new "Baseball in Orange County" from Arcadia Publishing. You can chat with him on Twitter @chrisepting or follow his column at https://www.facebook.com/hbindependent.
---
All the latest on Orange County from Orange County.
Get our free TimesOC newsletter, coming in August.
You may occasionally receive promotional content from the Daily Pilot.