UCI's Kei Akagi is inspired by both classic jazz musicians and emerging songwriters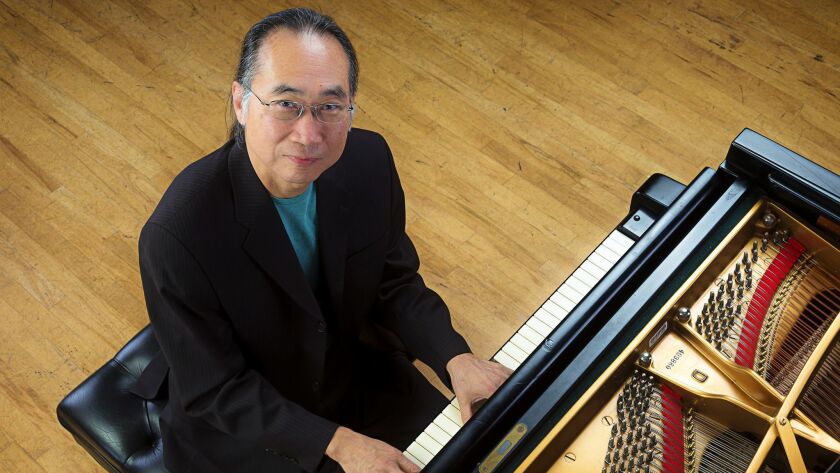 Closing in on two decades as a full-time professor of jazz at UC Irvine, Kei Akagi never tires of the campus.
"First, the faculty here has always been a fantastically fertile ground for the creation of new ideas to experiment with," said Akagi. "And secondly, there are my students, who are constantly bringing fresh ideas for me to experience. So no, it never gets old for me here."
He plans to perform with his Tokyo Trio bandmates, bassist Shunya Wakai and drummer Tamaya Honda, on Feb. 15 and 16 at Winifred Smith Hall in UC Irvine's Claire Trevor Arts Village. Founded in 2000, the same year Akagi became full-time faculty at UCI, Tokyo Trio has recorded seven CDs and just completed a 19-week tour in Japan.
Akagi and Honda go back 20 years, when they met on the set of a Tokyo television show . Akagi has worked with Wakai for six years, calling him a "marvelous musician who brings together everything that's happened in bebop the last 50 years."
This will be the 22nd "Kei Akagi and Friends" concert.
Previously, his "friends" included his original trio from the late 1990s, including bassist and fellow UCI professor Darek Oleszkiewicz, as well as drummer Joe LaBarbera.
One of Akagi's first jobs, after he came from Japan to the U.S. at 22 as a graduate student, was playing with West Coast jazz musician Art Pepper. He also performed with Airto Moreira, Flora Purim and Miles Davis.
"Working with Miles was the most nerve-wrecking two years of my life," he says, "but I got to know one of the sweetest, kindest people I've ever met."
Nowadays, Akagi finds inspiration from the youth.
"I encounter a lot of young musicians in their 20s and early 30s with their own ideas that juxtaposes things I wouldn't have thought would go together," he said. "So even though I've been in the business a long time — I'm 65 — I still hear new things that then go into my music."
He's currently writing new works, which he will perform at the Feb. 15 and 16 UCI Music Faculty Artist Series concerts, as well as an additional show that will take place on Feb. 17 at the Blue Whale in the Little Tokyo district of Los Angeles.
"I write American music that encapsulates all the richness and awesomeness, tremendous dynamism and energy of current American culture," he said. "I've trained in traditional jazz, which is the backbone of all my work … [and] I might incorporate rap or reference heavy metal, but I always want my music to reflect American culture."
IF YOU GO
What: UCI Music Faculty Artist Series presents "Kei Akagi and Friends: An Evening of Modern Jazz with the Tokyo Trio"
Who: Kei Akagi, piano and composer; Shunya Wakai, string bass; and Tamaya Honda, drums
When: 8 p.m. Feb. 15 and 16.
Where: Winifred Smith Hall, Claire Trevor School of the Arts, UC Irvine, W. Peltason Drive
Cost: Tickets at $19 (with various discounts)
Information: (949) 824-2787; arts.uci.edu
---
All the latest on Orange County from Orange County.
Get our free TimesOC newsletter.
You may occasionally receive promotional content from the Daily Pilot.