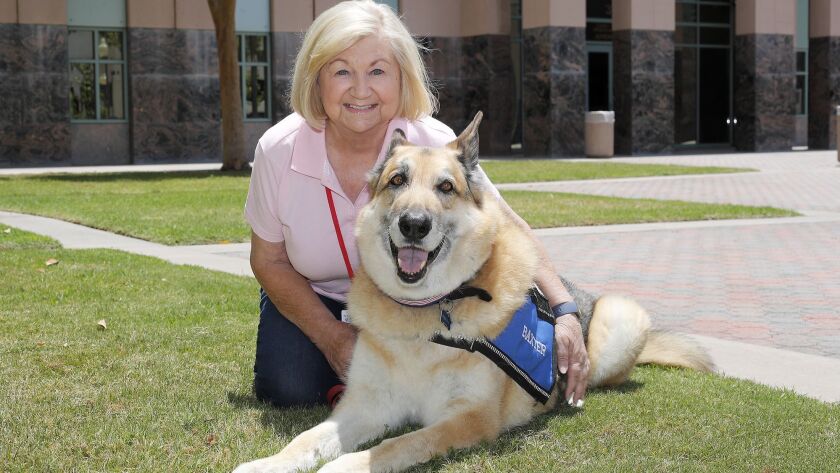 Six years ago, Baxter the dog was found wandering the streets of San Bernardino wearing a yellow necktie.
It wasn't immediately clear from where he came — or why he was wearing a tie.
Today Baxter is the first and only service dog providing comfort to child trafficking victims in an Orange County courtroom.
The 10-year-old German shepherd works at the Lamoreaux Justice Center in Orange.
Baxter weighs 99 pounds and looks very much like a canine version of Thor. Trafficking victims can cuddle or pet Baxter while providing the judge an update on their recoveries.
"Some girls won't talk unless he's there," said Cheryl Timmons, Baxter's owner, who brings the pooch to court every Wednesday.
"Because of his size, the youth we have can just hug him, and he is just a big, comforting, warm presence that allows them to take down the barriers that might be up," said Nicole Strattman, the commercially sexually exploited children coordinator of the county's Social Services Agency.
If the victims want Baxter there, then he is free to walk up to them. If any aren't keen on his presence at the moment, he stays off to the side of the room.
"There was one girl who was so angry she couldn't talk to anybody," Timmons said. "Then she was just with Baxter and me and soon tears started to go down her face. She nuzzled up to him and talked to him. Only she and Baxter know what that conversation was about.
"These girls come from such dark places, it's like having their own dog."
Timmons, who lives in Yorba Linda, rescued Baxter when he was 4 years old from the German Shepherd Safe Haven, a nonprofit in Laguna Niguel.
She realized early that Baxter had a gift for providing comfort. The courthouse put him to work in October.
"He's such a gift from God for me," Timmons said. "I had to share him."
Baxter became Timmons' first service dog. She took him to children's hospitals and senior homes. He also works with the Anaheim Police Department's K-9 unit.
Timmons has been working with the APD for 20 years, since she founded the Friends of the Anaheim Police K-9 Assn. The group raises money to fund medical care for retired Anaheim police dogs.
Strattman said she contacted Anaheim police after coming up with the idea to bring a service dog into the GRACE court. The GRACE court, which stands for Generating Resources to Abolish Child Exploitation, was created a few years ago to provide support and service to victims and survivors who come through the foster care and probation systems.
Baxter is like a celebrity in the court. Everybody knows his name.
"Baxter runs this place," Timmons said. "This place lights him up. It's his happy place."
When Baxter recently showed signs of arthritis, Timmons was worried she'd have to put him down. But not only has Baxter's ailing hips shown improvement since beginning rehabilitation therapy at Healthy Paws Veterinary Care in Fullerton, Dr. Janet Suh, the veterinarian who is performing Baxter's therapy, started a GoFundMe campaign to raise money for his rehab therapy.
So far about $2,550 has been raised, with a goal of $5,000.
Timmons was moved by the gesture, saying it was karma for all the work she's done raising money for retired police dogs.
"I guess what goes around comes around," Timmons said.
To donate to Baxter's treatment, visit https://bit.ly/2xiyF3e.
Support our coverage by becoming a digital subscriber.
---