Column: Yang's Braised Chicken Rice is hearty winter comfort food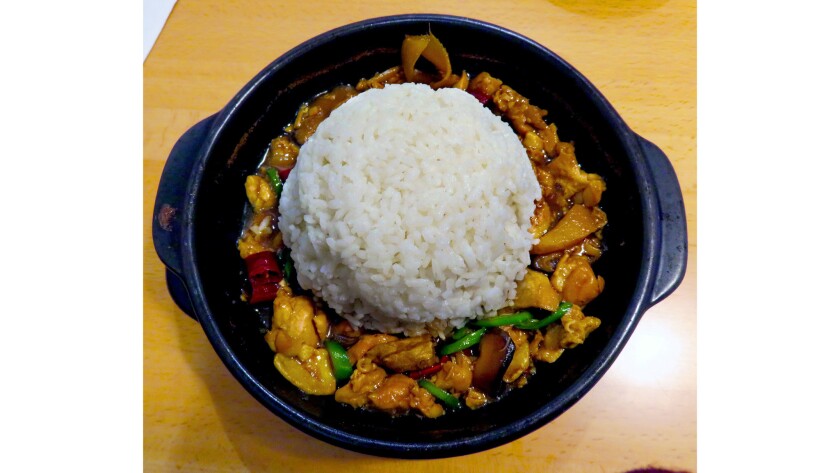 Baby, it's cold outside. Or at least it is as I write this, on a blustery January evening after driving around Orange County on a hunt for a meal to thaw the chill. Of course, by cold, I mean about 50 degrees, which is as frigid as winter in Southern California gets, but forgive the hyperbole; I haven't yet re-lit the pilot light in my apartment's wall heater and the arctic frost feels too real.
Nights like these call for wool socks and comfort food, dishes that are not necessarily decadent or rich, but that are still hearty enough to warm you from the inside out. Since it opened in September, this has meant going to Yang's Braised Chicken Rice in Tustin, where tonight I melted into yet another steaming clay pot filled with the only thing this wildly successful one-dish Chinese fast food chain serves: the nourishing and addictive huang men ji.
Huang men ji is a braised chicken stew, with juicy thigh meat, slippery shiitake mushrooms, slivers of serrano pepper and quarter-sized ginger hunks swimming in a base of fermented bean paste that's been spiced to be less soupy than as thick as a good turkey gravy.
The traditional dinner dish comes from the northeastern province of Shandong, more specifically, the capital city of Jinan, where every grandmother has her own way of making the complex, savory braising broth, but not every restaurant serves it.
Yang's founder Xiaolu Yang has braised chicken stew in his blood. His family owned several restaurants in Jinan in the 1930s and he learned to make its signature dish from his grandmother, whom he grew up watching prepare it.
Xiaolu first tried opening a traditional Shandong-style restaurant in Jinan with a full menu, but soon realized everyone only wanted to order his grandmother's huang men ji. And not only were people ordering the stew, they were getting it with a side of rice that they then mixed in to it, a nontraditional but now-popular way to consume it.
The one-dish concept was born.
At Yang's, the namesake item of braised chicken stew with a side of rice isn't just a must-order specialty like you'll find at so many regional Chinese restaurants, it's literally the only thing you can order. You just have to decide whether or not you want yours regular, authentic or spicy style — the only difference is the amount of chile peppers tossed in.
Since launching the unconventional brand in 2011, Yang's Braised Chicken Rice has opened more than 6,000 locations across Asia and Australia. In most cities in China, this amounts to about two Yang's per neighborhood — a Starbucks-like permeation of quick-service counters all serving just one thing. It's an experiment that embraces efficiency while defying American food trends in customization and personal choice.
Tustin is the first Yang's location in the U.S. and it follows the model of minimalism for which this brand is known. Decor amounts to white walls, concrete floors, a counter, some flimsy aluminum chairs at cheap tables and a soda machine. But you don't need anything fancy when the emphasis is on their intoxicating braised chicken stew, which for $9.99 emerges bubbling in a clay pot with a dome of soft white rice in the middle within minutes of being rung up.
Immediately, as you walk the black plastic tray back to your table, the aroma comforts as it affronts, with pangs of ginger and the tickle of spice all coated like a wet drape in a thick brown sauce. Once you sit, let it simmer a bit until the juice curdles up on the sides, then use the spoon to start folding the rice into the sauce.
There's no real technique to getting all the rice coated in Yang's famous sauce, but it's a necessary part of the experience and everyone eventually settles on their own method (I stab the rice then scrape down the sides and fold over like I'm mixing brownie batter). If the proportions were properly served, you end up with a thick casserole of bloated rice and vegetables that, either because of or despite its intensity, warms from the inside out.
It's the ultimate form of winter sustenance, perfect for those frigid California nights.
Yang's Braised Chicken Rice is at 13824 Red Hill Ave., Tustin. For more information, call (714) 731-7777 or visit ymyusa.com.
SARAH BENNETT is a freelance journalist covering food, drink, music, culture and more. She is the former food editor at L.A. Weekly and a founding editor of Beer Paper L.A. Follow her on Twitter @thesarahbennett.
---
All the latest on Orange County from Orange County.
Get our free TimesOC newsletter, coming in August.
You may occasionally receive promotional content from the Daily Pilot.