Jazz is a singularly American musical art form, and its roots are sunk deeply into the style known as blues —plaintive melodies born of loneliness, rejection and disappointment.
It might seem unlikely that such a diet of emotional misery could bring audiences to their feet, but that's definitely the case at the Laguna Playhouse where "Blues in the Night" delivers a truly terrific evening of theater.
Conceived and directed by Sheldon Epps, "Blues in the Night" is more of a concert than a theater piece, even though its African American actors play out mini-plotlines as they deliver time-honored blues numbers primarily from the female viewpoint.
Three women comprise the main Laguna cast, and one man pops in from time to time as a counterweight, representing the deficient lovers in their lonely lives.
The ladies represent a spectrum of ages — youthful, middle-aged and well-seasoned — and all three are given multiple opportunities to display their superb singing voices.
The elder stateswoman of the trio, Yvette Cason, boasts the heartiest set of pipes, scoring with the endearing "Lover Man" and the kittenish "Take Me for a Buggy Ride" before bringing the house down with a raunchy, ribald "Kitchen Man," detailing her physical needs in no uncertain terms.
Jenna Gillespie is "the girl," a young idealist eager for romance. Her solo moments are few but she makes them memorable, particularly her haunting rendition of "Willow Weep for Me."
Natalie Cole and Lady Gaga both have offered engaging versions of "Lush Life," but Paulette Ivory in her "woman of the world" guise takes this tune to new emotional heights. Ivory joins Gillespie for another key moment with the duet "When Your Lover Has Gone."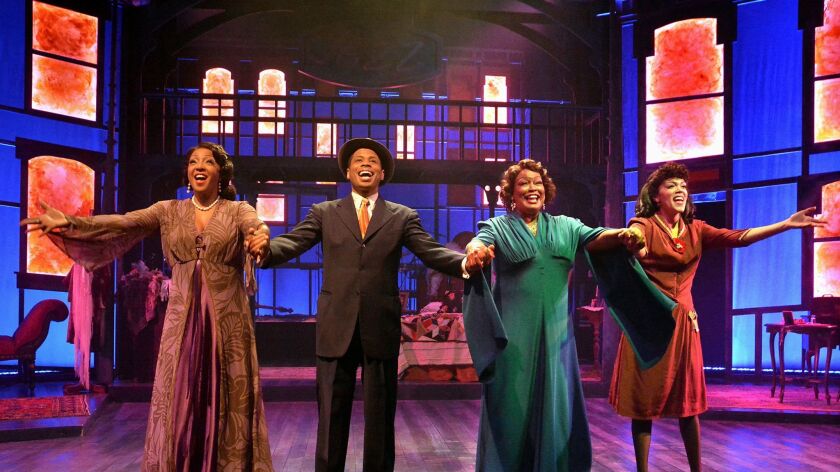 As "the man in the saloon," who appears periodically to espouse the male point of view, Chester Gregory strikes an effective balance with songs like "Wild Women Don't Have the Blues." His "Baby Doll" number also impresses.
A five-piece combo stationed behind the set keeps the show humming under the leadership of pianist Abdul Hamid Royal. The trumpet stylings of Aaron Smith are a particularly effective ingredient.
Set designer John Iacovelli's three staging areas blend into a handsome backdrop suggesting the flavor of the 1920s or '30s. The period costumes of Dana Rebecca Woods are attractive and eye-catching.
It's regrettable that the playhouse couldn't have presented the musical "1776," originally scheduled for this slot, but the stirring vocal ecstasy of "Blues in the Night" makes it all worthwhile.
Tom Titus reviews local theater.
IF YOU GO
What: "Blues in the Night"
Where: Laguna Playhouse, 606 Laguna Canyon Road, Laguna Beach
When: Wednesdays through Saturdays at 7:30 p.m., matinees Saturdays at 2 p.m., Sundays at 1 p.m. until March 10
Cost: $75 to $105
Call: (949) 497-2787 or online at lagunaplayhouse.com
---