Bonsai: Big expression in miniature at the Bower's Museum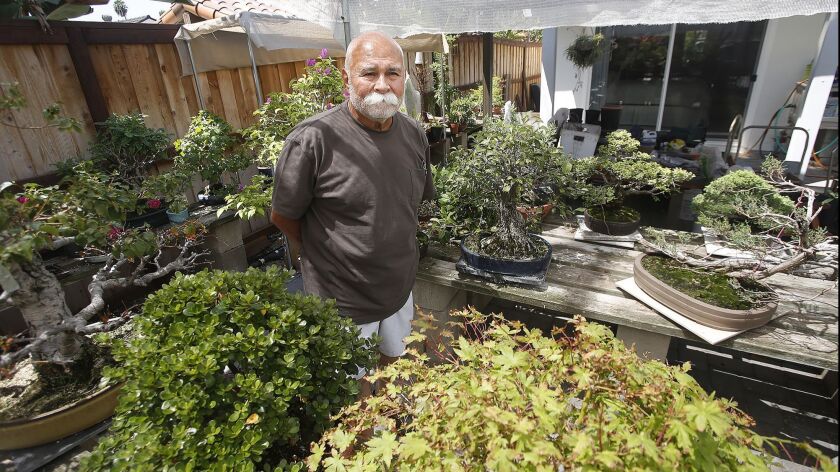 They are living works of art, the fruition of a loving relationship between artist and subject, often years in the making.
And visitors to the annual bonsai exhibit at the Bowers Museum in Santa Ana will see some of the finest representations of the centuries-old art form — bonsai.
"Bonsai, a Living Art Form Display," runs Sept. 6 to 9 in the John M. Lee Court at the Bowers.
The free exhibition features 28 trees selected from among the personal collections of local Bonsai artists, who will also be on hand to answer questions about their pieces.
"They'll be a nice cross section of trees," said bonsai artist Manny Martinez, a member of Kofu Bonsai Kai, an Orange County club devoted to creating and promoting the art form. "The quality is very, very good, as good as you are going to see anywhere around."
Loosely translated, the term bonsai (pronounced bone-sigh) means "tree in pot" or "tree in container."
The uninitiated often think bonsai refers to a specific species of trees, Martinez, a Lake Forest resident, said.
But the term bonsai refers to the art form itself, which involves crafting a miniaturized version of trees found in nature.
Many species of trees can be used, he said.
"There is a little bit of self-expression involved," Martinez said. "There is also the desire to create. You are trying to create that illusion of age, and you're trying to create the look of a very large adult tree that would be in nature, but you are trying to create it in a very small scale."
The art of bonsai originated in the mountains of China, according to Kofu Kai's website.
Since the trees survived through harsh, wintry conditions, they were undersized and twisted, serving as the prototypes for the art form. Artists looked to create trees, which mimicked those trees' nature.
"Respect is probably at the most fundamental level of being able to do bonsai well," said Ryan Neil, founder of Bonsai Mirai in St. Helens, Ore., a community of artists immersed in all aspects of the craft. "If you don't respect the fact that life and death is a very real part of the creative process with bonsai …. if you don't respect that line, [you] don't have anything in the end except for a big dead tree."
If You Go
What: Bonsai, a Living Art Form
Where: Bowers Museum, 2002 N. Main St. Santa Ana
When: Sept. 6 to 9
Cost: The exhibit is free but does not include admission to the museum
Information: bowers.org or (714) 567-3600.
---
All the latest on Orange County from Orange County.
Get our free TimesOC newsletter, coming in August.
You may occasionally receive promotional content from the Daily Pilot.