Claude Monet's palette of blues, Vincent van Gogh's bright yellows, the city of Oaxaca's vibrant red and a Chicago-style hot dog.
They're all forms of inspiration in artist Chip Fesko's watercolor paintings on display till Jan. 5 at Newport Beach Central Library.
The "Abstract Pixel Geometric Patterns in Watercolors" exhibit features 14 watercolor pieces using up to 10,000 quarter-inch squares per painting, mimicking pixel-like squares of color. Each painting took Fesko weeks and sometimes months to finish and the series took five years to complete.
He also has three abstract geometric paintings based on math lines on display at the library.
It's a gallery of work that exemplifies the act of never giving up, Fesko, 61, said.
"When you're painting, you get a sense of accomplishment when you finish one square," Fesko said, equating the process to a mediative experience. "There's no pattern at all and that's the uniqueness about it."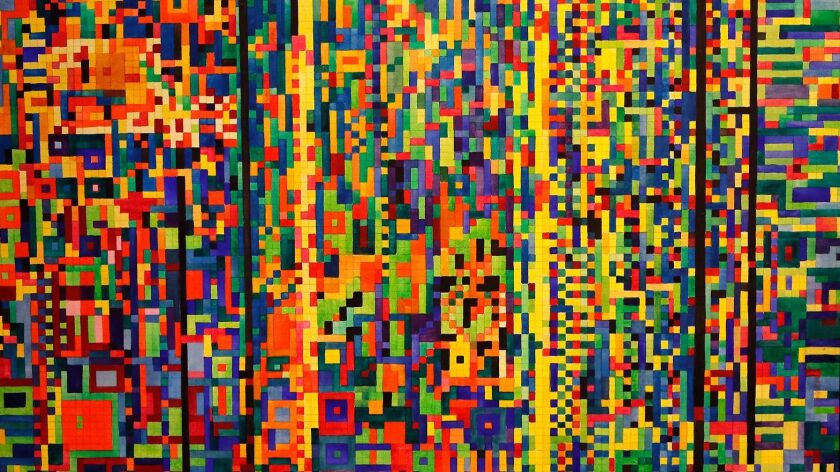 Fesko, a Newport Beach resident, husband and father to one son, has worked on a variety of creative projects.
His piece "Fire" placed second in the watercolor category at the 53rd annual Newport Beach Art Exhibition in 2017.
His botanical wildflower watercolor cards are carried at Lassen Volcanic National Park; he co-produced "Everest: A Climb for Peace," a documentary endorsed by the Dalai Lama and narrated by actor Orlando Bloom; and his last exhibit at the Newport Beach Central Library was four years ago when he shared his children's book and poetry, "FireFlies and Honey Bees" published on iTunes Books.
He currently is the senior director of advertising for education website TeachingChannel.org, an educational service that received a $3.5-million grant from the Bill and Melinda Gates Foundation.
Art always interested him when he was growing up on a dairy farm in the Finger Lakes region of New York.
After studying art at Fredonia State University and finishing graduate school at Syracuse University, Fesko moved to California in 1991 and continued to paint in his spare time.
He puts color to paper in his home's downstairs studio and uses a yardstick, paints and a pencil.
Fesko said his variety of combinations comes from many directions.
He conceptualized "Iowa Corn," a painting of vivid green squares, after seeing fields while flying back east to visit family.
"The Power of Gold" was inspired by the accomplishments of athletes from the Summer Olympics.
He has received letters of praise from color specialist Leatrice Eiseman, executive director of the Pantone Color Institute; Caroline Kennedy; and Sister Wendy Beckett, a British nun, art historian and critic who has presented a series of documentaries for the BBC on art history.
Fesko said his next step will be to take his work to the textile and fashion industry because he thinks the colors and designs would make high-end scarves and wraps.
Now, his limited editions of Giclee prints are $1,500 per custom print on watercolor paper.
Tim Hetherton, Newport Beach Library Services Director, said Fesko's paintings have generated many positive comments from the public.
Newport Beach City Arts Commission Vice Chair Arlene Greer, who served on the committee that approved Fesko's exhibition, said she was delighted to showcase the artwork to more than 3,000 library visitors a day.
"Chip is a man of many artistic talents and he's a gentleman of the past," Greer said. "His work is timely and interesting and I was drawn to it because his watercolors have such great detail. I love the fact that I have the opportunity to see it again and we're thrilled to have him."
Greer added that Fesko's abstract geometric paintings, based on mathematical formulas, are all the more appreciated as his creations are finished by the human hand during an age of great technology.
"I love sharing my artwork," Fesko said. "My goal has always been to be a renaissance man."
Newport Beach Central Library is at 1000 Avocado Ave. The exhibition is open from 9 a.m. to 9 p.m. Mondays through Thursdays, 9 a.m. to 6 p.m. Fridays and Saturdays and noon to 5 p.m. Sundays. For more information, call (949) 717-3800 or visit newportbeachlibrary.org.
Twitter: @KathleenLuppi
---