Descanso, a new Mexican fusion restaurant in Costa Mesa, is placing hungry diners close to the action.
And by close, we mean your evening's chef is right in front of you, chopping vegetables and meats, adding an egg to the rice and fanning the flames as you sit and watch around a giant flat grill.
For Descanso, this dining experience is dubbed la plancha, the Spanish word for griddle. Think of it as the Mexican version of Benihana, a hibachi/teppanyaki-style outing, though not as showy. Don't expect an onion volcano.
This modern taquería opened in November at 1555 Adams Ave. in the Shops at Mesa Verde. The site — which happens to be next to one of Orange County's busiest intersections and hasn't had a top-notch restaurant in recent memory — formerly contained a Souplantation. That building was torn down and has been rebuilt in the Spanish Colonial Revival style to match the center.
There are three grills that can seat eight for la plancha diners. Other seating options are the dining room, taco bar, full-service bar and patio.
During my recent visit, I had la plancha and left full and satisfied. What we ate was not always traditional Mexican fare, but we didn't mind.
It started with chips, salsa and pork rinds. The chips were a bit too crunchy for my liking, but that didn't matter when paired with Descanso's excellent (and smoky) red roasted pepper salsa. I paired that with a stellar drink called Bad Hombres (Herrardura repasado tequila, pineapple, serranos, lime, salt and pepper).
Then came the first course of soups: caldo de hongos (wild mushroom broth, soy sauce, red onion and cilantro) and fideo (toasted noodles, tomato broth, avocado, refried pinto beans, cream, tortilla strips and queso fresco). I recommend the caldo; it ended up being our favorite bite of the evening.
Our chef also prepared some nontraditional fried rice with an egg inside and smoked pepper mayo — a kind of Mexican-Asian fusion that was also among the best things we ate that evening. It came with wonderfully seasoned, freshly grilled vegetables.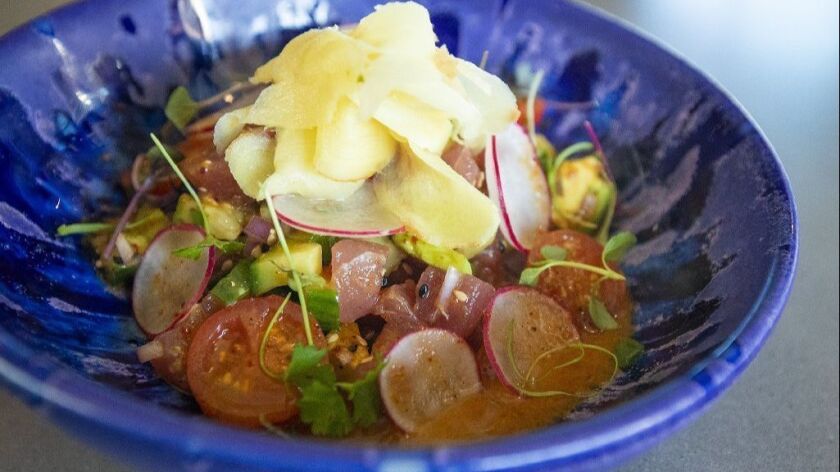 Main course options for la plancha are choices of tacos, quesadillas or alambres, which are like a scramble with tortillas (Descanso's are cleverly and deliciously made with both blue and white corn).
The al pastor (pork) alambre was a standout, made with three cheeses, poblanos, pineapple, avocado salsa and tortillas.
The evening's seasonal dessert was a lovely crepe with chocolate and whip cream.
Descanso is the latest endeavor of Rob Arellano, whose Costa Mesa credits also include the Holiday speakeasy-style bar and La Vida Cantina restaurant. He says Descanso is inspired by street-side taco men, made into a full-service restaurant setting.
Chef Sergio Ortega helms the kitchen, which he told me is quite small. Thus, he and his team make everything fresh, as storage is limited. No cans or can openers, he proclaimed.
Ortega, a native of Morelia, Mexico, studied culinary arts at the Art Institute of California in Santa Ana and has worked at The Ritz-Carlton Laguna Niguel and AnQi in Costa Mesa, among other kitchens.
Descanso serves lunch and dinner daily. Stop by for great Mexican food, only in a different realm than what you might be expecting.
For more information, visit descansorestaurant.com or call (714) 486-3798.
---