Longstanding Mexican cultural center finds a new home in Santa Ana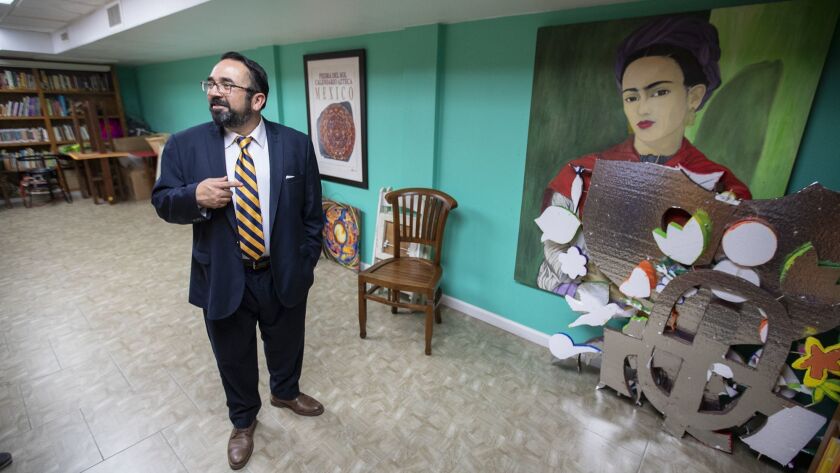 A small group of migrant women came together more than two decades ago in the heart of Santa Ana to start a cultural center. It was an effort to preserve their traditions.
Since then El Centro Cultural de México has become a linchpin for the local Latino community, fostering solidarity and providing a link to important cultural customs.
But the center hasn't had an easy time keeping its doors open. Despite its popularity, El Centro Cultural de México has moved five times since 2001, departing various locations due to area development and space limitations in a rapidly changing city.
"We have been pushed around, space after space, but we have fought to stay alive," said Benjamin Vazquez, a member of the center's board of directors. "We want to serve as that symbol of the fight against gentrification."
The center may have found its permanent home in a neighborhood near downtown Santa Ana, where backers purchased a two-story building with assistance from a $925,000 California Endowment grant.
The center recently celebrated its newest facility with a grand opening event and ribbon cutting, though it moved into the building in March 2017.
"We finally have our own place," said Socorro Sarmiento, a co-founder of the center. "We will grow and be stronger now."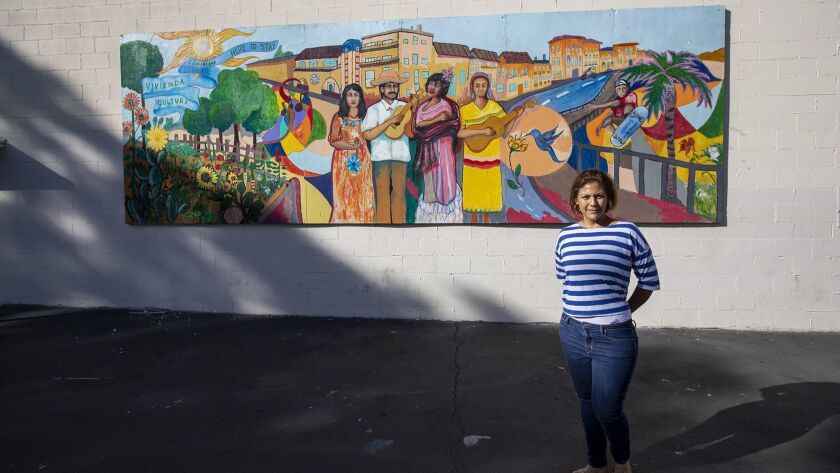 Sarmiento was one of the Mexican migrant women who started the nonprofit in 1994, aiming to create a space where immigrants could be comfortable speaking their language and celebrating their traditions away from the judgmental eyes of assimilation proponents.
"We didn't have many places before then where immigrants could enjoy being themselves," Sarmiento said.
Initially, the group didn't have a centralized space to hold events, so it resorted to libraries, bookstores and Sarmiento's home. The organization has since swelled into a cultural force, one that seeks to organize, educate and lobby for the rights of newcomers.
"This is a city of immigrants," Vazquez said. "There needs to be a place where they can feel at home."
El Centro Cultural de México's leaders believe activism is crucial to their goal of uniting and educating the community.
Vazquez said the organization serves as an important adversary to gentrification. The center has been priced out of various buildings during its lifespan.
Now armed with the first building it's ever owned, El Centro Cultural de México sees a new set of possibilities. At 9,500 square feet, the new building is three times the size of the previous location, though El Centro rents offices to community organizations like Santa Ana Collaborative for Responsible Development and news site Voice of OC.
"We had no control over our fate before owning our own building," said Karen Sarabia, general coordinator for the center.
The new building has a music room where visitors can learn traditional Mexican instruments like the jarana, which is similar to a ukulele. There's also a large main room where the center hosts dance classes, community meetings, art shows and exhibitions.
Children and young adults born stateside who wouldn't otherwise be exposed to the traditions of their culture can learn the ways of their ancestors.
Classes and workshops are held throughout the week.
The newest addition to the center is a radio studio. Headed by Luis Sarmiento, Radio Santa Ana at 104.7 FM seeks to provide a voice for the voiceless.
"The purpose of this is to get voices on the air that don't often have access, like immigrants and working class folks," Sarmiento said.
Aside from weekly events, the center has become well known for big annual programs, which include the upcoming Night of Altars as part of the Day of the Dead celebration.
In honoring the ancient Mexican tradition, community members will come together to build altars for dead loved ones. Vazquez said about 40,000 people attend the program and many of the people who construct altars have varying ethnic backgrounds.
"We have Vietnamese altars, Chilean altars, everybody comes together for this event," Vazquez said.
This year's program will take place from 1 to 10 p.m. Nov. 3 at Fourth and Birch streets in Santa Ana.
For Sarmiento, events like these illustrate the center's necessity. They take her back to the nonprofit's infant days when a handful of migrant women realized that one's cultural identity was not something to be abandoned, no matter the miles between the person and their origins.
"People need to recognize who they are," Sarmiento said. "That's where the center comes in."
For more information about El Centro Cultural de México, visit elcentroculturaldemexico.org
Twitter:@benbrazilpilot
---
All the latest on Orange County from Orange County.
Get our free TimesOC newsletter.
You may occasionally receive promotional content from the Daily Pilot.