Review: On Theater: Cave captive drama 'Floyd Collins' is compelling in Newport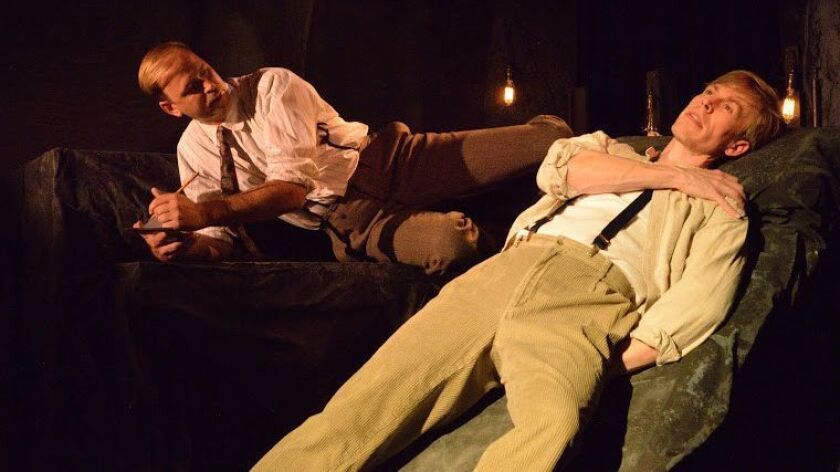 When a young cave explorer named Floyd Collins found himself stuck in a Kentucky cavern back in 1925, it would've been hard for him to predict he'd inspire both a movie (Billy Wilder's fictionalized "Ace in the Hole") and, much later, a musical docudrama simply titled "Floyd Collins," which now occupies the Newport Theatre Arts Center.
"Occupies" is far too mild a word. This gripping saga unfolding under the brilliant direction of Kathy Paladino commands the stage, and its terrific technical aspects match the intensity of its performances. This is a highly ambitious production for such a relatively small theater.
Based on an actual incident, "Floyd Collins" follows its title character's treasure-hunting misfortune and the efforts of his family — as well as a few outsiders — to free him as the hours, and days, tick away. The music is incidental, although quite effective.
Written by Tina Landau with music and lyrics by Adam Guettel, "Floyd Collins" is a challenging project in which the captive writhes in full view as the rescue drama plays out a few feet away. Tempers flare as conflicting methods are proposed.
Taking on the title role as well as the task of music director, Stephen Hulsey delivers an achingly powerful performance. Though he's trapped for most of the show, Hulsey's character manages to break loose for a few fantasy segments, displaying his full talent range.
Jonathan Haidl is captivating as Floyd's headstrong younger brother who clashes with an authoritative outsider, strongly interpreted by Eldon Calloway. His sweet-voiced, yet mentally challenged, young sister is beautifully rendered by Victoria Serra.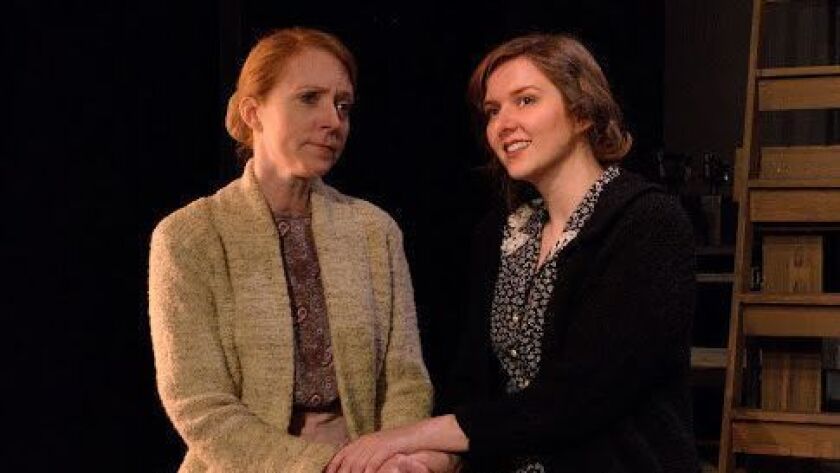 Floyd's overly religious father is movingly played by David Colley, while Allison McGuire takes a more submissive turn as the lad's stepmother. Stan Morrow, Christopher Diem and Robert Dill add credible local color.
The young Louisville newspaper reporter, who unwittingly takes a major role in the action, is superbly enacted by Mark Tillman. His strongly likable character is a sharp contrast from his counterpart in "Ace in the Hole," played sardonically by Kirk Douglas.
Angie Watson exemplifies outside commercial pressure as a high-energy movie director and also joins Eric Anderson and Jake Burnett in background ensemble assignments.
While the emphasis is more on words than music, the seven-piece orchestra under the baton of Stella Monshaw aptly sets the emotional tone for the production. Highlights include the tender "Heart n' Hand" duet by Colley and McGuire, as well as Hulsey and Haidl's lively "Riddle Song" expressing brotherly fidelity.
Andrew Otero, who has created some fine scenic backdrops for local theaters, has outdone himself with his grimly gritty Newport setting. Increasing the atmospheric effect are the sound and lighting effects of Brian Page and Jackson Halphide, respectively, particularly the huge rear-screen projections.
"Floyd Collins" illustrates the level which community theaters can reach given the right conditions and dedication. It's an artistic high-water mark at the Newport Theatre Arts Center.
Tom Titus reviews local theater.
IF YOU GO
What: "Floyd Collins"
Where: Newport Theatre Arts Center, 2501 Cliff Drive, Newport Beach
When: Thursdays through Saturdays at 8 p.m., Sundays at 2 p.m. until April 21 (Saturday matinee at 2 p.m. April 20 only)
Cost: $25
Information: (949) 631-0288; ntaconline.com
---
All the latest on Orange County from Orange County.
Get our free TimesOC newsletter.
You may occasionally receive promotional content from the Daily Pilot.