It was an early Saturday evening in April, and Radio Korea was doing a test run for a new street karaoke event at The Source OC, a sprawling but still-developing Asian-centric mall in Buena Park that opened in 2016.
Jonah Shim emceed the event in Korean, but as Enoch Oh, Radio Korea's manager of business planning and development, saw the diverse crowd gathering, he started to think that future events needed to be bilingual.
Amid the first-generation Korean American immigrants who came to sing older Korean classics, Kaylee Rodriguez, a 15-year-old music student at Los Angeles' Grand Arts High School, performed BTS' "Stigma."
Shiniya Love, 14, an aspiring singer who performs at open mics all around Southern California, paid a special visit to the venue to sing Michael Jackson's "I Want You Back."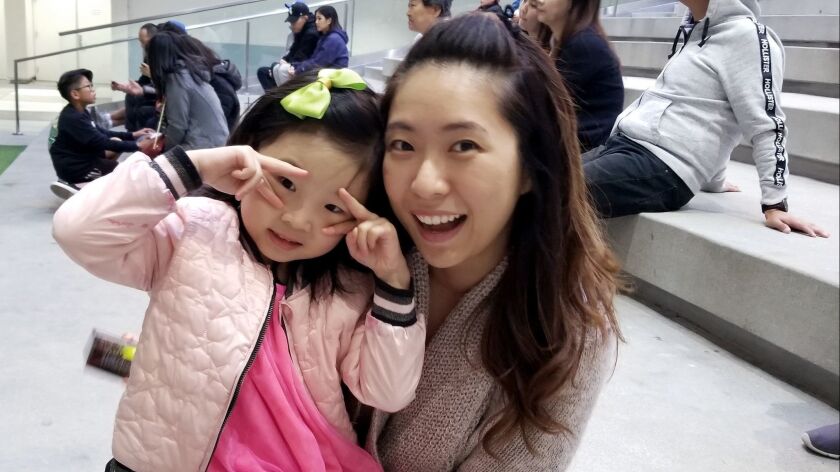 Sung Jang and Jason Kim, who work across the plaza at the shopping center's K Place, took a break from the K-pop merchandise and stationary store to check out the new event. Jang performed "If" by Girls' Generation's Taeyeon and requested "I Miss You" by Kim Bum-soo — from the 2003 Korean drama "Stairway to Heaven" — on Kim's behalf, laughing as she pushed him toward the stage.
And Onew Kim, 4, whose parents started her YouTube channel OnewTube a few months ago, brought down the house with her performance of Queen's "Bohemian Rhapsody," a song she learned after watching the Oscar-winning film.
Scene popularized in Seoul
Street karaoke is a recent phenomenon in Korea, popularized by Lee Changhyun, also known as BJ Changhyun. BJ, aka broadcast jockey, is a term Koreans use to describe hosts on video streaming sites like AfreecaTV, Twitch and YouTube.
In 2015, BJ Changhyun, 34, first live-streamed his street karaoke show on the streets of Hongdae, an area of Seoul known for its bustling arts and indie music scene. It was originally meant to be a one-time thing but proved popular with viewers. He recruits people on the street to perform karaoke, an audience (also seen on camera) inevitably gathers behind the singers, and people can watch the event online and comment in real time.
In April 2016, rapper San E was coincidentally busking in the area and made an unplanned appearance on BJ Changhyun's show. That's when street karaoke really took off.
But the majority of the performers remain everyday people.
BJ Changhyun — who says he made $1.2 million in 2018 from his YouTube channel — hosts street karaoke every Saturday in front of a Korean barbecue restaurant in Hongdae. His most popular videos — often covers of English-language songs by Sia, Adele and Beyonce that attract international attention — get upward of 18 million views.
After watching these videos, Oh wanted to create a Korean American version of street karaoke in Southern California.
Radio Korea, an independent Korean-language station in the U.S., has offices in both L.A.'s Koreatown and O.C.'s Buena Park. They first tried it in Koreatown, but Oh said the participants were mostly older. It was successful, but not quite what he had been imagining.
According to "Transforming Orange County: Assets and Needs of Asian Americans & Native Hawaiians and Pacific Islanders," a 2018 report by Asian Americans Advancing Justice — Orange County, Buena Park is one of two Korean American business districts in O.C. but is distinct from the older one in Garden Grove because it tends to attract younger generations as well as non-Koreans.
Oh had also heard about The Source, which has multiple outdoor venues for concerts.
Korean Americans moved south after riots
M&D Properties, the Korean American developers of the Buena Park mall, previously built Lynwood's Plaza México, a mall that features architecture and cultural icons inspired by Mexico.
With The Source, they hoped to create the same kind of social center for the Korean American community in Buena Park.
Korean Americans first began moving from L.A. to Orange County in the 1980s, and there was a second wave of migration in the '90s after the L.A. riots. The Korean American population in O.C. is now second only to L.A. From 2000 to 2010, Buena Park saw a 57% increase in Korean Americans, according to the U.S. Census, the greatest percentage increase among Asian populations.
O.C.'s Koreatown: Buena Park draws residents and businesses from L.A. »
Last year, The Source hosted a whopping 244 events — from weekly movie nights and live concerts, to a conversation series called "Thinkspiration," and holiday celebrations from Arirang Korean Festival to Lunar New Year to Cinco De Mayo.
Big Hit Entertainment, the production company behind worldwide K-pop phenomenon BTS, took notice. This year, their "Los Angeles" auditions to be in the next big K-pop band took place April 27 at The Source.
Jane Heur , 26, a Buena Park resident of Korean descent, previously emceed an event at the venue with Korean rapper Din Din. She also attended The Source's summer rooftop cocktail party last year working for the Korean company Beautytap.
"Before, I used to go to K-town a lot, because that was the Koreatown, but over time, I see [the scene in Buena Park] growing, so my friends usually just stay down here," Heir says.
Even her Koreatown friends are visiting more.
"Up in L.A., they are so used to the scene, but coming down is something new to them," she says.
Where is K-pop going in 2019? »
Oh was pleasantly surprised with the turnout for the inaugural street karaoke event. Twenty people — a combination of folks who had come for the event and others who just happened to be walking by — sang back-to-back for the two-hour event.
Former assemblywoman sings at center
Though no famous rappers happened by, there was a surprise performance by Young Kim, a Republican who represented Buena Park, Anaheim and other cities in the state Assembly until 2016.
A frequent visitor to The Source, Kim happened to be there with her mother-in-law, watching a Korean film at the CGV Theater and grabbing an early dinner, when they heard music playing from the ground level.
"She saw familiar faces and came by to be a spectator," says Oh. "Then we suggested she [come back to] sing next time, and she said, 'Why don't I just sing right now?' "
Kim karoked one of her favorite songs by Kim Soo-hee.
"She was a great singer," says Oh. "I didn't realize she could sing."
Kim can't help but laugh, insisting that singing in public is not something she'd normally do. It was her mother-in-law who encouraged her to participate, she says.
But she is happy to see that the community is starting to appreciate the value the Orange County shopping center provides.
"They've been very generous about letting the community use their facilities, and word's been getting out about their vision to be inclusive," says Kim, pointing to a recent Source event she attended showcasing traditional Indonesian music.
"I'm so glad they're keeping their promise and the community is responding … and a person like me can happen to stop by and have an opportunity to sing."
The next Radio Korea Live Stream Street Karaoke event will be at The Source OC on May 25.
Support our coverage by becoming a digital subscriber.
For more news and features about Orange County, visit TimesOC.com or follow us on Twitter @timesocofficial.
---