Meet Young Kim, an Asian American immigrant woman running for Congress under Trump's Republican Party
Some other year, under some other president, Republican Young Kim might have been a shoo-in to represent a majority-minority congressional district containing pieces of Orange, Los Angeles and San Bernardino counties.
Kim's profile is as compelling as it is rare for someone running under the GOP banner: an immigrant, an Asian American and, perhaps most important, a woman in a year when female voter enthusiasm is surging. If she wins, she would be the first Korean American woman elected to Congress.
All of these facets might help her navigate the demographic changes that have been eroding Republican support for decades in the 39th Congressional District, where roughly two-thirds of residents are either Asian or Latino and immigrants make up about a third of the population.
But in this year's tough midterm election, likely to be a referendum on Donald Trump's divisive presidency, Kim will be forced to stitch together a majority out of disparate factions: die-hard Trump supporters, Trump-averse minorities and affluent suburban women. Kim, 55, finds herself in a race that's virtually tied in a district where retiring GOP incumbent Ed Royce won the last three elections by double digits.
Republicans face big risks in contested California races as Democrats fight for control of the House »
On the campaign trail, she says, she's faced questions about the president — his tweets, his policies, his tone. Kim says that Trump's rhetoric concerns her and that his disparaging remarks about immigrants and women can be frustrating.
"I try to tell them I'm not running to be his spokesperson or represent Donald Trump in the White House," she says.
Many GOP House candidates — in similarly diverse districts from the Virginia exurbs outside Washington to the bedroom communities east of Denver — share her plight.
In Southern California, Republicans' tactics for dealing with Trump range from avoidance, as with two-term Rep. Mimi Walters of Laguna Beach, to a full embrace by Diane Harkey, who is running for a seat left open by retiring Rep. Darrell Issa of Vista.
Kim's 39th Congressional District includes Chino Hills, Fullerton, Yorba Linda — the birthplace of Richard Nixon — and Diamond Bar.
Here, a taqueria can share a parking lot with a Taiwanese cafe. Spanish, Korean, Mandarin and Tagalog can be heard along with English in the upscale ethnic supermarkets that dot the area.
Will California flip the House? The key races to watch »
As she travels the region, Kim has tried to drive home two major points: that people living here know her, and that she understands their stories. She's spent decades in the public arena, first as a longtime district staffer to Royce and then as a one-term state assemblywoman. She was once a TV talk show host on Korean-language television.
Kim speaks with a knowing ease about the sacrifices immigrants make for a shot at prosperity.
She often shares memories of interpreting for her parents and picking up cans and bottles on the beaches of Guam — a way station between Seoul and Hawaii, where her family later settled — to help raise money for their church.
"My personal experience of being an immigrant, having gone through what this diverse immigrant community has gone through, struggling," Kim said. "Those are real life experiences that really helped me understand … the district."
Kim, who owns a government affairs consulting business, moved to Southern California 37 years ago to attend USC. She lives in Fullerton with her husband, Charles; they have four adult children.
One recent Saturday at a campaign office in Rowland Heights, Kim bowed and greeted supporters with "Annyeonghaseyo!" — "Hello!" in Korean — before Saga Conroy took the stage.
"President Trump is not on the ballot, but his agenda is totally in this midterm election," said Conroy, trying to pump up volunteers. "If we lose the majority in Congress, everything he achieved could be lost."
It was a departure from Kim's attempts to cast herself as an independent voice who will call out the president when she disagrees but is willing to work with him on policies that help the district. Kim's campaign manager, wincing at the remarks, felt compelled to point out that Conroy isn't a staffer but a volunteer coordinator for the California Republican Party.
"Voters want somebody to stand up to Trump and put a check on him," said Ben Tulchin, a veteran pollster helping strategize for Kim's opponent, Democrat Gil Cisneros. "A Republican who worked for a Republican member of Congress is not the person they're looking for."
As supporters snacked on spicy Korean rice cakes and egg rolls at the campaign office, one young woman approached Kim with a contribution and an invitation to speak at the next Rotary Club meeting in Fullerton.
"There's three rotary clubs in Fullerton, so which one?" Kim said without missing a beat. "The main one," the woman replied.
Kim insists that her strategy of showing up to dozens of groundbreakings, cultural fairs and community events will insulate her from national politics in a way she couldn't manage in 2016, when she sought reelection to her Assembly seat.
Her Democratic opponent plastered the district with mailers featuring Kim's face alongside the polarizing GOP presidential nominee and even released an ad disguised as a music video featuring lyrics declaring "Young Kim is like Donald Trump." It contributed to her loss in the swing district.
Back then, Kim tried to sidestep the issue, saying she'd never met Trump and calling the tactic "desperate." This time, she's drawing sharper distinctions between her views and the president's.
In an interview, Kim maintained that her party has not been captured by one man. "There is no party of Trump," she said, banging her hand on a table. She's running, she said, "because I've been here, I've been working here, I've raised my family here, I know the district…. I'm not running for the party of Trump."
Still, Trump so dominates political discussion these days Kim can't help but be drawn into the conversation. Her strategy is to ignore the president and his serial controversies as best she can. Kim, for instance, declined this week to comment on Trump's mocking of Christine Blasey Ford, who accused Supreme Court nominee Brett Kavanaugh of sexual assault.
Coverage of California politics »
Kim has sought to carve out her own identity on issues by opposing, for instance, Trump's policy of separating children from their parents who crossed the border illegally, saying it "does not live up" to American values. She vows to fight for a pathway to citizenship for young people brought to the country illegally as children.
She also breaks with Trump by supporting what he refers to as "chain migration," which allows citizens to sponsor family members to join them. Like many in her district, Kim's family has benefited from the long-standing policy. Kim's adult sister, who had married an American serviceman and joined the military herself, was able to sponsor her, both of her parents and four siblings.
But Kim echoes Trump in other ways.
She called California's so-called sanctuary state law an "affront to law-abiding citizens and a threat to public safety." She praised a decision by the Trump administration to weigh in on a lawsuit against Harvard that alleges the university's admissions policies discriminate against Asian Americans.
One of her first campaign ads emphasized how her family came to the country legally "and not because we wanted handouts."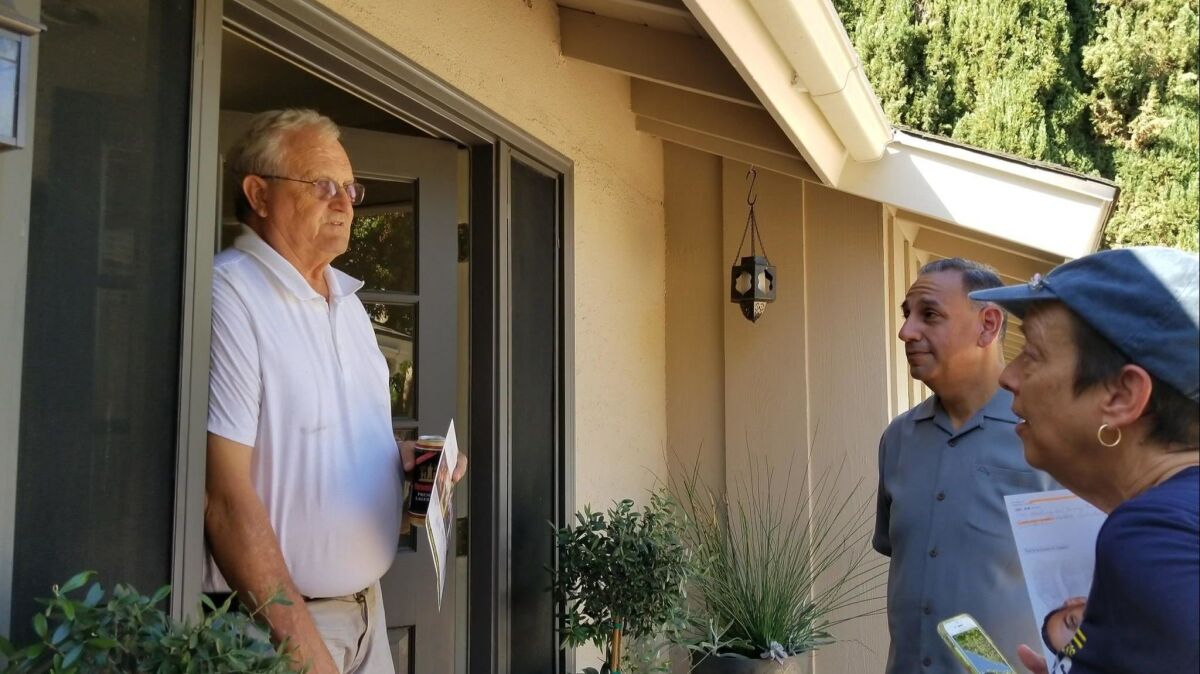 Those positions may help Kim hold on to support from the Republican base, but they alienate others who want no part of Trump and his presidency. There are frequent reminders of the fine line she walks.
Bernie Overland, a 78-year-old Republican, opened his door in Fullerton one recent Saturday when Cisneros, the Democrat, came knocking. Cisneros was there to speak to Overland's wife, who's a Democrat, but he first asked Bernie what issues he cares about most.
"Well, Trump is certainly one," he said with a laugh.
He's angry about Trump's plans to build a border wall (he called it "a waste") and is incensed by the risk of ballooning national debt from recently passed tax cuts.
"I just think he is taking this country down the garden path to disaster," Overland said in an interview later. Overland says that he wants to send a message to Trump in this midterm election and that nothing Kim does and says will change his mind.
His plan: Vote for any candidate who is not a Republican.
Twitter: @cmaiduc
Get our Essential Politics newsletter
The latest news, analysis and insights from our politics team.
You may occasionally receive promotional content from the Los Angeles Times.