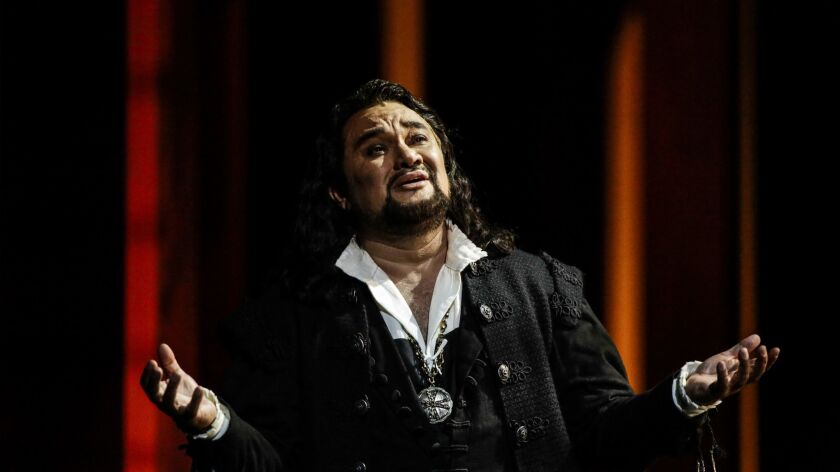 A tradition continues Monday as the Musco Center for the Arts at Chapman University, in conjunction with Los Angeles Opera, presents "Don Carlo: In Concert," starring the legendary Plácido Domingo.
"Of course, Plácido is not doing the title role, as that's for a tenor and he has been a baritone (since 2009), so he'll be doing Rodrigo," said James Conlon, music director and conductor of L.A. Opera, which has visited the Musco Center every year for the past several years, a young tradition that finds Conlon making his fourth appearance there. "But he is still a superstar, and he has done [the lead role of] Don Carlo in his tenor days, so he's the star of this production."
L.A. Opera's annual treks to the 1,044-seat Musco Center sprang from the close relationship Domingo has had with Paul Musco, who is on the board of directors of L.A. Opera and who, with wife Marybelle Musco, is the major benefactor of the eponymous center.
"And that theater lends itself so well to opera, with excellent acoustics," Conlon said.
Highly respected in his own right as an internationally renowned opera conductor, Queens-born Conlon always looks forward to working with Domingo, whom he has known personally and professionally for more than 40 years and with whom he has worked regularly since 2006, when Conlon became music director of L. A. Opera, of which Domingo has been general director since 2003.
"He's great," Conlon said. "He's a superstar — and for a reason: he's a great singer, he has a great voice, he's a great all-around musician. Yet he is also a very humble human being. He treats everybody well, and he's very collaborative.
"He makes you feel like you're working with a friend. He has a charismatic personality, both on-stage and off-stage. It's always been a high point of the season for me to work with him."
As busy as L.A. Opera keeps Conlon, with four major productions a year at the Dorothy Chandler Pavilion of the Los Angeles Music Center, plus a fifth in the Cathedral of Our Lady of the Angels, he still has time to fulfill his duties as principal conductor (since 2016) of the RAI National Symphony Orchestra of Turin, Italy, and various freelance work, guest-conducting U.S. and European orchestras in symphonies.
"In between `Don Carlo' and my next (L. A. Opera) production, `Hansel and Gretel,' in November, I have three weeks in October of symphonic programs with Turin, from Mozart to Mahler," he said. "After you fulfill your responsibilities in your regular job, you're free to take whatever work you can find — or go take it easy," he said. "But I stay pretty much busy all the time."
Domingo, who made his mark as a dramatic tenor (first operatic lead role in 1961) and joined Luciano Pavarotti and Jose Carreras for a while for an intermittent series of concerts billed as The Three Tenors (1990-2003), sings the role of Rodrigo (baritone), friend of Don Carlo (tenor), a role Domingo used to sing many times.
Conlon, who doesn't have one favorite opera but 50 of them, out of a repertoire of more than 100, conducts his eighth production of "Don Carlo," with Opening Night Sunday at the Dorothy Chandler Pavilion being the 50th performance he has conducted of Giuseppe Verdi's longest opera — four-plus hours, if performed uncut.
Which won't happen here, as it's the 1882-83, four-act Italian "Don Carlo" (less than four hours, including one intermission) instead of the 1866-67 five-act French original "Don Carlos."
"It's a magnificent opera, a truly grand opera in every sense of the word," Conlon said. "It has great music, a great story, and great drama. If you've never seen an opera before, I'd highly recommend you to go see 'Don Carlo.'"
If You Go
What: Los Angeles Opera production of Giuseppe Verdi's "Don Carlo": In Concert starring Placido Domingo, baritone; Los Angeles Opera Orchestra and Chorus, James Conlon, conductor.
When: 7:30 p.m. Monday.
Where: Musco Center for the Arts, Chapman University, 415 N. Glassell St., Orange.
Cost: Available tickets start at $150.
Information: (844) OC-MUSCO (626-8726), info@muscocenter.org.
---