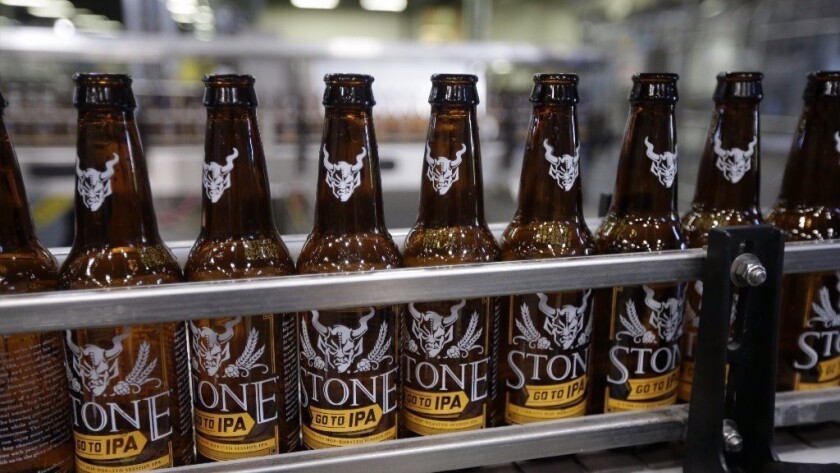 Editor's Note: "Adult Beverages" is a new TimesOC column by Paul Hodgins, who has been covering wine, beer, spirits, cocktails and bars for more than a decade.
I've been invited to a lot of wine-pairing dinners in my time. Often sponsored by a winery or a group representing a particular wine region, the multi-course meals are a chance to present their line-up in a new way by showcasing each wine's food-pairing strengths.
Now the beer world is sidling up to the table. Last week I attended a craft beer dinner — not my first, but definitely one of the most ambitious such events I've experienced. San Diego's venerable Stone Brewing Company presented its most food-worthy brews in a five-course meal at Pete's Sunset Grille, the casual seaside restaurant that occupies a big part of the ocean-view terrace at the Hyatt Regency Huntington Beach Resort and Spa.
Stone is one of the pioneers of San Diego's vibrant, nationally famous craft beer scene. Founded in 1996 by two local beer lovers, Greg Koch and Steve Wagner, it's the eighth largest craft brewery in the country.
"We were the original brewery that created beer that was considered outside the norm," said Stone Brewery sales representative Greg Priebe, who co-hosted the dinner. "Greg and Steve wanted to make beer that they liked."
Stone's original claim to fame was making one of the original West Coast-style IPAs, a bestseller that was discontinued in 2015.
Now, of course, Stone produces a beer for every palate and predilection. The dinner included five contrasting brews, including Stone's most famous current offering, Arrogant Bastard.
The menu, by Hyatt's James Angoli, included the featured beer for every course as an ingredient — a clever trick that didn't always pay off. Some courses were more noticeably beer-y than others. Here's how the evening unfolded:
Tropic of Thunder Lager was paired with a seared scallop, accompanied by mango relish and a raspberry gastrique that contained a hint of the beer. Tropic of Thunder is hoppy, with hints of melon, citrus and pineapple on the nose. It overwhelmed the delicate sweetness of the scallop a bit.
Fear. Movie. Lions, a Double IPA, was served with crispy pork belly accompanied by chicories and an applesauce laced with the paired beer. It's a New England-style Double IPA — hazy, unfiltered, with a juicy, malty body — and it stood up to the pork belly, although its cap of fat was a bit off-putting.
Scorpion Bowl IPA came with a green salad that was distinguished by a compressed watermelon infused with beer. (I'd eat that crazy creation as a separate entrée — delicious.)
Arrogant Bastard was matched with a short rib with bacon fat mashed potatoes and roasted carrots. The bourbon-aged beer complemented the strong, earthy tastes of this course very well.
Xocoveza, an Imperial Stout, was served for dessert with chocoflan covered in a beer-infused caramel sauce, toasted pecans and vanilla whipped cream. The flavors melded in a fascinating way, but beer with dessert is a bridge too far for this valiant culinary soldier.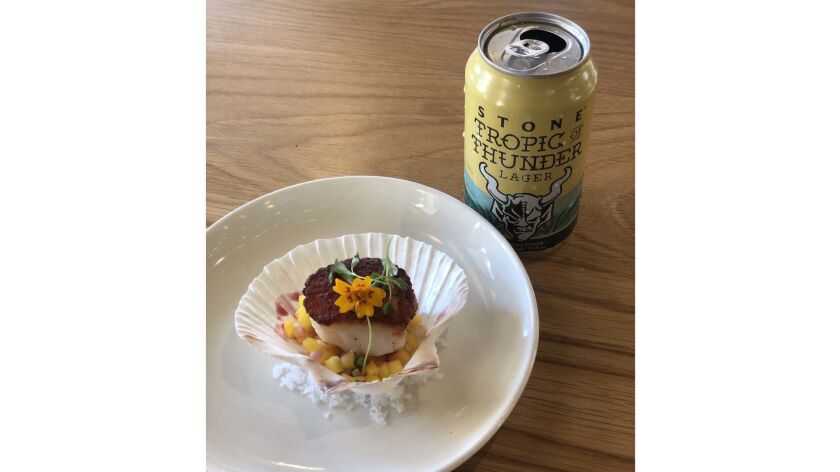 On their own, Stone's beers were impressive. These guys haven't sold out, and it shows. Listening to Priebe talk, it soon becomes clear that's the brand's main selling point.
"We are still owned by the two originators; we're 100% independent. When a craft brewery gets sold to a big conglomerate, the new owners sometimes take all the shortcuts in the world. Stone never takes shortcuts. That's why our prices might be a little higher.
"A lot of people think our gargoyle symbol is the devil. That's not right. The gargoyle is actually a representative of the brand who watches over everything to make sure it's all quality-controlled."
Who knew gargoyles made good mid-level managers?
Despite chef Angoli's valiant efforts, I'm still not convinced of beer's ultimate food-worthiness. Call me hopelessly out of step, but I find that beer makes a better standalone impression than an accompaniment.
For one thing, it's filling in a way wine never could be — one or two beers will often completely extinguish my appetite.
Ultimately, though, I think the dinner-pairing idea makes craft beer seem like it's competing with wine on the latter's terms. I think it's better to present it as a uniquely different kind of libation with its own time and purpose, much as the craft cocktail set is doing with their creations. Artisanal beers are made to be enjoyed on their own, accompanied by nothing more than a bar-top snack or two to complement them — something salty and crunchy and insubstantial.
There are also practical issues to consider. Can the average person really drink five different brews over the course of one meal? And is beer, even in a creative brew master's wildest imagination, ever really going to go with dessert?
Support our coverage by becoming a digital subscriber.
Paul Hodgins writes about wine, beer, spirits, cocktails and bars for TimesOC. He has been covering the subject for more than a decade, and he has published two books on California wine. Follow him on Instagram @goodlibationsoc.
For more news and features about Orange County, visit TimesOC.com or follow us on Twitter @timesocofficial.
---