LGBTQ activism at the Tet parade inspires black-and-white photographer to shoot in color
Hieu Nguyen and Mark Kirchner first met at Westminster's 2013 Tet parade. That was the year the Vietnamese American LGBTQ community was banned from marching by new organizers who had taken over that year.
Nguyen, a social worker, attended the demonstration formed to protest the exclusion. Kirchner, a photographer, had been documenting the Tet parade annually since 2010, the first year LGBTQ groups marched.
Before Kirchner arrived, he attached banners onto both of his cameras: one was hand-made featuring a red felt heart with an equality sign on it, while the other had rainbow stripes.
"That way you can also wave the camera like a flag," says Kirchner.
"That's how we knew he was an ally," says Nguyen.
Nguyen would eventually co-found the LGBTQ nonprofit Viet Rainbow of Orange County and successfully overturn the discriminatory ban one year later. And Kirchner continued to photograph their parade participants every year since.
This year marks the fifth anniversary of VROC, and to commemorate the occasion, Nguyen and Peterson Pham, VROC board member and public relations chair, collaborated with Kirchner to create a photo and poetry exhibit, "Progress Built on Pride," which documents eight years of queer Vietnamese American activism at the Tet parade.
Kirchner, who is an adjunct photography instructor at Aliso Viejo's Soka University, specializes in black-and-white photography — notably, he's been working on a project about the Manzanar pilgrimage for 35 years.
"Progress Built on Pride" is his first exhibit in full color.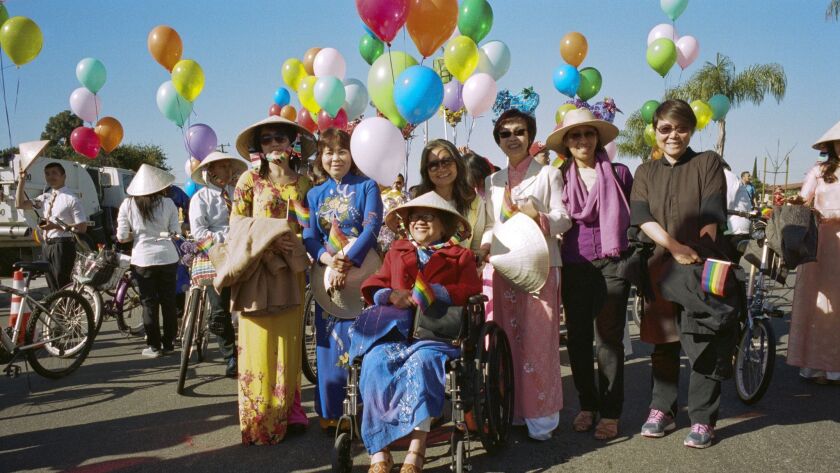 It begins with his Tet parade photos from 2010, pre-VROC, when Vietnamese American LGBTQ groups from Los Angeles and the Bay Area traveled south to march in Orange County's Little Saigon, home of the largest population of Vietnamese outside of Vietnam.
"O.C. didn't have a collective LGBTQ Vietnamese American identity then," says Nguyen. "So 2010 was all of these siblings from the other counties coming in and saying, 'We want to march in the mecca of Little Saigon.'"
Understanding the importance of developing a unique Orange County identity, Nguyen always takes a lot of care with the imagery that VROC projects when members march down Bolsa Avenue for the Tet parade.
"Hieu is almost like a performance artist," says Kirchner, of the attention paid to the costuming, marching order and specific themes for each year. "I'm always aware that while I'm using the camera, he's creating a vision with the parade."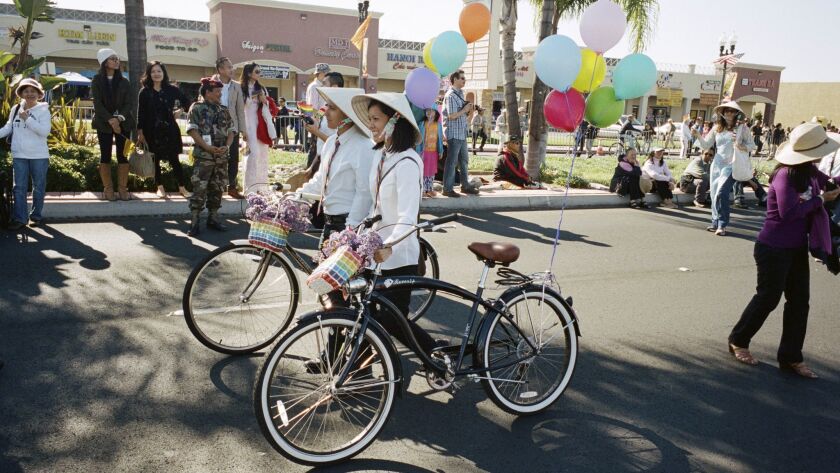 In 2014, when the ban was lifted, VROC marchers dressed in uniforms and walked with bicycles to evoke images of young Vietnamese schoolchildren. They also wore nón lá (conical hats) with rainbow straps and had rainbow baskets on their bikes.
"The biggest argument [against having queer representation in the Tet parade] was that the LGBTQ community didn't exist in Vietnam," says Nguyen. "'It's a Western disease.' So it was important to present ourselves in iconic attire, so you can't separate the [Vietnamese and queer] identities."
For the Year of the Dog, they marched with dogs in rainbow attire. At this year's Tet parade, which takes place Feb. 9, VROC plans to pay tribute to the working class, wearing brown long-sleeve shirts and pants while carrying the types of baskets that vendors use to sell items on the streets.
Though the photo exhibit begins chronologically, the later photos are grouped by theme: preparations (tying rainbow ties, preparing heart balloons, making signs) and the down time (sheltering their faces from the sun with their hats, anxiously waiting for the parade to start), juxtaposed with the joy of the marchers and the reaction from the crowd when the march begins.
"The way I see it is that when they march, there's full sunlight on their faces, they are no longer concealed by hats, and they're singing traditional songs," says Kirchner. "It's beautiful."
Nguyen and Pham wrote corresponding English-language poems for each photo grouping, and the exhibit opens and closes with Vietnamese proverbs.
One proverb, explains Nguyen, is about squash soup, referring to how it's made with different types of squash that all come from the same vine. The other is about the importance of community.
When Kirchner marches with VROC, he stands out. Not only is he not Vietnamese (he's of Mexican and Scandanavian descent), but he's 6 feet 7 inches tall, earning him the tongue-in-cheek nickname "Shorty" from his VROC friends.
"I have no direct connection to the Vietnamese or LGBT community," says Kirchner. "But when you have a sense of what is the right thing to do, why stand on the sidelines? Why not go be part of something bigger than yourself? I protest and support, but when I support, I bring my camera."
IF YOU GO
What: "Progress Built on Pride: A Photo Exhibit on Five Years of VROC," photos by Mark Kirchner
When: Feb. 9 and 10, closing reception is Feb. 9 at 2 p.m., immediately following VROC's march in the Tết parade, 9 a.m to 1 p.m.
Where: Việt Báo office, 14841 Moran St, Westminster
Cost: Free
Information: vietroc.org
---
All the latest on Orange County from Orange County.
Get our free TimesOC newsletter.
You may occasionally receive promotional content from the Daily Pilot.