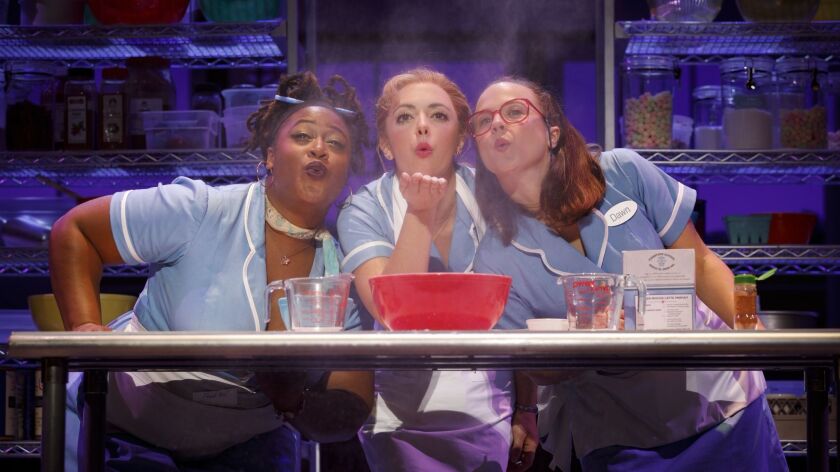 If you catch "Waitress" at the Segerstrom Center for the Arts, you'll probably leave with the strange hunger for a generous serving of pie.
Pie is, indeed, the centerpiece of this new musical based on the movie Keri Russell made before playing a Russian spy in "The Americans." And, like that dessert, "Waitress" is a tasty dish of a show in which the strong talents of its performers outshine the soap opera-ish story line.
Here, the impressive Christine Dwyer takes the Russell role of Jenna, a waitress who'd like to shed her cloddish, abusive husband but learns that she's pregnant with his child. Things get complicated when she falls for her doctor (also married).
Dwyer projects her conflicted character beautifully, both in dialogue and song, scoring high early with her solo "What Baking Can Do," as she cheerfully whips up yet another pie. She's equally effective in her second act musical face-off with her husband (a riveting Matt DeAngelis) in the menacing duet "You Will Still Be Mine."
Strong support is provided by Jenna's two fellow waitresses, Jessie Shelton (shy and naive) and Maiesha McQueen (the exact opposite). Shelton's Dawn transforms when she meets an overenthusiastic poet (Jeremy Morse) while McQueen's more chatty Becky dallies with the gruff cook (Ryan G. Dunkin).
Steven Good is perfectly cast as the hunky doctor who loves Jenna but can't risk his marriage. Good and Dwyer blend nicely in the duet "You Matter to Me."
The primary show stealer is Morse, who vigorously pursues Shelton's character and hits a first-act summit with his number, "Never Ever Getting Rid of Me." Larry Marshall has some fine moments as the gruff but good-hearted owner of the restaurant who offers sage advice in "Take It From an Old Man."
Director Diane Paulus and choreographer Lorin Latarro keep the show moving briskly in a tribute to the movie's original author, Adrienne Shelly, now deceased. Lilli Wosk conducts the peppy background band.
Solid characterizations and sprightly musical numbers tend to mask the more mundane plot aspects. Pies prevail, along with enthusiastic musicality in this down-home countrified tale.
Tom Titus reviews local theater.
IF YOU GO
What: "Waitress"
Where: Segerstrom Center for the Arts, 600 Town Center Drive, Costa Mesa
When: Tuesdays to Sundays through Nov. 25 at 1 p.m. and 6:30 p.m.
Cost: $14 to $47
Information: (714) 556-2787, scfta.org
---