San Clemente councilman's bid to ban abortions in the city raises outcry
Good morning. It's Friday, Aug. 5. I'm Carol Cormaci, bringing you today's TimesOC newsletter with the latest roundup of news and events.
Steven Knoblock, a member of the San Clemente City Council, hit the news this week after a proposal he drafted for the consideration of his council colleagues read very much like an outright ban on abortions within the city rather than mere support of the U.S. Supreme Court's recent overturning of Roe vs. Wade.
The other members of the City Council had been expecting the latter, and some expressed alarm over the strict language Knoblock suggested when the matter was discussed Tuesday night. One of his colleagues, apparently aghast at the language incorporated into the draft, said it sounded more like a certain well-known fundamentalist, extremist political movement in Afghanistan had written it, according to a story by our colleague Itzel Luna.
"San Clemente Mayor Gene James, who seconded the motion of drafting the resolution at last month's City Council meeting, said he was 'appalled' and 'embarrassed' while reading the resolution draft late last week," Luna writes.
"It appears to me to be a document that could have been written by a Taliban tribunal, and I'll say that as a conservative, pro-life Republican," James said.
One of the resolutions Knoblock proposes: "City Council of San Clemente hereby resolves to enforce this resolution by all means within its power." Does he mean by involving the police?
Following that, Knoblock, who states in his bio on the city's website that he's proud to "have successfully added to our city logo the words: 'In God We Trust,'" invokes God five times in the final section of the resolution:
"— That the City Council of San Clemente hereby stand on this resolution to not only protect life, but also to honor God, who gives life. We believe that life is God-ordained and God is the author and finisher of every life. No matter if at the beginning or at the end. We stand in agreement that, as a City Council, we will sustain life at every stage. As we ask God to bless America, we first have to honor and respect God. By protecting life and passing this resolution we feel that we do both."
But before those final two sections in the draft, there's a lot of strong anti-abortion language in the 13 "Whereas" paragraphs he sets forth as reasons such a resolution is needed, including one that specifically bans Planned Parenthood activity in the city's limits.
Andrea Schmidt, the public affairs project manager for Planned Parenthood in Orange and San Bernardino counties, has been marshaling forces since word of this proposed resolution reached the community.
"Politically focused and scientifically inaccurate resolutions like this are extremely dangerous," Schmidt said. "If this resolution does pass, it will send a message to San Clemente residents that their local government does not support their fundamental right to control their own body and access quality, affordable healthcare."
Legal experts say the proposed resolution is one without any teeth to it.
California Atty. Gen. Rob Bonta and law school professors said San Clemente City Council members can pass a resolution outlawing abortion in the city, but it is unenforceable, according to a City News Service report published yesterday morning by Spectrum News.
Chapman University professor Marion Mainero told CNS: "Under state law, abortions are legal at least to the point that the standard Roe had. State law preempts local law in most cases. Certainly on matters like this because even if San Clemente were a charter city, this is not an item where a charter city could violate the state constitution ... So if San Clemente passes something like this it's void."
San Clemente City Councilwoman Laura Ferguson told the news service, "We're out of our lane on this one. It's a huge distraction. We have issues: We have homelessness like most coastal cities do and the housing element to address."
Was Knoblock's proposal of the resolution a grab for publicity? He was elected to a two-year seat in 2020 and has filed to run for reelection Nov. 8. Or was it a heartfelt effort based on his evangelical beliefs and come to after some time spent in prayer? It could be a little of both.
The San Clemente City Council is expected to revisit the resolution at a later date. Here's the webpage listing upcoming meetings for those interested in sitting in. Those who would like to read the full text of Knoblock's draft version that caused a stir can find it here.
MORE NEWS
— Jeremy David McAlpine, 26, of Fountain Valley and Zachary Michael Matar, 29, of Huntington Beach, who pleaded guilty a year ago to securities fraud, were sentenced this week to more than two years in federal prison for their roles in a cryptocurrency scheme. They conned more than 2,000 investors into buying Drops, a
cryptocurrency that could be used with an automated trading bot called Dex from their company, Dropil Inc., prosecutors said, fraudulently raising $1.9 million.
— A Santa Ana police officer, Gregory Daniel Beaumarchais, 43, who three years ago was named detective of the year was charged Tuesday with sending sexually graphic messages to a decoy who pretended to be a 14-year-old girl, authorities said. Beaumarchais has been charged with one misdemeanor of annoying or molesting a victim believed to be under 18.
— The Costa Mesa City Council at its meeting Tuesday approved ballot language to be put before city's voters in November calling for loosening of the citizen-backed Measure Y passed in 2016 in certain commercial and industrial corridors in town. The hope is that by exempting certain projects from full voter approval under Y and accommodating development by allowing land use amendments in nonresidential areas, Costa Mesa might kick-start a housing boom and comply with state housing mandates.
— The average price of a gallon of self-serve regular gasoline in Orange County decreased Wednesday for the 50th consecutive day since rising to a record, dropping 2.5 cents to $5.497, its lowest amount since March 7.
— Westminster police on Wednesday identified Donald Nichols as a "person of interest" wanted for questioning in the fatal shooting of a Huntington Beach man on Sunday. Police were looking for Nichols in connection with the shooting of 41-year-old Donald Joshua Ratzlaff of Huntington Beach. Nichols is not considered a suspect, but police want to talk to him to see what he knows about the killing, according to Cmdr. Kevin MacCormick of the Westminster Police Department.
LIFE & LEISURE
— Community members and law enforcement agencies came together in the spirit of partnership on Tuesday, as local cities held events as part of National Night Out.
— Elizabeth Felten, 12, an incoming seventh-grader at St. Bonaventure Catholic School in Huntington Beach, was given a hero's accolades by the City Council this week for having helped saved the life of a 6-year-old boy in distress in a backyard pool during a party in May. Felten is in her second year in the Junior Lifeguards program.
"All my friends do Junior Guards," she said. "Even though I've only done it two years, it's the thing I look forward to all year round ... I didn't even think, I just went. It definitely helped."
— Costa Mesa city officials are planning $2 million in upgrades at its 49-acre TeWinkle Park that will include a redesign of the lake and pond areas, new pumps and the addition of an ozone water treatment system. The City Council in December approved a $120,425 contract with Fountain Valley-based Pacific Advanced Civil Engineering (PACE) to draft a vision for the improvements.
SPORTS
— The 28th annual Surfing Walk of Fame event, held in Huntington Beach Thursday, included inductees Brett Simpson, Bruce Gabrielson, Lance Carson and Jodie Cooper. Al Hunt was inducted in the Honor Roll category, while the band Honk earned induction in the Surf Culture category.
— As part of its tribute to Vin Scully, the longtime voice of Dodgers baseball who passed away at the age of 94 on Tuesday, the L.A. Times reached out to the Angels organization for comments. Reporter Sarah Valenzuela assembled comments from Angels broadcasters Patrick O'Neal and Matt Vasgersian, interim manager Phil Nevin and player Mike Trout, who said Scully "meant a lot to everybody." You can find Valenzuela's story here.
CALENDAR THIS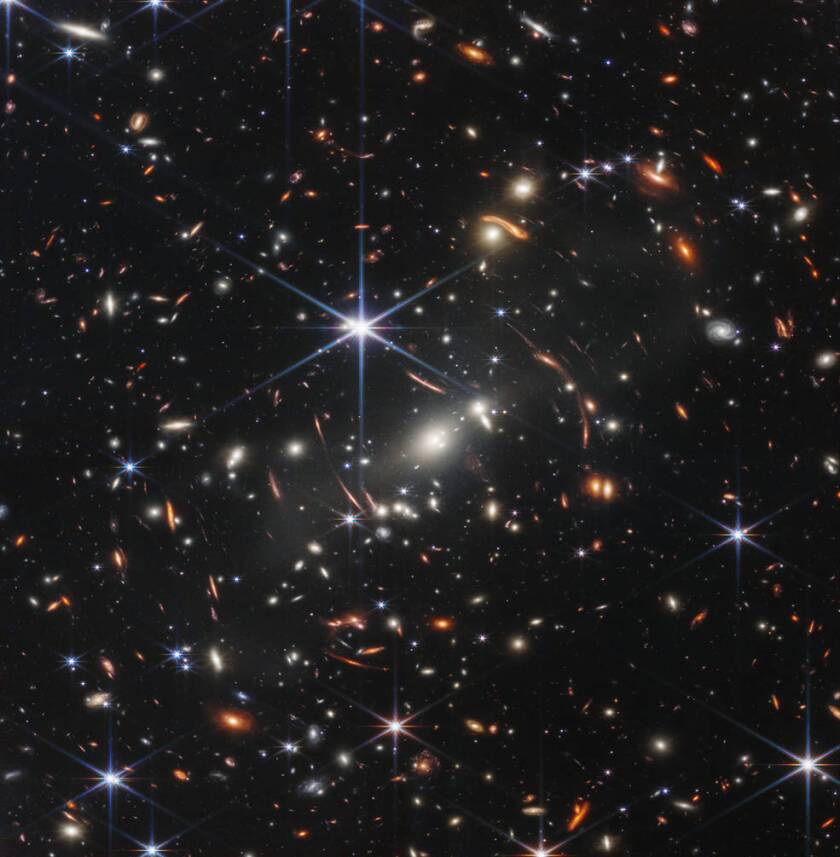 — On Thursday, Aug. 18, from 6 to 8 p.m., O.C. residents will be given an opportunity to view on a big screen recently released images from the James Webb Space Telescope, the largest and most powerful telescope ever launched into space. NASA Solar System Ambassadors Ruth Kurisu and Richard Stember will share the images and host a Q&A session at the Performing Arts Center, 100 Civic Center Drive, Lake Forest. This event is free and open to all ages. The program is hosted by the city of Lake Forest and Science Heads Inc. Spots are limited, so register soon for tickets here. For more information email pio@lakeforestca.gov or call (949) 461-3400.
— Maestro Carl St. Clair and Pacific Symphony are on the road with a mix of classical and patriotic favorites in the return of "Symphony in the Cities," a locally touring, family-friendly, free summer concert series. This Sunday they'll perform at Chapman University, 1 University Drive, Orange. Preshow activities begin at 5:30 p.m., the concert at 7 p.m. Register at muscocenter.org. (Note they'll also perform Aug. 13 in Mission Viejo and Aug. 14 in Irvine. Details can be found at pacificsymphony.org.)
KEEP IN TOUCH
If you have a memory or story about Orange County, I would love to read and share it in this space (please keep your submission to 100 words or less).
I'd appreciate your help in making this the best newsletter it can be. Please send news tips, your memory of life in O.C., or comments to carol.cormaci@latimes.com.

---
All the latest on Orange County from Orange County.
Get our free TimesOC newsletter.
You may occasionally receive promotional content from the Daily Pilot.