Say s'long to expanded al fresco dining on Main in Huntington Beach
Good morning. It's Wednesday, Jan. 25. We are Carol Cormaci and Vince Nguyen bringing you today's TimesOC newsletter. Together we've aggregated the latest local news and events for you.
Before we get started on Orange County news, we wanted to take a moment to say we join all Californians today mourning the tragic losses of life in the mass shootings in Monterey Park on Saturday night and in Half Moon Bay on Monday, snuffing out the futures of 18 people and devastating their families, friends and communities. We couldn't help but be reminded of the mass shooting in a Laguna Woods church last year that killed one person and injured five others. In addition to its deep coverage of these incomprehensible acts, the L.A. Times prepared this helpful article, "You may feel secondary trauma from mass shooting coverage. Therapists discuss ways to cope," which might be of assistance to you if you are reeling from this latest round of senseless violence.
On to local news, an item passed at last week's Huntington Beach City Council meeting will bring an end to expanded outdoor dining and retail on the second block of Main Street and reopen it to vehicular traffic.
This action was met with equal parts cheers and jeers, according to our colleague Matt Szabo, who covered the meeting for the Daily Pilot.
"Surf City residents and business owners alike seemed split on leaving the outdoor dining as is, which encourages a European-style, pedestrian-friendly communal environment. But some decried the 'mish-mash' of umbrellas and tables and said the lack of parking hurt both business and city revenues from parking meters," Szabo writes.
Oscar Carrillo, the general manager of Main Street Wine Co. in the third block of Main Street, told the council he opposed the change back to pre-coronavirus conditions.
"I wish the whole thing was closed down again, all three blocks," Carrillo said, to applause from some in the crowd. "I think it should be a giant pedestrian area, for all of us."
Chanel Fignetti, the daughter of the late surfing icon Rick "Rockin' Fig' Fignetti, said she supported reopening the second block to traffic. Rockin' Fig's Surf Headquarters is on the third block of Main.
"I do believe that the second block closure is closing down our business," she said.
After they heard input from dozens of residents and received 29 emails on the subject, the City Council was split on the agenda item, too. It passed on a 4-3 vote.
If you've enjoyed dining al fresco on the second block of Main, there's still a little time left to revisit the experience. Restaurant owners have until March 1 to remove the expanded dining operations from the street.
MORE NEWS
— California Department of Food and Agriculture workers are notifying properties in Costa Mesa that they're checking citrus trees and may have to spray any that are found to have Asian citrus psyllids that carry the Huanglongbing bacteria. Left unchecked, the spreadable disease could decimate backyard trees and even larger, commercial citrus growers. There is no known cure for HLB. However, some Costa Mesa residents are hesitant because of the hazardous chemicals used to remove the harmful insects.
— Weekend rail service between Irvine and Oceanside will resume Feb. 4, Orange County Transportation Authority officials announced Monday, as work on the tracks in San Clemente has been completed. But there is still work to be done in the area, so no rail service will be available on weekdays, according to OCTA. All of the work is expected to be done by the end of March. Metrolink and Amtrak passengers were asked to check pacificsurfliner.com/plan-your-trip/alerts/travel-advisories and metrolinktrains.com for updates on rail service and schedules.
— The past week saw two more candidates throwing their hats in the ring for the 47th Congressional District race. State Sen. Dave Min and Huntington Beach community activist and business owner Dominique "Dom" Jones announced they are running for Rep. Katie Porter's (D-Irvine) seat after she announced her plans to run for the U.S. Senate. Porter has endorsed Min for the district that includes Irvine, Costa Mesa, Huntington Beach, Newport Beach and Laguna Beach. Former Rep. Harley Rouda (D-Laguna Beach) and former state Assemblyman Scott Baugh, a Republican, have also announced their intentions to run for Porter's current seat.
— Hoag and Vivante have joined hands in a collaboration that allows residents to age in place at the assisted living communities. The partnership ensures Hoag staff are available full time to residents at the two Vivante assisted living and memory care communities in coastal Orange County, according to Daily Pilot reporter Lilly Nguyen. The partnership comes on the heels of Vivante's 2021 launch of its Vivante Vitality Program, an eight-week series that tracks changes in physical, nutritional, cognitive and mental health for seniors who voluntarily participate.
— Fountain Valley is set to have a universally accessible playground constructed at Fountain Valley Sports Park. The facility will be designed to foster inclusive play for people of all abilities and is expected to cost about $1.72 million. Renderings of the project show multiple seating areas, some of which are covered, writes Daily Pilot reporter Andrew Turner. There will also be shade structure on the playground itself.
— Bill McQuaid, who grew up in Fountain Valley, has taken the reins as Fountain Valley's new fire chief, the next step in what he calls a "dream career." Hired as a full-time firefighter-paramedic in 1996, McQuaid has responded to many of the largest fires in the state's history, notably the Thomas fire in Ventura and Santa Barbara counties and the Dixie fire in Northern California.
PUBLIC SAFETY & COURTS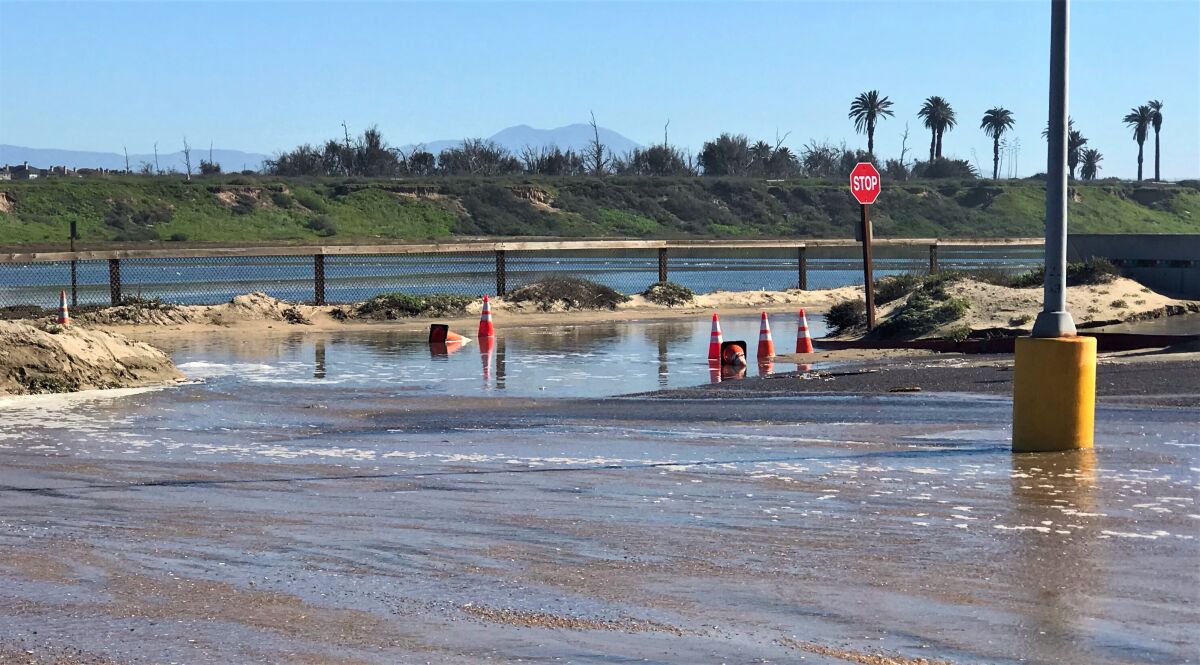 — A combination of tidal surge and high surf conditions Tuesday morning caused Caltrans to close a stretch of Pacific Coast Highway in Huntington Beach that had already been closed four other times so far this month. The same stretch of road from Warner Avenue south to Seapoint Street was closed on Jan. 5 due to unusually high rain, a city spokeswoman confirmed Tuesday. Although the highway was reopened the morning of Jan. 6, it was closed again later that day, that time due to a similar tidal event. Two more closures were announced by Caltrans on Jan. 10 and 14, prior to Tuesday's surge.
— Hermanos Barbershop on Brookhurst Street in Huntington Beach was in the news over the weekend after a brazen break-in that resulted in men hauling off the ATM that had been inside the storefront. Edgar Murguia owns the shop and told our colleague Eric Licas that his cousin was in the business at the time of the burglary, at 12:50 a.m. Saturday. "He was working late and had fallen asleep in a back room," Murguia said. "He got startled when it happened and ran out the back door, then called the police when he was in a safe place." Surveillance footage showed possibly three people in a faded white pickup breaking into the business, Murguia said. They then tied a line to an ATM machine and used the truck to pull it out. Murguia said he and his employees stayed up until about 5:30 a.m. to clean and board up their storefront so they could open for business the same day.
— The Laguna Beach Police Department is adding a second K-9 team to its ranks. Bear, a 2½-year-old Belgian Malinois, will join the department after a six-week training program. Police Cpl. Priscilla Angeloni will serve as Bear's K-9 handler.
— The FBI is offering $25,000 to identify two suspects who were seen by a surveillance camera throwing a Molotov cocktail at a Planned Parenthood health center in Costa Mesa. The March 13, 2022 incident is one of 10 attacks nationwide being investigated. The agency says the suspects could potentially face charges related to terrorism and civil rights violations, which could carry a penalty of up to 20 years in federal prison. Anyone with information on the incident or suspects is encouraged to call (800) CALL-FBI, contact their local FBI office or submit a tip online at https://tips.fbi.gov/.
— A California Democratic Party leader who was central to a corruption investigation in Anaheim involving the proposed sale of Angel Stadium has agreed to plead guilty to attempted wire fraud, the U.S. Department of Justice announced last Thursday. Melahat Rafiei has agreed to plead guilty to a single count of attempted wire fraud, which carries a maximum sentence of 20 years in prison. She is scheduled to appear in federal court in Santa Ana in early February.
LIFE & LEISURE
— Fountain Valley resident John Nguyen offers tips on raising birds to 87,500 followers of YouTube channel "wingsNpaws," where his parrot, Smokey, is a star. So when Smokey went missing Jan. 1, Nguyen went to his fans for help. Nguyen has since posted fliers, contacted nearby veterinary offices and animal shelters and tried to spread the word on social media, and hundreds of followers have offered words of encouragement. Still, Smokey's whereabouts remain unknown. Nguyen is asking anyone with any possible leads to call (714) 726-8355.
— The Orange County Museum of Art will be closed through Feb. 14 to rotate art and put finishing touches on the $94-million building. According to OCMA leaders, the Costa Mesa museum was not 100% complete when it opened last year, which workers have been working on when the building is closed on Mondays. New exhibits will be showcased when the museum reopens on Valentine's Day, including a solo show by Daniel Arsham, "Wherever You Go There You Are," which explores the artist's concept of fictional archaeology through sculpture, architecture, drawing and photography.
— Meanwhile, the annual "Centered on the Center" exhibition opens Saturday, Jan. 28 and will feature hundreds of artists and eclectic pieces at the Huntington Beach Art Center. The exhibit will run through March 11, but on Feb. 16, visitors can bring a sack lunch and informally engage with the staff and artists. Anybody who would like to submit art to the show will pay a $20 entry fee for one piece or $30 for two pieces. Additional information can be found on the center's website www.huntingtonbeachartcenter.org/.
— To celebrate the Lunar New Year and the Year of the Rabbit, Sir Owlverick's Coffee and Anaheim's Brewery X have teamed up to create a Vietnamese coffee stout. As TimesOC writer Sarah Mosqueda reports, the White Rabbit Vietnamese coffee stout is made with a dark roast blend from Owlverick's called Saigon Nights, which is a modern take on Vietnamese coffee that uses the roaster's founder Amy Tang's recipe of Robusta and Arabica beans. In addition to the beer, Owlverick's also released a special coffee blend called Hop n' Brew, which is January's Roaster Choice.
SPORTS
— Five months after putting the Angels up for sale, owner Arte Moreno on Monday decided not to sell the team. "During this process, it became clear that we have unfinished business and feel we can make a positive impact on the future of the team and the fan experience," Moreno said in a statement. "This offseason we committed to a franchise record player payroll and still want to accomplish our goal of bringing a World Series Championship back to our fans." The 76-year-old bought the Angels for $183.5 million in 2003, one year after the team won the title in its only World Series appearance. The Angels were projected to sell for a record price for a Major League Baseball franchise: $2.5 billion. More than half a dozen potential buyers had expressed interest, including Joe Lacob, owner of the defending NBA champion Golden State Warriors, and Patrick Soon-Shiong, owner of the Los Angeles Times.
— The Marina boys' basketball team retired Cherokee Parks and Rich Branning's jerseys at halftime of Friday night's 71-65 win over Huntington Beach in a Sunset Conference crossover game. Branning (class of '76) and Parks (class of '91) were introduced by former longtime coach Steve Popovich and video tributes were displayed from legendary college coaches of each player — Notre Dame's Digger Phelps for Branning and Duke's Mike Krzyzeski.
CALENDAR THIS
— International Holocaust Remembrance Day 2023 is this Friday. In conjunction with the commemoration, on Sunday, Jan. 29, the Chabad Center for Jewish Life in Newport Beach will welcome Holocaust survivor Joseph Alexander, who recently turned 100. He will discuss what happened to him and millions of other Jews after the Nazis invaded Poland. Alexander's scheduled 7 p.m. talk will follow an optional tour of the Holocaust Education Center, which begins at 5:30 p.m. The address is 2240 University Drive. Tickets are $18 and can be purchased at the Chabad of Newport Beach's website.
KEEP IN TOUCH
Thank you for reading today's newsletter. If you have a memory or story about Orange County, we would love to read and share it in this space. Please try to keep your submission to 100 words or less and include your name and current city of residence.
We appreciate your help in making this the best newsletter it can be. Please send news tips, your memory of life in O.C. (photos welcome!) or comments to carol.cormaci@latimes.com or vincent.nguyen@latimes.com.

---
All the latest on Orange County from Orange County.
Get our free TimesOC newsletter.
You may occasionally receive promotional content from the Daily Pilot.