Around Town: Federal, state and local lawmakers to speak at breakfast for female business owners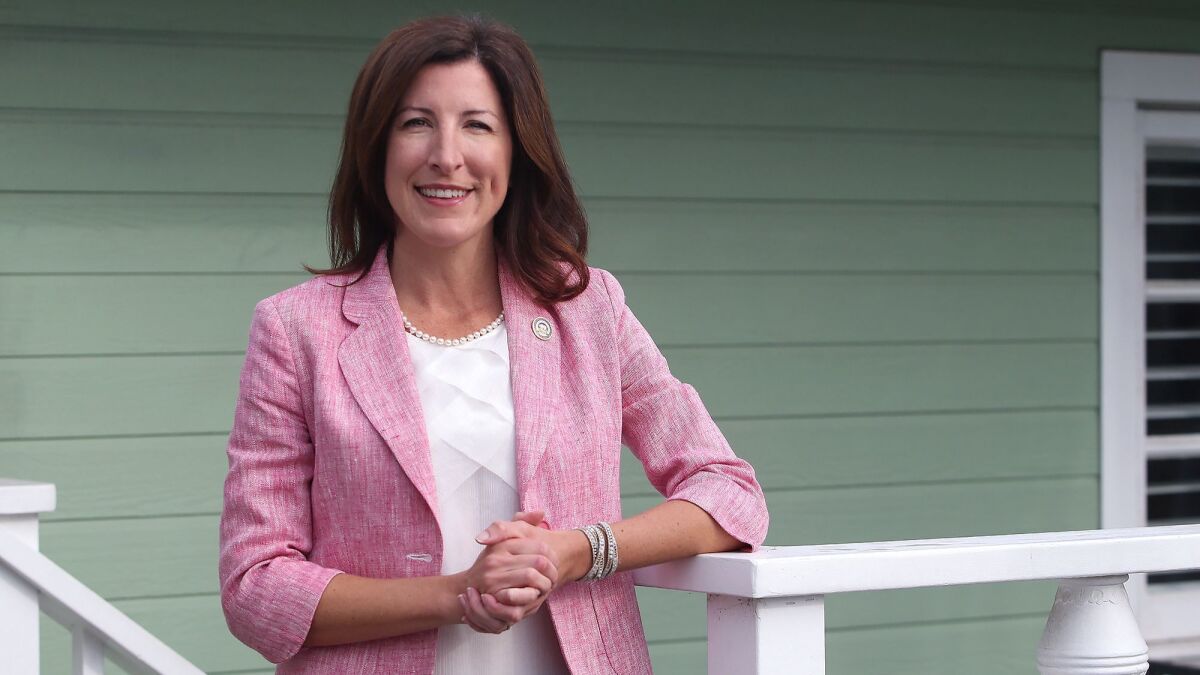 Female business owners will meet Friday with state, federal and local elected officials to discuss national issues with significant effects on small businesses.
U.S. Rep. Katie Porter (D-Irvine) is scheduled to appear along with state Assembly members Cottie Petrie-Norris (D-Laguna Beach) and Stephen Choi (R-Irvine), state Sen. John Moorlach (R-Costa Mesa), Orange County Supervisor Don Wagner and others at the third annual Legislative Breakfast presented by the Orange County chapter of the National Assn. of Women Business Owners.
"This breakfast is an opportunity for women business owners to participate in actively creating a business environment that will help them thrive," NAWBO-OC President Katie Adams Farrell said in a statement. "We need to be a bigger part of the process, and this is part of that effort."
The breakfast will run from 7:30 to 9:30 a.m. at UC Irvine's Newkirk Alumni Center, 450 Alumni Court. Tickets are available to the public for $35, including breakfast.
To register, visit eventbrite.com and search for "NAWBO-OC."
Tommy Bahama closing Laguna Beach location
The Laguna Beach location of Tommy Bahama's restaurant and store is closing Wednesday.
According to a statement from the Seattle-based company that was obtained by the Laguna Beach Chamber of Commerce, "In order to meet the overall goals of our business strategy, we are continually evaluating all Tommy Bahama retail and restaurant locations to ensure they are meeting the needs of our guests and performing as planned. As a result, there are times when we need to make adjustments to our business."
The statement added that the clothing retailer "enjoyed being part of the [Laguna Beach] community" and remains committed to serving Orange County. The company has other county locations in Newport Beach, Huntington Beach, Mission Viejo, Irvine and Brea.
Moulin opening pastry kitchen at SoCo on Tuesday
Moulin will open its latest pastry establishment Tuesday at South Coast Collection in Costa Mesa.
Visitors to the 2,000-square-foot location owned by Laurent Vrignaud will see a 17-foot glass pastry case and an exhibition-style kitchen where they can watch Moulin's bakers assemble artisan pastries. The site also will serve as the commercial pastry kitchen for Moulin's other locations and catering productions.
The menu also will offer salads, sandwiches, crepes and espresso beverages. Hours are 7 a.m. to 3 p.m. daily.
Moulin already has locations in Newport Beach, Laguna Beach and San Clemente and plans to expand to Irvine and Dana Point in 2020.
Moulin Costa Mesa is at 3303 Hyland Ave. For more information, visit moulin.com.
Workshop to cover rules for Marine Protected Areas
Orange County Coastkeeper, a Costa Mesa-based environmental group, will help present a workshop Wednesday evening on how to improve enforcement of rules covering the county's Marine Protected Areas.
The Orange County Marine Protected Council, local enforcement officers and community members will discuss issues affecting compliance with the rules and recommend local solutions.
The event will run from 5:30 to 7:30 p.m. in Room EDU 1131 at the UC Irvine School of Law, 401 E. Peltason Drive. Food will be provided and parking will be free in the Social Sciences parking structure.
To register, visit conta.cc/2WNUP9p.
Sherman Library presents Christmas open house
Sherman Library & Gardens in Corona del Mar will present "The Beauty of Christmas," an annual Christmas open house, from 10:30 a.m. to 4 p.m. Thursday.
Guests will receive a 15% discount on all garden shop purchases of seasonal plants, handmade items and holiday gifts, along with free cookies, coffee, tea and admission to Sherman Library, 2647 E. Coast Hwy.
Proceeds from the event will go toward garden projects and events supported by the Sherman Library & Gardens Volunteer Assn.
For more information, visit slgardens.org or call (949) 673-2261.
Wine & Words fundraiser to aid literacy program at H.B. Library
Literacy Volunteers of the Huntington Beach Public Library will present the seventh annual Wine & Words fundraiser from 6:30 to 10 p.m. Friday to support the library's literacy program.
The event will include a silent auction, raffle, light refreshments, wine, coffee and a cash bar at SeaCliff Country Club, 6501 Palm Ave., Huntington Beach.
The featured speaker will be author Lisa See.
Tickets are $70. For more information, visit hbwineandwords.com.
Updates
3:21 p.m. Nov. 5, 2019: This article was originally published at 5:52 p.m. Nov. 4 and has been updated with additional information.
---
All the latest on Orange County from Orange County.
Get our free TimesOC newsletter.
You may occasionally receive promotional content from the Daily Pilot.