Concepts for improving Laguna Canyon Road get positive reviews at Planning Commission meeting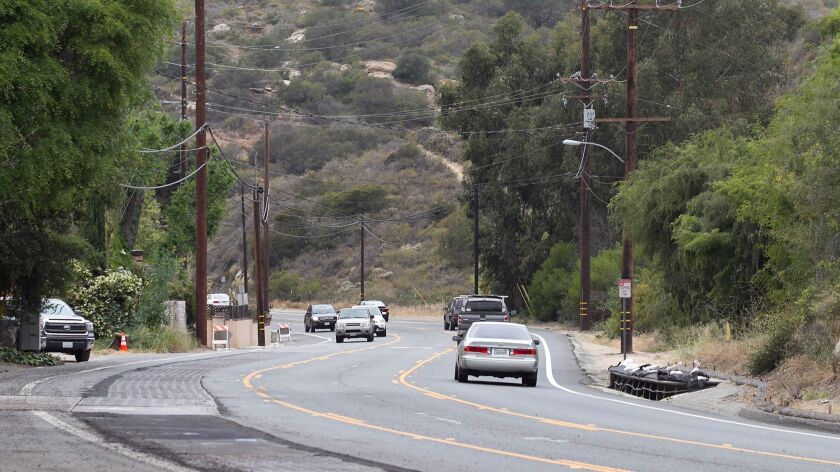 Plans to improve a mile-long stretch of Laguna Canyon Road underwent conceptual review by the Laguna Beach Planning Commission on Wednesday night, capping almost two years of discussion among the California Department of Transportation, the city of Laguna Beach and other parties.
Possible changes include road widening, reconfiguring lanes and shoulders, adding bicycle lanes, improving drainage and landscaping and placing overhead utility lines underground.
Residents spoke positively of Caltrans, saying there have been great improvements to the plan since the agency first proposed it in 2017 in an effort to extend the southbound merging lane on Laguna Canyon Road in front of Anneliese School to meet state standards.
Now proposed as part of the project is the restoration of an existing drainage channel along the road — also known as State Route 133 — and the building of a concrete check dam — a small dam built across a drainage channel to reduce runoff velocity — in addition to changes to the road itself south of El Toro Road.
The pavement on the southbound side south of El Toro Road would be restriped to just north of the Willow Staging Area at 18751 Laguna Canyon Road. Additionally, the northbound entrance and exit for Anneliese School at 20062 Laguna Canyon Road would be right-turn-only.
Caltrans also proposed restriping the Laguna Canyon Road/El Toro Road intersection to provide a U-turn, plus an alternate driveway to Anneliese School from El Toro Road that also would be right-turn-only and additional pavement on southbound Laguna Canyon Road north of the El Toro intersection to accommodate a 100-foot extension of the left-turn lane.
The proposed project also includes road widening for the addition of 8-foot shoulders for bike lanes and undergrounding of utilities.
"Since I've lived in Laguna, [there have been] probably a dozen or more fatalities that I can think about. Pedestrians, bicyclists, motorcyclists, car accidents. [Laguna Canyon Road] can be a very dangerous road," Planning Commission Chairman Ken Sadler said.
"I was always for improving safety [in] that section, the Anneliese. I'm driving by there as school is starting and in the morning, that's a nightmare. People are trying to get in and out of there and they do crazy stuff," Sadler said. "So anything that can be done to improve that situation is greatly appreciated."
Commissioners raised concerns about aesthetics of the check dam, the lack of a safety barrier for bicyclists, the general landscaping and the driveway into Anneliese School. Chairwoman Pro Tem Susan McLintock Whitin requested that Caltrans look into lowering the speed limit along that stretch as part of the project.
"Everybody's worked well together to get to this point and this is, I think, really a good, solid concept," Whitin said.
---
All the latest on Orange County from Orange County.
Get our free TimesOC newsletter.
You may occasionally receive promotional content from the Daily Pilot.