'Virus gardens' sprout up across coastal Orange County for spring
Usually, 6-year-old Matthew Perez, who is autistic, isolates himself during family activities.
But when his parents took his older siblings outside to their Costa Mesa backyard a couple of weeks ago to plant some tomatoes, peppers and flowers, he joined them.
As the end of the stay-at-home order stretches farther away, residents in coastal Orange County have turned to nature — even as cities close off beaches and parks.
The Perez family's backyard recently became a welcome reprieve.
They received a garden tray from Olga Parra, director of community development for the Wilson Street Learning Center. Rain prevented them from gardening for a few days, but as soon as the weather allowed, the family trooped outside.
"It's either our phones or watching TV," said Lety Perez, 34, Matthew's mother. "Having them to do something out of the ordinary … it's pretty neat to watch them just have fun with it."
Since the planting day, the seedlings have flourished and the flowers have grown a few inches, Lety said. She reminds Matthew, 18-year-old Kathy and 11-year-old Nathan not to water them every day. Matthew runs outside every morning to check on the baby plants' growth.
"To see him get excited about it was very satisfying," Lety said.
One hundred years ago, "victory gardens" sprouted as a way for patriotic Americans to aid soldiers in World War I by growing their own foods so that more supplies could be shipped overseas. Ruth Kobayashi-Sanchez, a Newport Beach resident, said her parents were kids during World War II.
Her in-laws were sent to the Japanese internment camps.
"My mom used to talk often about how everyone in Los Angeles had a 'victory garden' due to shortages during the war," Kobayashi-Sanchez said. "As I recall, it met the immediate need of self-sufficiency for produce, but was also a symbol of resilience and the hope for victory in the war."
Kobayashi-Sanchez started a "victory garden" of her own, including herbs and vegetables such as rosemary, parsley, cherry tomatoes and yellow bell peppers.
Joe Stead, 67, said he wants to call them "virus gardens" instead.
Stead is Orange Coast College Horticulture Department's lab coordinator, and he is responsible for about 2,500 plants that ended up in homes across Costa Mesa.
Throughout the fall and early spring, Stead oversaw as his students dug seeds into trays. Then, a few weeks later, he helped them transfer the seedlings into pots.
Usually the little green shoots would bloom into full-grown eggplants, radishes, lettuces, snap peas and carrots, to sell at the college's three annual spring plant sales. But the students' green thumbs stopped growing.
"They never got a chance to do it because the COVID came over and everything was put to a stop," Stead said. "I didn't want to throw those plants away."
Thanks to Costa Mesa Councilwoman Arlis Reynolds and her mother, botanist and gardener Olga Reynolds, the plants ended up in local gardens anyway.
"My mom and I said, 'Let's just buy them and we can find families who would want them' — that's going to be the easiest thing," Arlis said.
For the last couple of weekends, Stead pulled up to the Reynolds' homes — Arlis and her mother live next door to each other — with a truckful of greens.
"My driveway for a while looked like it had become a nursery, which was pretty funny," Arlis said.
For every load Stead brought, Parra arrived with her own van. She made little trays with the plants, some potting soil, decorative stones, gardening gloves and a yard decoration, and delivered them to 56 homes around Costa Mesa — including to the Perez family.
"It was a really cute little tray they got outside their door," said Parra, whose community center typically serves about 60 families. "They brought it in, so happy and excited."
Another giveaway of seedlings in Laguna Beach received similar response. The Ranch at Laguna Beach donated its garden tender annual seedlings to the South Laguna Community Garden Park for gardeners both new and old to take home.
The hotel grows its own organic produce for seasonal specials at the hotel's restaurants, which have been closed since the state ordered closure of all dine-in.
"We needed to redirect a whole spring crop and so you know so this was the best option. I'm also a member of the community garden here in South Laguna," said Ryan "Farmer Leo" Goldsmith, who farms at the Ranch. "To be honest, I was having a really down time about it all and wasn't feeling well."
"As a farmer, I would like everybody to be growing their own food. That's the ultimate goal. I'm in this career to help people get closer to that. The seedlings were well received and growing out. It's therapeutic at all times to foster something and nurture it and then be able to reap and harvest and reward yourself with that."
Ryan "Farmer Leo" Goldsmith
Goldsmith said he reached out to the Ranch, which agreed to make the seedlings available to the community garden.
"I needed, just as a farmer, as a responsibility to get those seeds I started to get them into the ground," he added. "It made the most sense to go to the community garden at this time when people are opting to have their food coming from a large grocery store."
At least 500 seedlings were distributed to the community garden, Goldsmith said, and included vegetables such as butter lettuce, zucchinis, cucumbers and herbs.
Sally Coffey, who was monitoring the giveaway for social distancing, said there was "no end in sight" for the seedlings. She has a plot in the garden herself because she doesn't have a yard, she said, adding that most residents in South Laguna Beach don't have big yards if they had any at all. A few people came out in spite of the rainy weather.
"It was fun to see people get excited about it and I said, 'We know it's the real gardeners that are coming out' because they don't mind getting a little wet and brave the elements to get their free seedlings," Coffey said.
Juliana Essen, who has been with the community garden for 10 years, said that she has a small patio and doesn't have much room to grow plants at her home in South Laguna Beach. She has a plot at the garden, where she planted her seedlings.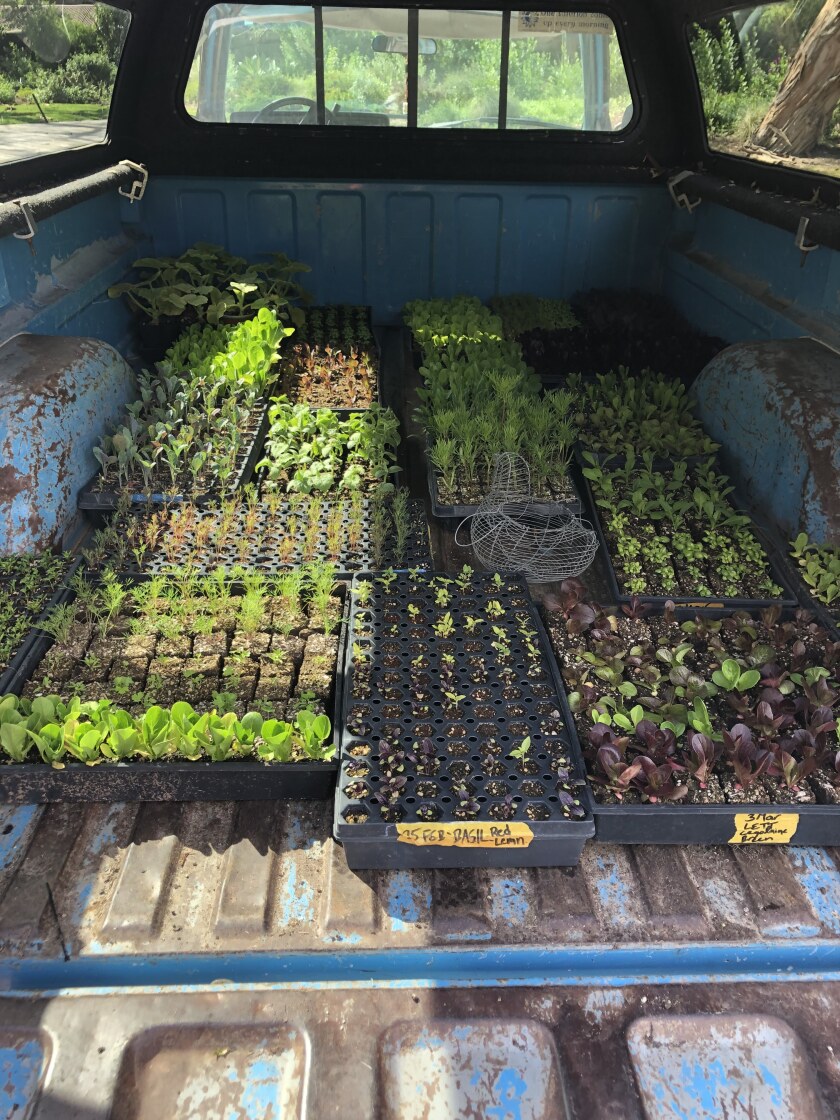 She said she thinks people have grown interested in gardening because of a combination of factors, at least partially motivated by a desire to avoid going to the grocery stores where food might be out of stock.
"This is old-school victory gardens," Essen said. "It's a little bit of that. Americans are very self-sufficient, self-reliant and we can kind of fall back on that kind of tradition."
Moya Mitchell said she felt gardening was "going back to the simpler joys of life," adding that the abundance of time allowed for her to go to the garden every day. Mitchell said that even before the stay-at-home orders were issued she taught from home and that her day-to-day hasn't changed as much, but that she doesn't have to go pick up or take her kids to other places.
Goldsmith said he felt the purpose of the community garden is to foster the idea of people growing their own food.
"As a farmer, I would like everybody to be growing their own food. That's the ultimate goal. I'm in this career to help people get closer to that. The seedlings were well received and growing out," Goldsmith said. "It's therapeutic at all times to foster something and nurture it and then be able to reap and harvest and reward yourself with that."
"I've been farming for 16 years and I'm still learning life lessons every day from growing plants, so all of this is now more than ever useful for people," he added.
The same is true for the Perez family in Costa Mesa.
During normal times, the Perez children would go to Lety's mother's house in Orange every Friday to help her with yard work by picking fruit from her trees and watering her flowers. Lety, who worked at a dentist's office until the coronavirus pandemic closed it, reserved her weekends for rest and relaxation.
But since the coronavirus hit, they "have all the time in the world to do something different." Her family plans to do more gardening this weekend.
"Given that it's spring, they want to get some more pots and do some flowers," Lety said, "to give a little blossom to our daily life."
---
All the latest on Orange County from Orange County.
Get our free TimesOC newsletter.
You may occasionally receive promotional content from the Daily Pilot.