Costa Mesa rolls out new rules on sales, use of fireworks during Fourth of July holiday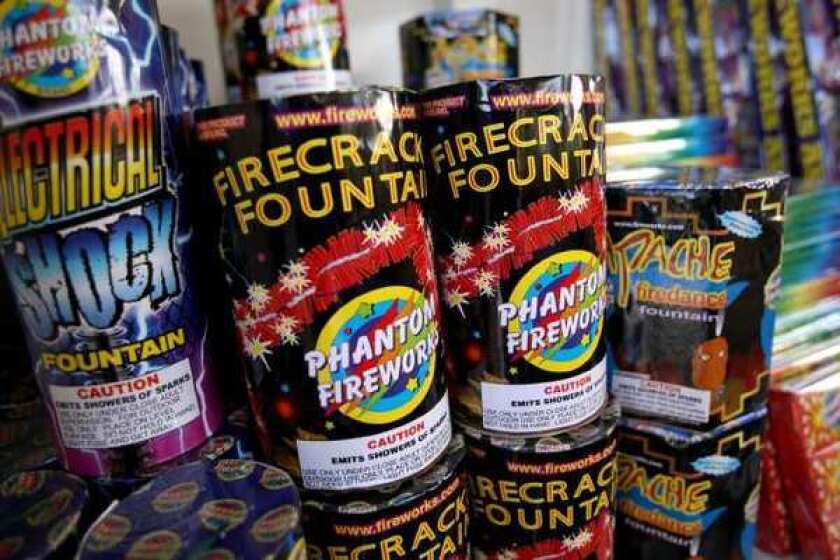 To preserve a fundraising option for schools shut off from traditional money-making ventures during the coronavirus pandemic, Costa Mesa City Council members Tuesday approved rules for the sale and use of safe and sane fireworks during the July 4 holiday.
The city annually issues permits allowing local youth clubs and nonprofit groups to sell legal fireworks in the week leading up to the holiday. Typically, permits allowing for residential block parties are also issued.
But City Atty. Kim Barlow said this year state restrictions currently prohibiting the gathering of people from different households raised a question among city staff and public safety officials as to how the sale fireworks might of be conducted more safely.
Consequently, the city of Costa Mesa will not issue any block-party permits for the Fourth of July weekend. The city will also implement safety guidelines calling for facial coverings, social distancing and regular disinfecting of all surfaces.
Preorders, online catalogs and signage will be used to limit the amount of time people spend at each stand. Those who work at the booths must sign a waiver indemnifying the city should they fall ill due to the virus, and no cash will be accepted, according to regulations passed Tuesday.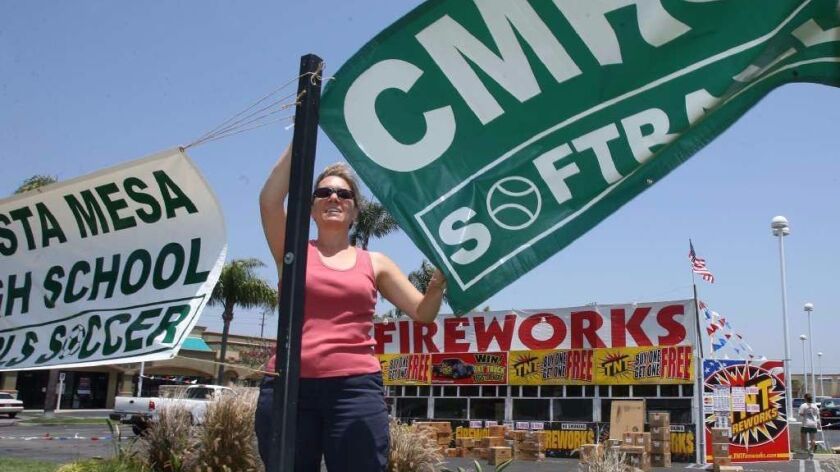 City staff initially proposed that reducing the number of days groups could sell fireworks from five days to three and restricting the discharge of the missiles to only the Fourth of July would be more manageable and less demanding on local police and fire operations.
"The concern is that the more days you have fireworks going off, the more risk of big gatherings you have, as well as the difficulties in terms of illegal fireworks," Barlow told the council.
Costa Mesa Police Chief Bryan Glass said the station typically staffs an additional eight officers and one sergeant in the days leading up to July 4 and often employs as many as 24 additional staff members and three sergeants on the actual holiday.
"This is a big week for the city," Glass said. "Our biggest concern is that we don't want to pull away from our traditional patrol services that are out there on everyday calls for service."
Considering the added workload of coronavirus-related response and enforcement on top of illegal fireworks patrols and responding to calls for service, public safety staff recommended sales be confined from July 2 through July 4.
But those who sell fireworks to raise money for schools and nonprofit programs said booth sales are a lifeline and a means of providing basic supplies to underfunded groups.
"This is our only major fundraiser," said Brian Harris, who's sold fireworks for 20 years for the Youth Services Assn. of Orange County. "Other groups are the same way — they've lost the opportunity to make money this year. I'd like to keep operations normal unless we have to tighten things up."
Harris also said since July 4 falls on a Saturday, and the holiday will be observed on Friday, it would be difficult for the city to keep people from shooting off fireworks both days.
"I don't think trying to control that is really cost effective for the city," he added.
Ultimately, council members decided to allow fireworks sales from June 30 through July 4 and permit the discharge of legal fireworks from July 2 through the holiday.
"These public-school groups are underfunded. They haven't had the opportunity to do things like work at the fair … because there is no fair," said Mayor Pro Tem John Stephens. "This is a good opportunity for them to do their fundraising, and they should have a good opportunity to do it."
---