The Pacific Symphony's 2020-21 season has been postponed, but leaders say the music will continue
It was on March 8 at around 3:30 p.m. when "Of Love and Rage"— a performance of the American Ballet Theatre accompanied by the Pacific Symphony orchestra — concluded to thunderous applause in Costa Mesa's Segerstrom Center for the Arts.
Audience members filed out of the cool, dark concert hall and into the afternoon sun as musicians packed up instruments and dancers congratulated one another on another stellar production.
Few among them could have known the matinee show would likely be one of the last full-scale performances to grace the stage in a year that would become dominated by the coronavirus pandemic. The 46,000-square-foot Segerstrom Concert Hall would soon close to the public and fall into a protracted period of silence.
"It just feels like something's missing," said Joann Leatherby, who's gone to Pacific Symphony events since she and her husband of 26 years attended a concert on their third date, and who now sits on the board of directors. "The symphony has been part of our lives for a long time — it's very personal."
Earlier this month, leaders announced the entire 2020-21 Pacific Symphony concert season, a series of performances set to run from Sept. 24 through June 13, would be postponed to 2021-22.
"We are not canceling our season," Chief Executive John Forsyte clarified Thursday. "We are essentially reprogramming the 2020-21 season. And the programs we promised are moving forward a year. We're not going dark."
Ticketholder seats will be secured for next year, and credit for previously canceled concerts will remain on members' accounts until June 2022 and can be applied to upcoming alternative performances or other shows in the 2021-22 season.
Organizers are meanwhile working to reimagine the season ahead. Using archival footage, interviews and solo performances, symphony leaders have been curating a rich catalog of offerings that members and the public can access virtually.
On Sept. 30, at 8 p.m., thanks to a collaboration with KCET and PBS SoCal, fans can catch the debut episode of a four-part series "Southland Sessions Presents Pacific Symphony," featuring replays of masterworks from the archives and newly recorded original performances as well as artist and conductor interviews. The series will be hosted by Pacific Symphony Musical Director Carl St.Clair.
Symphony leaders are also collaborating with UC Irvine to determine how musicians might come together in small groups to play for recordings or perform outdoor concerts for reduced and distanced audiences as declining Orange County coronavirus rates lead to a loosening of restrictions.
"The idea is to bring musicians to work, either in the concert hall or iconic locations in the city, to record pieces of music we can use in virtual concerts we're doing until audiences can come back," said Eileen Jeanette, senior vice president of artistic planning and production.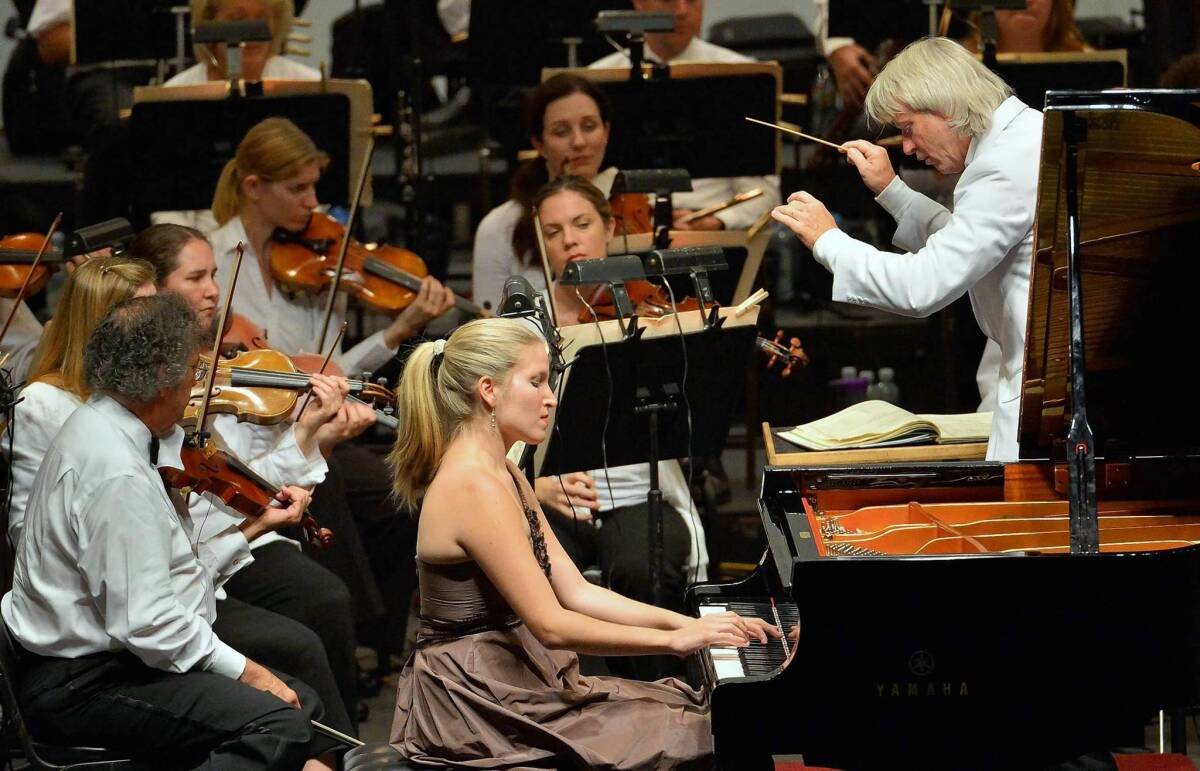 "We're working with UCI Health so when they do come to work, everything is safe and we're taking into account all of the precautions," she continued.
After the closure, Pacific Symphony leaders did what they could for the more than 80 contracted musicians and conductors who rely on full calendars not only for their livelihood but as a means of artistic expression.
"We made a very fast decision to ensure compensation for the orchestra through the end of the month," Forsyte recalled. "We were worried shutting down would have a horrible economic impact on them — but we didn't know this would last for months and months and months."
The organization secured $2.1 million in Paycheck Protection Program loans through the federal CARES Act that allowed musicians to continue to work virtually and on solo projects that could be shared with members and the public in an online clearinghouse.
Symphony leaders, reeling from a staggering loss in ticket sales and corporate and individual donor contributions, later offered a summer stipend to keep orchestra members playing and recording as long as possible.
From last fiscal year, the typical annual operating budget has shrunk from about $22 million to just $10.5 million. When the organization began to implement furloughs and staff cuts, Forsyte and St.Clair both volunteered to reduce their pay 25%.
Remaining optimistic, staff members say Pacific Symphony has entered a period of "strategic resilience" as they work with musicians to forge new creative pathways that will allow the music to continue for children and adults.
"There is a current we're swimming against, but we're making progress," Forsyte said. "We have an increased opportunity to test a lot of things we'd not had the chance before to test. There's a lot of work that's going on in different ways I hope will carry on to the future."
Leatherby, who was averaging about 30 shows each year before the March closure, said she and others can't wait to return to the concert hall.
"Our concern now is to make sure we can get through this," she said. "Everybody wants to do what it takes to make sure we can come back and be strong as ever and move forward with the plans we have."
---
All the latest on Orange County from Orange County.
Get our free TimesOC newsletter.
You may occasionally receive promotional content from the Daily Pilot.