Around Town: 5 Orange County schools earn National Blue Ribbon honors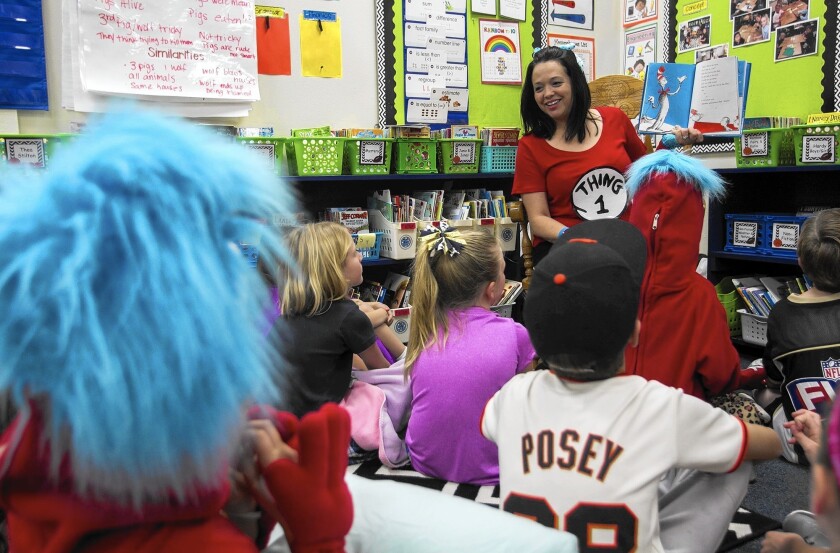 Two local schools — Mariners Christian School in Costa Mesa and Ethan B. Allen Elementary School in Fountain Valley — were two of five Orange County schools named National Blue Ribbon Schools on Thursday.
The award recognizes schools for their overall academic excellence or their progress in closing achievement gaps. The U.S. Department of Education recognized 367 schools for 2020. At least 36 of these schools are in California.
The other county schools are Laguna Road Elementary School in Fullerton; Red Hill Lutheran School in Tustin; and Vista Verde Elementary School in Irvine. All 367 schools, which includes 317 public and 50 private schools, will be honored in a ceremony in Washington, D.C., on Nov. 12-13.
With Orange County giving every school the green light to reopen for the first time since March, teachers and administrators said they felt excited and scared at the same time. Parents said they experienced similar feelings.
Drive-in concerts at O.C. fairgrounds
Music fans can rock out to classic tunes performed live this weekend when the Orange County Fair & Event Center hosts a series of drive-in concerts at the O.C. fairgrounds in Costa Mesa.
On Saturday, tribute band Queen Nation will play two live concerts featuring songs from the band Queen, at 6:30 p.m. and 9 p.m. Concertgoers can enjoy the performance from the safety and comfort of their own vehicles.
Then, on Sunday, tribute band Dead Man's Party will be bringing the hits from the classic 80s band Oingo Boingo to the Fairgrounds in two concerts at 6 p.m. and 8:30 p.m.
Tickets cost from $75 to $199 and must be purchased online prior to the event.
Arriving in Gate 2 up to 90 minutes before each concert, participants will be asked to show a QR code on their phone or device for entry. Tickets will not be available for purchase on site.
Once scanned, ticketholders will be directed to their section and can tune in on their vehicle radios to hear the live performances.
Food will not be sold at the venue, but concertgoers may bring their own food and beverages to be enjoyed during the event. Trash service will not be offered, and participants will not be allowed to exit their vehicles except to visit restrooms. Face masks are required at that time.
One purchased ticket can be applied to up to four people in one car, with an added fee charged for additional individuals.
The Orange County Fair & Event Center is located at 88 Fair Drive in Costa Mesa. For more information or to purchase tickets, visit autosonicconcerts.com.
Santa Ana River sand relocation project
OC Public Works and the city of Newport Beach are advising the public to be aware of heavy equipment at the Santa Ana River outlet and large trucks on the beaches as a project to remove accumulated sand from the outlet begins Monday.
Sand removal at the outlet is done annually in the fall to enhance flood control prior to the storm season.
Sand will be redistributed along the city's coastline to provide erosion protection and to enhance the surf. Crews will be working Monday through Friday, all the way through November.
City staff said an estimated 30,000 cubic yards of sand will be removed from the river outlet and be deposited between 40th Street and 48th Street and on both sides of the Balboa Pier.
George Hoag Foundation donates $400K for free flu shots
The George Hoag Foundation announced Tuesday that it donated $400,000 to ensure that every Hoag employee, physician and immediate family members of Hoag employees and physicians are able to receive free flu shots.
Hoag also has doubled its order of flu vaccinations and will begin to administer vaccinations for both staff and the public mid-September.
"Influenza and coronavirus are two different, potentially fatal diseases which means it is possible for a person to become infected with both," said Robert Braithwaite, president and CEO of Hoag, in a statement. "It is our hope that everyone six months and older receives a flu vaccine to help prevent a second public health crisis."
Hoag is offering patients several options to receive a vaccination, including at Hoag's hospitals, flu shot health fairs and physician offices, which are following the stringent guidelines to safeguard the vaccination process. Hoag's Faith Community Nurses will also coordinate up to 70 flu clinics offering free flu vaccinations to the community.
Corona del Mar Residents Assn. to host virtual election forum
The Corona del Mar Residents Assn. is hosting its election forum virtually this Wednesday, starting at 6 p.m.
The forum will focus on issues specific to Corona del Mar voters and all City Council candidates running for election will attend. Registration is not required to attend, but organizers are requesting interested parties visit cdmra.org/cdmra-election-forum-2020 for more information and registration.
It will be moderated by Alex Crawford and Riley Hayes of Good Morning Newport, an online political show launched in 2018. Questions were submitted in advance by Corona del Mar residents.

War Heroes on the Water tournament in Newport

The third annual War Heroes on the Water tournament, which takes veterans out for a sport fishing competition, will be Oct. 1-4 in Newport Beach Harbor.
The tournament is led by loanDepot CEO Anthony Hsieh with the participation of a dozen Newport Beach-based fishing boat owners, in addition to the support of local businesses and donors.
There will be a boat parade to kick off the tournament on Oct. 1, starting at 4:30 p.m.
"With the pandemic constraining many veteran support services and activities, WHOW felt it more important than ever to gather previous WHOW Vets for a reunion on the water," organizers said in a release. "With an abundance of safety precautions, this special reunion event is for WHOW alumni, so that Veterans involved in past years' tournament can reconnect and feel the love and support of the community."
For more information on the boat parade, visit warheroesonwater.com/boatparade.

Salty Suites to play drive-up concert in Laguna Beach

Laguna Beach Live! is putting on a live concert, featuring the bluegrass-pop band Salty Suites, on Tuesday.
The concert will be a drive-up event at City Lot 10 (625 Laguna Canyon Road) with the band scheduled to play music from 4:30-6 p.m. Cars can begin to enter for the concert at 3:30 p.m.
The tailgate live music event has sold out, but a wait list is accessible at lagunabeachlive.org. Admission is $80 per car.
Only 28 cars will be able to attend, as every other numbered parking spot will be utilized as a safety precaution against the spread of the coronavirus.
The audience can set up chairs in front of their cars, as well as bring food and drinks, but there will be no public restrooms for the concert.
'Igniting Potential' raises more than $300K for O.C. youth
The Orange County Community Foundation's "Igniting Potential" online giving day raised $304,827 in just 24 hours, passing its initial goal of $125,000.
Donations were received from 700 donors to support nonprofits serving Orange County's young people. Participating nonprofits included Assistance League Irvine; Helping Others Prepare for Eternity; Irvine Public Schools Foundation; Kid Healthy; KidWorks; The Literacy Project; MOMS Orange County; Orange County Council, Boy Scouts of America; Pretend City Children's Museum; Parentis Foundation; Scholar's Hope; and The Youth Center.
Now in its third year, "Igniting Potential" is the third in a series of collaborative giving days hosted by the Newport Beach-based OCCF to boost the capacity of local nonprofits, all of whom are striving to overcome the operational challenges presented by the COVID-19 pandemic so that they may continue their vital services to the community.

Laguna Playhouse gala tops $300K in money raised

Laguna Playhouse's annual gala, which was held virtually on Aug. 29, was a success with theater supporters rallying to raise $320,000.
"Keeping Live Theater Alive" was the theme of the night. Several renowned actors, including Joe Mantegna, Alfred Molina and Tony Shalhoub, contributed original vignettes on the recommendation of Dan Lauria, who asked friends in the business of the performing arts to help out regional theaters.
The night also featured musical performances by Nathan Gunn and the Skivvies.
Those who missed the gala can see it at lagunaplayhouse.com through Tuesday.
---
All the latest on Orange County from Orange County.
Get our free TimesOC newsletter.
You may occasionally receive promotional content from the Daily Pilot.