Huntington Beach Police Chief Robert Handy announces he is retiring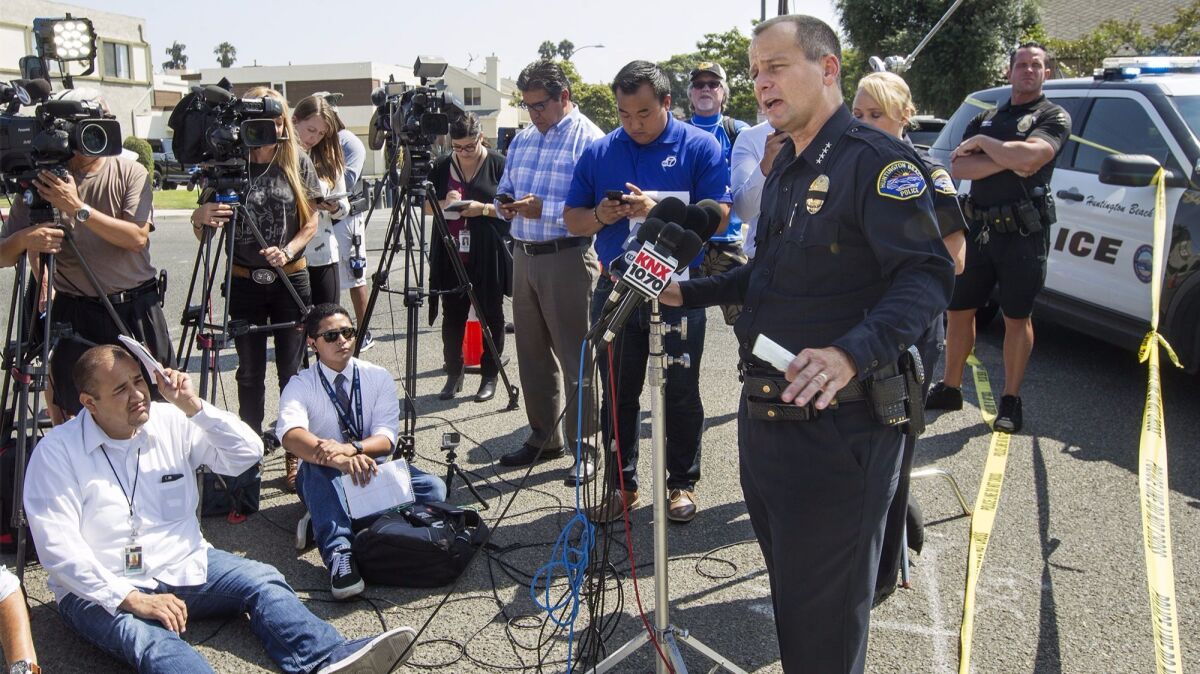 Huntington Beach Police Chief Robert Handy has announced that he will be retiring.
Handy has been police chief of Huntington Beach for seven years. He said Tuesday that he plans to leave law enforcement by the end of the month, after a career that has spanned more than 30 years.
"The time is right," said Handy, 52. "It's been a long nine years as a chief [also including two years as San Bernardino police chief]. It's a busy, demanding job, and it's time for me to reprioritize things a little bit, spend some time with my family and concentrate on my health ... I've had some back issues and health issues, so I'm going to move on to a less physically demanding job and do some other things. I'm looking forward to the next chapter, I'm not sure what that chapter is."
Handy was hired in the aftermath of the riots at the U.S. Open of Surfing in 2013. He said this year has been the most challenging policing year in his career, but he said the community support was "incredible."
"I think that's really what I'm most proud of, that relationship and the support we have from the community," he said. "People have been bringing meals nonstop, people have bought our officers meals out on the street. That support is incredible, and it's really needed at a time like this.
"It's been the most challenging year, with COVID, with all of the protests. Not only after George Floyd's death, but after COVID we had all of the 'Open California' protests. Since mid-March, we've been running nonstop."
Handy has been largely supported by the City Council during his tenure, though it has not been without controversy. In 2017, the Huntington Beach Police Officers Assn. gave him a vote of no confidence and the Huntington Beach Police Management Assn., which represents the department's captains and lieutenants, called for a new chief.
Last year, Handy reported that he had worked at reunifying the force, specifically with team-building workshops for police staff. A five-year plan was created, with goals including crime reduction, community partnership and improving workplace practices.
Citywide crime fell 14% and downtown crime fell 36% during his tenure, according to figures provided by the city. Handy, who implemented practices like body-worn cameras and created the city's Homeless Taskforce during his tenure, said he saw the community partnership during the protests this past spring.
" I just admire the heck out of the way our folks performed, and the interaction and support from the community they had while doing that," he said. "It makes them proud to do it."
The city is working to finalize plans to name a successor, according to a news release.
"During the past seven years, Chief Handy has left an indelible, positive mark on Huntington Beach," Huntington Beach Mayor Lyn Semeta said in the release.
"From the community-based policing practices that he instituted, to the technology improvements he championed, to the advancements we've made as a City in addressing homelessness — there is no doubt that Chief Handy has been the central figure driving our efforts to improve public safety here in Surf City, and our community will enjoy lasting benefits because of all his efforts. Chief Handy's presence will be missed at City Hall, and I wish he and his wonderful family the very best as he prepares for retirement."
All the latest on Orange County from Orange County.
Get our free TimesOC newsletter.
You may occasionally receive promotional content from the Daily Pilot.