Trial begins in Santa Ana for 2015 murder of escort in Newport Beach office complex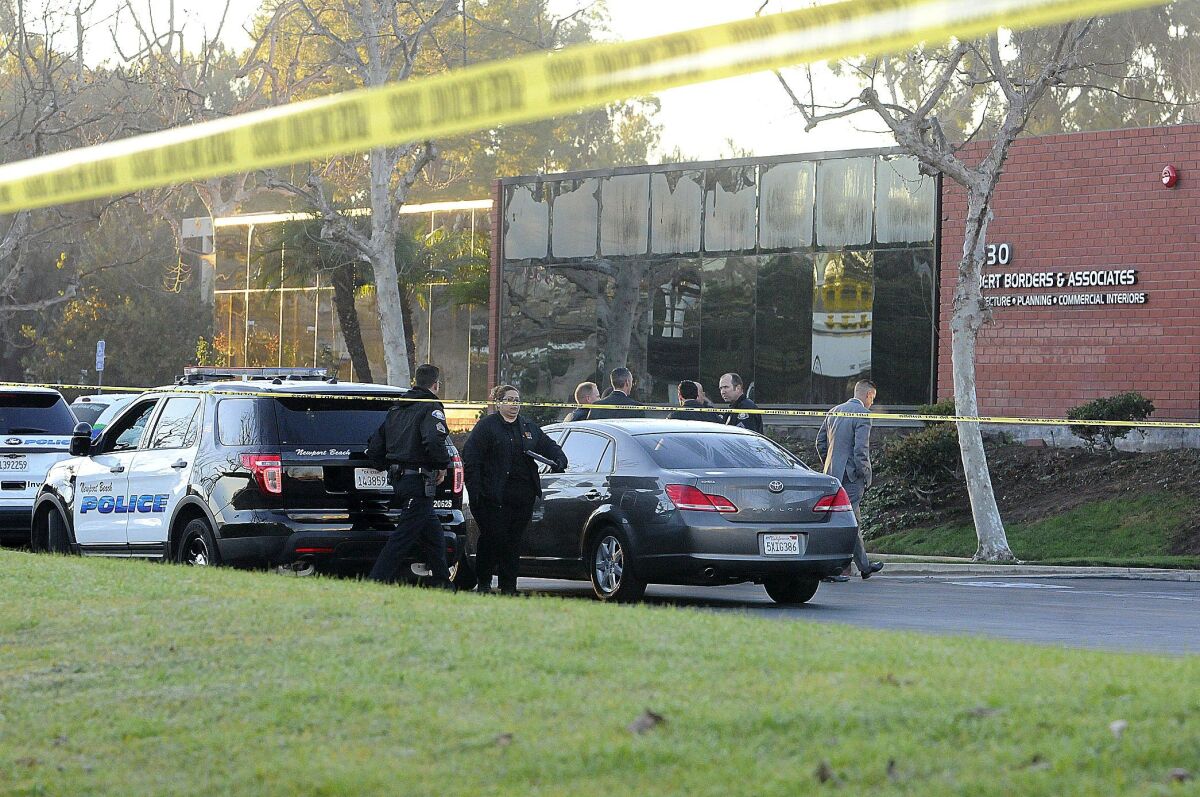 The trial of a Santa Ana man in the 2015 murder of a 23-year-old escort in a Newport Beach office complex got underway with opening statements Monday morning in Santa Ana.
Nain Issac Nieto Hernandez, now 36, is charged with murdering Sarai Alcaraz on the night of Dec. 28, 2015. Hernandez was arrested two days later and, according to court records, has remained in custody since.
Hernandez pleaded not guilty in 2016 and maintained his innocence Monday in a courtroom presided over by Orange County Superior Court Judge Richard King.
In his opening remarks, prosecutor Robert Goodkin said he is seeking a guilty verdict for the charge of second-degree murder. If convicted, Hernandez faces a maximum sentence of 15 years to life.
In laying out his case, Goodkin explained that Alcaraz worked for an adult entertainment agency called Cyren Entertainment, which supplied escorts to privately dance for clients at their homes or in hotel rooms. Goodkin called the business a scam and said such services could at times rise to the degree of prostitution.
Cyren would bait-and-switch by falsely advertising with photos of women not in its employ and send its actual employees to meet with customers, Goodkin said. He added that customers would often be frustrated that the girl marketed was not the one that arrived, and at times they would refuse services, which would then lead to the demand for a cancellation fee.
Prosecutors said this was also true of the advertisement that Hernandez allegedly viewed on backpage.com, which was shut down in 2018 because of its reported role in allowing online sex trafficking ads.
Escorts from Cyren were paired with a "driver," a male employee who drove the female escorts to and from their appointments. Drivers were also tasked with protecting the escorts or collecting payment when due.
"It's not a pretty industry," Goodkin said.
On the night of the murder, Alcaraz was paired with Jordan Beltran as her driver.
Hernandez, who worked as a janitor in the Campus Drive office complex where Alcaraz was found, called Cyren Entertainment and requested an escort. Alcaraz entered the building after 10 o'clock that evening with Beltran parked nearby. Hernandez had requested that there be no driver.
Prosecutors said Alcaraz was inside the complex for about nine minutes. At the seven-minute mark, she texted Beltran to advise him she had collected the fee from Hernandez. But she never exited the building.
Cyren Entertainment manager Lynda Estrada reported Alcaraz missing to Newport Beach police when she did not respond to any calls or messages, Goodkin said. Alcaraz was later found dead inside a trash can in the janitor's closet at the office complex.
Hernandez's attorney, Cameron Talley, argued that Alcaraz's death was an accident and that Hernandez had not tried to harm her.
In his remarks, Talley targeted Cyren Entertainment for its role in Alcaraz's death, calling Beltran an "enforcer" and saying the agency knowingly put women like Alcaraz into dangerous situations.
Talley said Hernandez was undocumented and had previously been jailed for submitting false documents to the Department of Motor Vehicles while trying to acquire a driver's license. He said that incident was traumatizing for Hernandez, who was afraid of being deported to his native El Salvador.
Talley acknowledged that Hernandez hired Alcaraz and that he paid her $700 on her arrival.
He alleged Alcaraz then tried to leave without providing services. Hernandez asked for the money back before she left, Talley said, but Alcaraz refused and threatened to call Beltran. Talley said Hernandez was afraid of being injured or killed by Beltran, having heard of similar incidents before, and reached for Alcaraz's phone to prevent her from making the call. The two struggled for the device.
"He's an MMA fighter. He's 230 pounds. He's fought and defeated. She's 83 pounds. This isn't a fight," said Talley, who argued the evidence would show that if Hernandez had wanted to hurt Alcaraz it would have been easy for him to do so. Talley said the only time Hernandez had laid a hand on Alcaraz was to grab her wrists to stop her when she "came at him" after he got the phone.
According to the narrative provided by the defense, when it became apparent that Alcaraz would not let him flee, Hernandez pushed her to the ground.
Alcaraz died of multiple blunt force trauma injuries to the head, according to the Orange County Sheriff's Department's coroner.
Talley said Hernandez fled before he knew she had died.
Prosecutors said Hernandez ran into Beltran while he was leaving the site. When asked where Alcaraz was, he allegedly told Beltran that he didn't know where she was and that she had taken off after robbing him. He then left.
Talley rebuffed that scenario, saying instead that Hernandez did not flee and was in fact circling the property and waiting for Beltran and Alcaraz to leave so that he could lock up the office complex.
Tally said Hernandez did not realize what might have become of Alcaraz after he left her, but when he began receiving messages from Estrada asking where she was, he panicked. He retrieved his 9-millimeter gun from his Santa Ana home and returned to the Newport Beach complex. There, the defense maintains, he found Alcaraz dead and, out of panic, attempted to clean up the crime scene and hide her in the trash can. Her body was found there at around 1:30 a.m. on Dec. 29, according to previous news reports.
Prosecutors said evidence tying Hernandez to the scene included the gun and his wallet with his driver's license. Talley asserted the gun had nothing to do with the case and that the wallet had been left behind in a panic, describing the evidence as "smoke with no fire."
The trial is expected to continue for several days, with witness testimonies provided by Beltran, Estrada, the police officer that found the lifeless Alcaraz, the coroner and individuals that used Alcaraz's services the same night of her encounter with Hernandez.
---
All the latest on Orange County from Orange County.
Get our free TimesOC newsletter.
You may occasionally receive promotional content from the Daily Pilot.