Federal authorities take down Backpage.com, accused of being a haven for online prostitution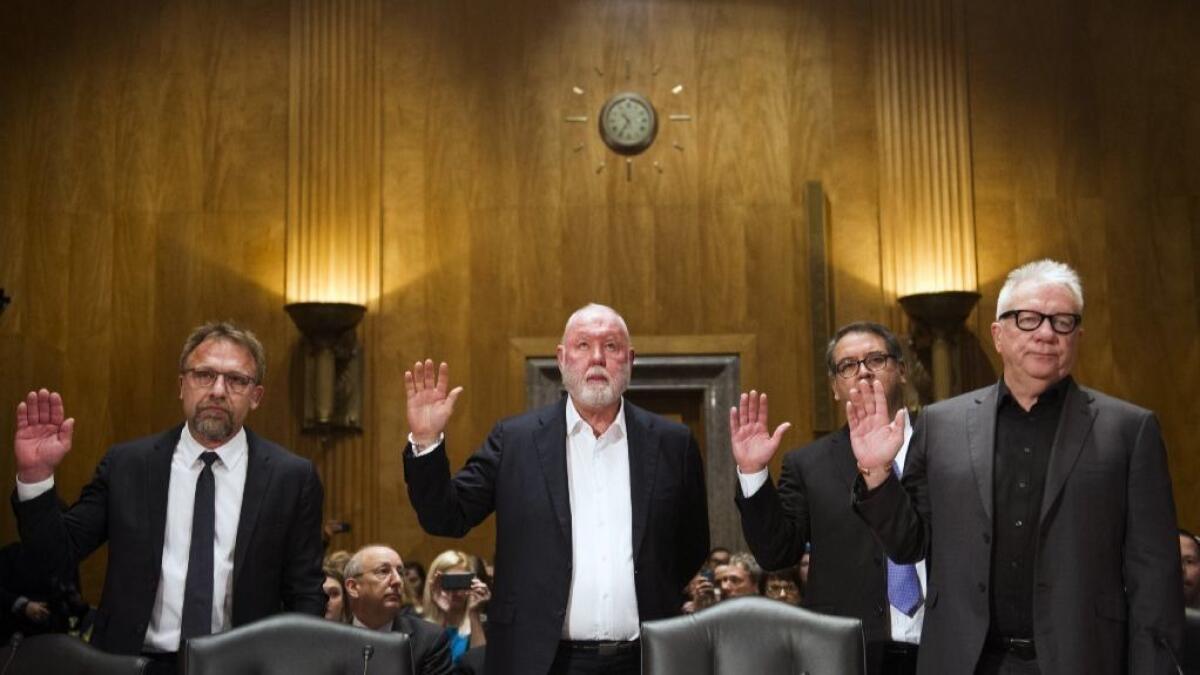 Reporting from Washington —
In the climax of a fight that pitted foes of sex trafficking against advocates of free internet speech, the Justice Department on Friday seized the Backpage.com website and raided the home of its cofounder.
The site, long a haven for sex ads, began shutting down Friday morning, as FBI agents began taking down a network of web pages all over the world . A notice on the site said it had been seized as part of an enforcement action by the FBI, the IRS and the U.S. Postal Inspection Service.

For the record:
5:55 p.m. April 7, 2018An earlier version of this story said a new law allows states to crack down on websites that assist or support sex trafficking. That measure was passed by Congress but is not yet signed into law.
Agents raided the Sedona, Ariz., home of Michael Lacey, the site's cofounder, according to local media reports, but federal authorities would not comment on criminal charges.
Backpage.com has long been under fire from state attorneys general, organizations that fight child sex trafficking and victims of the prostitution business who have tried to sue the company for damages. California prosecutors filed state criminal charges against Backpage last year, but that case and others foundered because of protections in the federal Communications Decency Act, written to protect free speech on the internet.
Congress moved to strip away that shield late last month with a measure to carve out an exception in the communications law after a high-volume political battle. When signed into law by President Trump, the measure will allow states to proceed against websites that knowingly assist or support sex trafficking.
Silicon Valley trade groups and free-speech advocates such as the ACLU fought the new measure, warning that it would create havoc by forcing companies to try to get a handle on wild online speech.
But those arguments were overwhelmed by stories from teenagers about being sold for sex on Backpage. A letter from attorneys general around the country said they had evidence of teenagers being trafficked on the site.
Advocates for victims of trafficking said the takedown of Backpage was long overdue — especially since the Communications Decency Act never restrained federal prosecutions, only state ones.
"You heard the stories over and over and over again from kids who were sold there," said Carol Smolenski, executive director of ECPAT USA, an anti-trafficking group. "It's ridiculous that kids could be sold on the internet openly. It was outrageous."
A report last year by the Senate Homeland Security Committee found that the website employed software to automatically strip language in ads that pointed to underage girls, including "lolita," "little girl" and "amber alert." The ads were then published without those stripped words, the report found.
The report also found that Lacey and other owners, although they reportedly sold Backpage.com to a foreign company, retained significant control through a web of shell companies.
Twitter: @jtanfani
Sign up for Essential California for the L.A. Times biggest news, features and recommendations in your inbox six days a week.
You may occasionally receive promotional content from the Los Angeles Times.