'Queer, funk, rock, dominatrix band' comes to Laguna Beach for LGBTQ Pride weekend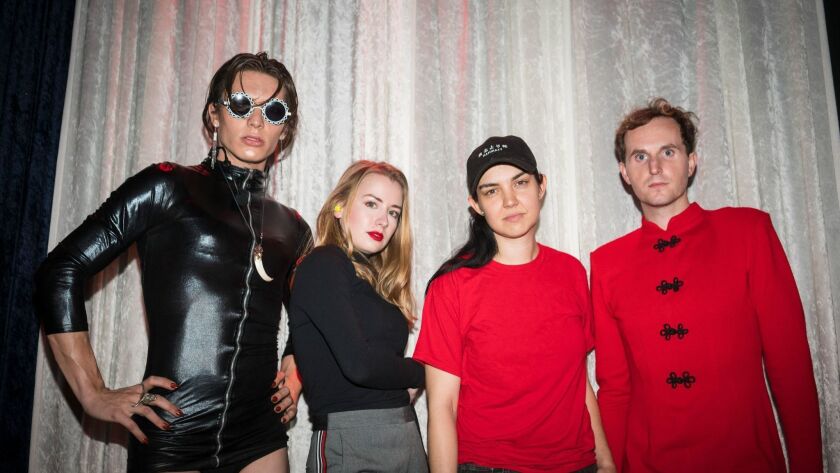 What do you get when you cross a classically trained vocalist, a hip-hop-influenced disc jockey, a ballet dancer and a punk rocker?
A "queer, funk, rock, dominatrix band," of course.
That band, Los Angeles-based Boone, will take the stage Saturday night at Laguna Beach's Main Street Bar to help celebrate the city's LGBTQ Pride weekend.
Lead singer Ana Bengal calls the upcoming performance "an experience."
"We're loud and proud, radical and queer," said Bengal, a transgender woman.
The group — which also includes drummer and DJ Ash McCormick, bassist and ballet dancer Anne Reburn and punk guitarist Sean Donahue — prides itself on giving its audiences a unique show. Like members of many "high-energy" bands, they sing, dance and prance around the stage. Behind the showy performance, Bengal said, is the freedom to be themselves.
"We … felt compelled to create a space where we could express our own individualism as artists," Bengal said, "but also where we could hold space for everyone else. The 'queer, funk, rock, dominatrix' helps people understand … what kind of space we cultivate."
"Queer" describes the band as a whole, Bengal said. It's an all-encompassing term that covers each member's individual expression. "Funk rock" "speaks to the rhythm people can expect" from the group, which sometimes includes a trombone and horn player. "Dominatrix" alludes to some of the lyrics Bengal writes, as well as the atmosphere the band creates.
"We hold that space by being ourselves, which can be very domineering — dominating the space, the energy, the music and the vibe," Bengal said.
But that doesn't take away from the band's intention to welcome people of all backgrounds and identities. Donahue said he hopes that by bringing authenticity and openness to the performance, the band will inspire members of the audience to feel more comfortable themselves.
"Everybody from different walks of life is taken on a ride and an experience," he said. "People seem to relax and just kind of let down their guard because we're so open and we're up there just having a good time. I think it translates to them for sure."
Donahue and Bengal have played music together since meeting in 2013, but Boone coalesced as an ensemble earlier this year. The group has performed at several Los Angeles clubs, Donahue said, and released a single, "Think of Me," in February.
The band's performance Saturday is on the second night of LGBTQ Pride weekend in Laguna Beach, which local organization Laguna Beach Pride 365 officially kicked off Friday.
The venue, Main Street Bar, is a "community bar" that welcomes a variety of customers: 21-year-olds seeking their first gay bar experience, regulars perched at the end of the bar and tourists flooding into town, manager Sam Garfield said.
Since the bar is small, guests usually coalesce into "an inviting, eclectic group of people," Garfield said. In his experience working at several bars in the Los Angeles area, he has "never seen anything quite like that," he said.
"Everybody knows everybody who comes in," Garfield said. "And if they don't know them, they will by the end of the night."
Donahue said the band members feel honored to play at Main Street Bar and keep alive Laguna's legacy as an LGBTQ-friendly community.
"Not everybody is safe in the LGBTQ community," he said. "There's a lot of trans people and other people that can be in danger. I think it's still really important to have these places that people can come and feel comfortable and safe."
Boone will perform two sets Saturday, beginning at 10 p.m.
IF YOU GO
What: Boone
When: Saturday. First set begins at 10 p.m.
Where: Main Street Bar, 1460 S. Coast Hwy., Laguna Beach
Cost: Free
Information: lagunabeachpride.org/festival-2019
---
All the latest on Orange County from Orange County.
Get our free TimesOC newsletter.
You may occasionally receive promotional content from the Daily Pilot.