Chef Serato expands his nonprofit's food services to Huntington Beach
Chef Bruno Serato had a big grin on his face Tuesday afternoon as he ladled pasta into the bowls of more than 100 hungry children at the Boys and Girls Club in Huntington Beach.
The meal was part of a ceremony marking the expansion of Caterina's Club, Serato's nonprofit that feeds needy children, to clubs in Huntington Beach and Fountain Valley, where they will be feeding about 500 kids a day.
Serato's organization will now be serving pasta to about 3,500 children a day countywide. In addition to his philanthropic efforts, Serato is well-known for his highly regarded Anaheim White House restaurant.
While kids chowed down on their meals at the club on the Golden West College campus, a few board members gave brief speeches, including Huntington Beach police Chief Robert Handy, who thanked Serato for his service.
Then Serato took out a pair of large scissors and clipped a red ribbon, shouting, "Viva la pasta!"
Serato said he's particularly excited for the expansion because he's lived in Huntington Beach for more than 20 years.
"I have wanted to come to Huntington Beach for a long time," he said.
Although the ribbon-cutting ceremony was held Tuesday, Caterina's Club has been serving pasta to the clubs since June.
Tanya Hoxsie, CEO of the Boys and Girls Clubs of Huntington Valley, initially planned to cook the pasta at the Golden West club but her team learned that cooking for hundreds of kids is harder than it seems when they set off the building's fire alarms.
Since then, the meals have been prepared by Serato's chefs at the Christ Cathedral in Garden Grove, which is temporarily serving as the base of operations until Serato's renowned Anaheim White House is rebuilt after being ravaged by a fire in February.
Caterina's Club serves meals throughout Orange County, recently incorporating San Juan Capistrano, Rancho Santa Margarita and Aliso Viejo.
The club is named after Serato's mother, Caterina, who helped fuel his passion for feeding children.
"Caterina was the most amazing woman," Serato said. "Mom has always opened the door to anybody that's hungry."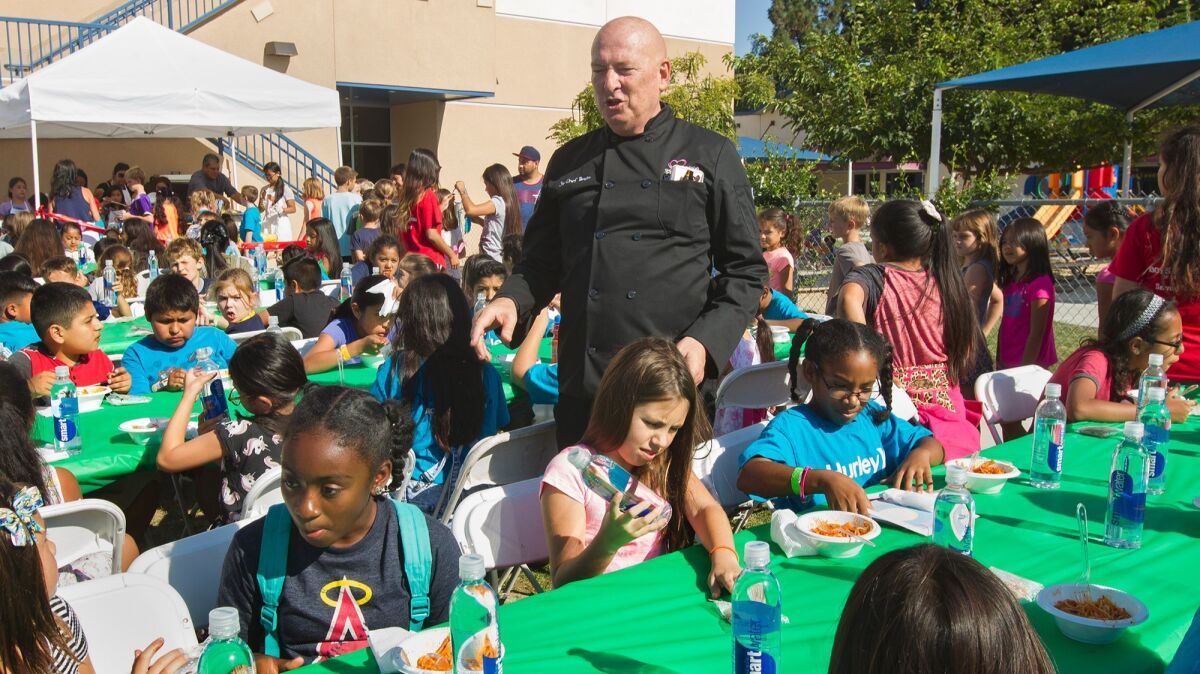 During World War II, his mother fed starving German troops as they passed near their home in Italy while retreating.
When she was visiting Serato in 2005, he took her to a Boys and Girls Club in Anaheim. She noticed a needy child and suggested that Serato should consider making pasta for the kids.
"That was the first kid," Serato said. "I had no idea that it would grow to close to 4,000 kids a day."
Serato said his parents also taught him another valuable lesson: Never forget where you come from.
Serato grew up in relative poverty, eating leftover bread and milk for dinner. He wore clothes given to the family from people in the neighborhood.
"I grew up with nothing," he said.
Now he's able to help those in a similar situation.
Serato has been knighted by the Italian government, received a blessing from Pope Francis, been named a CNN Hero and been given numerous awards and proclamations.
Caterina's Club has served more than 1.5 million meals and has expanded to Chicago, New York, Texas, Mexico and Italy.
Twitter:@benbrazilpilot
All the latest on Orange County from Orange County.
Get our free TimesOC newsletter.
You may occasionally receive promotional content from the Daily Pilot.