Vandalism of Newport church's stained-glass windows is a chance to 'learn about forgiveness,' pastor says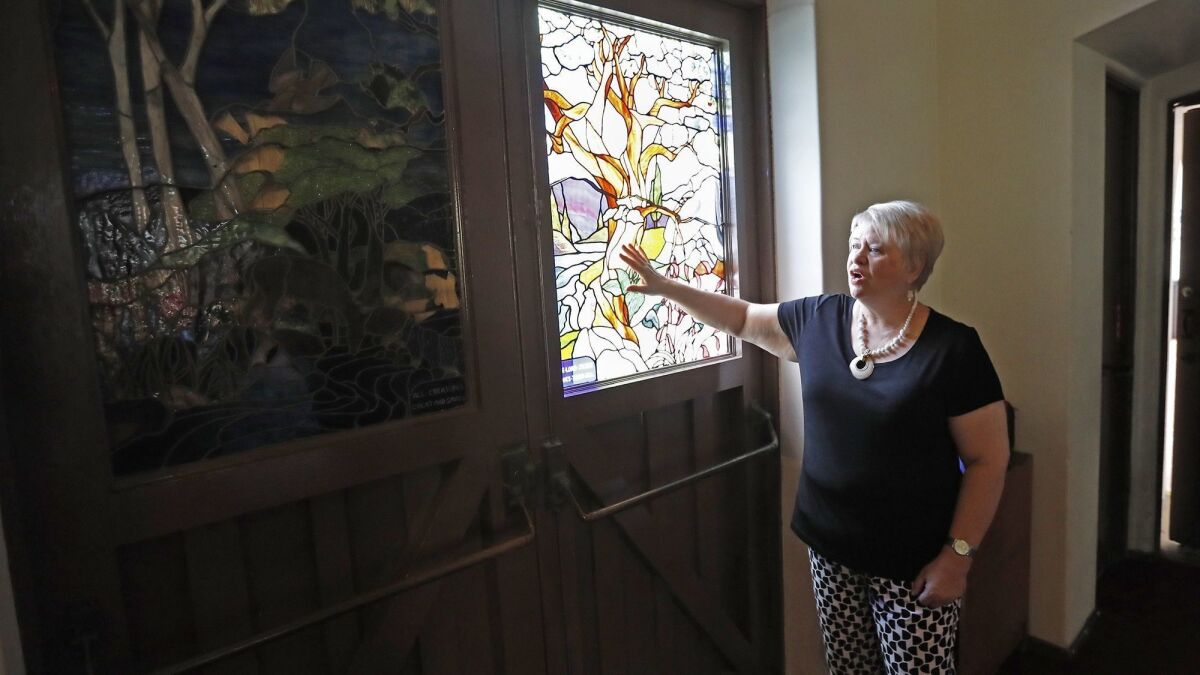 For 28 years, two stained-glass windows on the main doors of Christ Church by the Sea in Newport Beach have welcomed congregants and cast rays of light into the front of the sanctuary.
Since their installation in 1990, thousands of eyes have admired the colorful side-by-side windows, which create a scene of a deer drinking from a stream as a dove swoops above and a squirrel sits at the base of a twisted tree trunk.
"All creatures great and small, the lord Jesus loves them all," the windows read.
The sanctuary is a little darker now.
On July 18, a teacher at the United Methodist church's preschool arrived at the building at 1400 W. Balboa Blvd. just before 7 a.m. to find that someone had smashed a brick into the windows.
The vandal slammed the brick against the windows repeatedly — shattering pieces of colored glass held together with tiny strips of lead — until the brick snapped in half, said church pastor Joy Price.
One of the stained-glass windows was damaged so severely that it had to be boarded up until it can be repaired. The other has deep cracks in the glass that also will need to be fixed.
The windows were installed in memory of Ann Palmer, a church member who died of cancer in 1990, Price said. A gold-and-black plaque to the right of the doors bears her name.
The vandal also took a large rock from the church garden and threw it through an amber glass window in the office, leaving shards of glass scattered on the blue carpet. Price said she later discovered that a light fixture outside also was damaged.
"There seemed to be extreme anger involved in it," Price said. "We've come to terms with the fact this was probably someone that very likely was disturbed."
The vandal also threw library books that were housed in front of the church all over the driveway.
Nothing was stolen during the incident.
Price estimated the total damage at $5,000. Insurance likely will cover part of it, she said, but the church will be responsible for some of the expense.
Police took a report but have made no arrests. Police said they do not suspect it was a hate crime.
Price said it was the first act of vandalism at the Balboa Peninsula church in recent memory and that she was very angry when she saw the damage. The congregants were bewildered, she said.
However, she added, "it is an opportunity for our church to learn about forgiveness."
Twitter: @HannahFryTCN
All the latest on Orange County from Orange County.
Get our free TimesOC newsletter.
You may occasionally receive promotional content from the Daily Pilot.