Costa Mesa council appoints planning and parks commissioners and eyes expanding the panels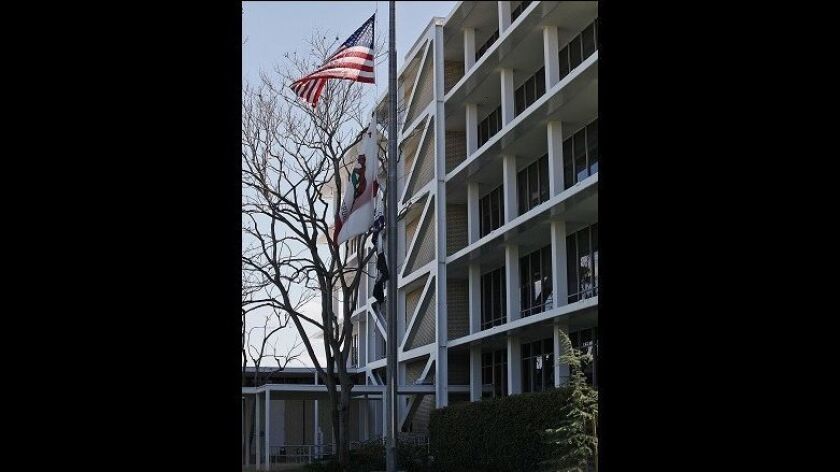 Costa Mesa City Council members named a slate of appointees to the city's planning and parks and recreation commissions this week — and may have to do so again in the near future after they took a step toward potentially expanding the panels.
On a 6-1 vote Tuesday, with Councilman Allan Mansoor opposed, the council reappointed Carla Navarro Woods and Jon Zich to the Planning Commission, which reviews matters related to development and land use.
For the record:
9:45 AM, Feb. 08, 2019Councilwoman Sandy Genis' quote was "it's all political plum and a steppingstone," not "political plump," as this article originally reported.
Joining them will be newcomer Kedarious Colbert, a former city planner in Texas who now works for a program management and development advisory firm. He replaces former commission chairman Stephan Andranian, who did not reapply.
For the Parks and Recreation Commission, the council voted 5-2, with Mansoor and Councilwoman Sandy Genis opposed, to appoint Sara Fahy, public affairs manager for the Mesa Water District; Cassius Rutherford, a UC Irvine political science student who is chief of staff for the president of the university's student government and worked on the election campaigns of Assemblywoman Cottie Petrie-Norris (D-Laguna Beach) and Costa Mesa Councilman Manuel Chavez; and Derek DeCicco, a small-business owner who wrote in his application that he hopes to encourage people to put down their electronics and spend more time outside in the community.
The new parks commissioners will take the seats previously held by new Councilwoman Arlis Reynolds; Kristina Bogner, who applied for another term but was not selected; and Leah Ersoylu, who did not reapply.
Those appointed this week could soon be joined by additional colleagues after the council voted to direct staff to develop ordinances that would expand both panels from five members to seven.
The proposal for the Planning Commission is for each council member to nominate someone from his or her district, with the mayor choosing an at-large candidate. The nominations would be subject to approval by the full council.
Currently, any registered voter in Costa Mesa can apply to serve on the commission.
The new parks commissioners would be designated as liaisons for the Costa Mesa Senior Center and for arts- and culture-related initiatives and activities. As part of the proposed overhaul, the council would dissolve the city Senior Commission.
Mansoor voted against potentially expanding both commissions. Genis joined him in opposing the changes pitched for the Planning Commission, saying she was concerned they could lead to the panel being viewed as a political springboard.
"The problem I have with that is our commissions no longer seem to be citizens' commissions where you look for a balance of skill sets, you look for a balance of interests, you look for a balance of demographics, but it's all political plum and a steppingstone," she said.
Reynolds, though, said that depends on the council's motivations. She added that she thinks the resounding passage of Measure EE — a 2016 ballot measure that shifted Costa Mesa to voting districts — was "a cry for district representation."
"I really don't see an argument against it," she said.
---
All the latest on Orange County from Orange County.
Get our free TimesOC newsletter.
You may occasionally receive promotional content from the Daily Pilot.