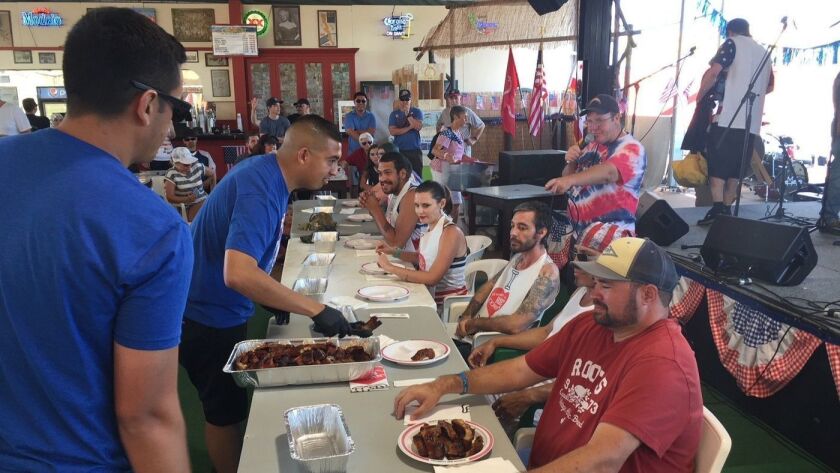 Costa Mesa Councilman John Stephens' idea to stage a second city-sponsored Fourth of July festival fizzled Tuesday night when his colleagues declined to commit funding for the cause.
Though they said they didn't doubt his intentions were good, council members said they couldn't justify opening the city's wallet to support this year's proposed event at the OC Fair & Event Center.
"I just love John Stephens — he always wants to bring everyone together and have a positive experience, and I do believe it's very well-intentioned," Councilwoman Katrina Foley said. "I just can't support this one because I'll just get beat up for it."
Stephens had asked the council to support allocating up to $50,000 for the event, which would have featured live music, concessions, bounce houses and a pyrotechnic display. It would have been held July 3 to avoid conflict with other local holiday celebrations.
Council members also decided against writing a check for a virtually identical event last year. At that time, they agreed to let it move forward as long as Stephens raised enough money to cover the cost.
Tapping into support from an array of organizations — including the Los Angeles Chargers and People for the Ethical Treatment of Animals — Stephens raked in the necessary funding and the event drew about 1,000 people to the fairgrounds, according to city officials.
Despite last year's fundraising success, Stephens said he wouldn't move forward this time without buy-in from his colleagues.
The event, he said, would be an opportunity for the community as a whole to unite in celebration.
"I really think that we need, and more importantly the community needs, an opportunity to be uplifted," he said. "And what would be a better time than when we can come together and say, 'Look, we're Americans, we're Costa Mesans, we know we're not perfect … and we don't always get along, but we can put down our differences for one evening.'"
Councilman Jim Righeimer said he hated to be a "party pooper" but that he couldn't get behind the concept.
"Just something about the money being spent on trying to come up with this new, fun party to go to I just have a problem with," he said.
Some residents pointed out that last year's event essentially cost $50 per visitor to put on — an expenditure they didn't feel was justified.
Though the party may be off this year, Stephens doesn't appear ready to extinguish the concept for good.
"There's always 2019," he said.
Twitter @LukeMMoney
---