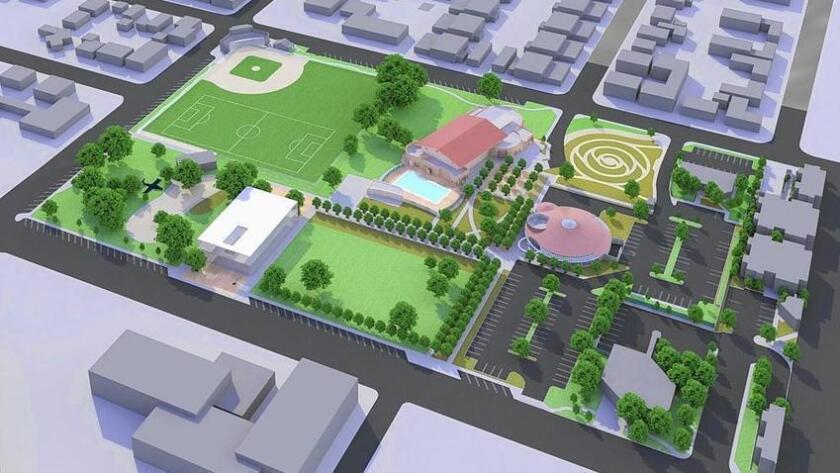 Costa Mesa's vision for the next chapter of Lions Park took another step toward reality Tuesday night when City Council members voted to approve a $28.7-million construction contract for a collection of projects, including a new library.
On a 4-1 vote, with Mayor Pro Tem Sandy Genis opposed, the council awarded the contract to Lake Elsinore-based Tovey/Shultz Construction Inc., which submitted the lowest bid.
Mayor Katrina Foley called the projects planned for Lions Park "amazing" and said she believes they will be a catalyst for improvement in the surrounding Westside area.
"I am ecstatic to be voting for this," she said. "I think this is money that is well-spent on something that's going to be long-lasting."
Councilman Jim Righeimer agreed, saying, "It speaks volumes to this council and previous councils that we really stuck together and said, 'This is really important; we're going to do it.'"
The centerpiece of the Lions Park projects — approved by the council in March — is a new 22,860-square-foot library that will be significantly larger than the 8,740-square-foot Donald Dungan Library branch currently in the park.
The Dungan library will be converted to a community center to replace the park's Neighborhood Community Center, which will be demolished.
Though Genis said she supports expanding local library services, she said she was uncomfortable with awarding the construction contract before the council has officially finalized the financing plan for the Lions Park projects.
"I think we have the cart before the horse here," she said.
She also questioned whether it was proper to devote some dollars from park and drainage fees toward the projects, as city staff has suggested.
Costa Mesa officials have said the plan is to cover the estimated $36.5-million price tag with a roughly 50-50 mix of city cash and borrowing.
Righeimer said that ratio is virtually unheard of for a major municipal capital project.
" 'Fiscally responsible' does not mean you don't spend money," he said. "It means you spend money on things that have value to the community."
Several supporters of the effort attended Tuesday's meeting.
"The steps to this point have taken vision and determination, but now you've got to add some confidence — confidence in yourselves, confidence in ourselves as a city to move forward on this project," resident Art Goddard told the council.
Other residents, though, flinched at the prospect of borrowing roughly $18 million. There's always a chance, they said, that the cost could be more than anticipated.
Beth Refakes noted that the bid for the contract awarded Tuesday came in about 4.6% higher than the city engineer's estimate.
"To me, it looks like this is going to wind up being a money pit and it's going to be 'drip, drip, drip,' " she said. "The taxpayers, unfortunately, are going to be stuck with this for the next 25 years, paying it off."
Another resident, Mary Spadoni, called the project "really hideous" and said she doesn't think the city can afford it.
"We're getting a Taj Mahal when we actually just need a functioning library," she said.
City officials have said they plan to continue looking for ways to lower the price tag wherever possible and aggressively explore grant opportunities and possible sponsorships to offset some of the costs.
The city plans a groundbreaking ceremony for the projects at 10 a.m. July 28 in the park, 1855 Park Ave.
Officials said in the spring that the goal was to wrap up the work in February 2020.
Twitter @LukeMMoney
---