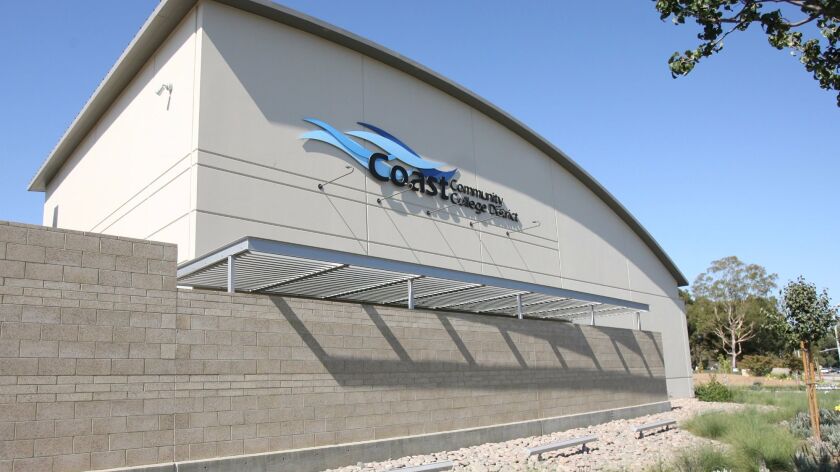 Coast Community College District trustees approved a resolution Wednesday that begins the process of establishing elections in which trustees would be elected by area rather than by voters districtwide. Critics say the current at-large system is unfavorable to minorities, and the district has been threatened with lawsuits recently.
Wednesday's move came on a 4-0 vote with trustee Jerry Patterson absent.
Coast's board has five trustees who live in and represent specific areas, or districts, but they are elected at-large.
Critics contend that setup violates state voting law by enabling white voters districtwide to overwhelm the preferences of minorities. They have argued that trustees should be elected only by voters in their areas or districts.
Coast officials approved a plan to conduct five public hearings to discuss the transition. The first two are scheduled for 5 p.m. Aug. 2 and Aug. 16 during regular board meetings at the district's office at 1370 Adams Ave. in Costa Mesa. The remaining three are to be scheduled.
The district, which runs Orange Coast College, Golden West College and Coastline Community College, intends to complete the transition by Oct. 18, according to the resolution. The move will require approval from the California Community Colleges Board of Governors.
If Coast makes the change, it would be the third public agency in Costa Mesa to do so in time for the November 2018 election. The city and the Newport-Mesa Unified School District are scheduled to hold their first district-based elections then.
All three have faced legal challenges tied to Malibu-based attorney Kevin Shenkman.
Shenkman sent a letter challenging Coast in March. William Hoang, a Newport Beach lawyer, sent the district a similar letter in May.
Twitter: @BradleyZint
---