Huntington Beach says it's ready for battle with law firm threatening to sue over city's election system
As a Malibu law firm threatens to sue over Huntington Beach's council election system, alleging that it disenfranchises local Latino voters, the city isn't backing down.
City Attorney Michael Gates sent a letter last week to the firm, Shenkman and Hughes, stating the city is "ready, willing and able to fight any such lawsuit."
Shenkman and Hughes sent city officials a letter in early April claiming that Huntington Beach's use of an at-large election system "dilutes the ability of Latinos to elect candidates of their choice" and thus violates the California Voting Rights Act of 2001.
In at-large elections, winners are chosen by voters throughout the city. Many opponents of that practice believe it enables white voters to overwhelm the choices of minorities.
The law firm, led by Kevin Shenkman and his law partner and wife, Mary Hughes, wants council members elected by districts. In that system, voters in each area would elect one council member to represent them.
Shenkman did not respond to a Daily Pilot request for comment Friday, but his letter to the city says Huntington Beach "appears to have not had even a single Latino council member in recent history."
To support his claim of disenfranchisement, Shenkman cited Latino Huntington Beach council candidates Hector Valdez, who lost in 2014, and Jim Moreno, who lost in 2002 and 2004.
According to Shenkman, each had significant support from Latino voters but couldn't win a seat because of the at-large voting system.
Shenkman, 38, is known for suing or threatening to sue cities and other local governments throughout Southern California to get them to move from at-large to district elections. Of California's 482 cities, 59 have district elections, the Los Angeles Times reported this month.
Shenkman has used the California Voting Rights Act several times as a basis to sue. The law doesn't require minority groups in California to demonstrate a geographic district where a minority is concentrated enough to establish a majority. That makes it easier for them to sue on the allegation that their votes are being diluted by at-large elections.
Gates, however, said in his letter to Shenkman that the law would be unconstitutional if applied to Huntington Beach.
The city's website says Latinos make up 19% of the population, and Gates said they account for 13% of the city's eligible voters.
However, he said, Latinos in Huntington Beach can be adequately represented in an at-large system, partly because the vast majority of Latino residents are not concentrated in certain areas of the city.
At most, Gates said, a district system would grant Latinos 23% influence over a single council candidate, as opposed to 13% influence over the entire pool of candidates in an at-large election.
"Many in [the] Latino community may decide for themselves that they would rather influence all seven elections of council members" over having a 23% influence over a single member, Gates said.
Furthermore, he said, the Voting Rights Act "improperly" placed with the judiciary the legislative process of redistricting.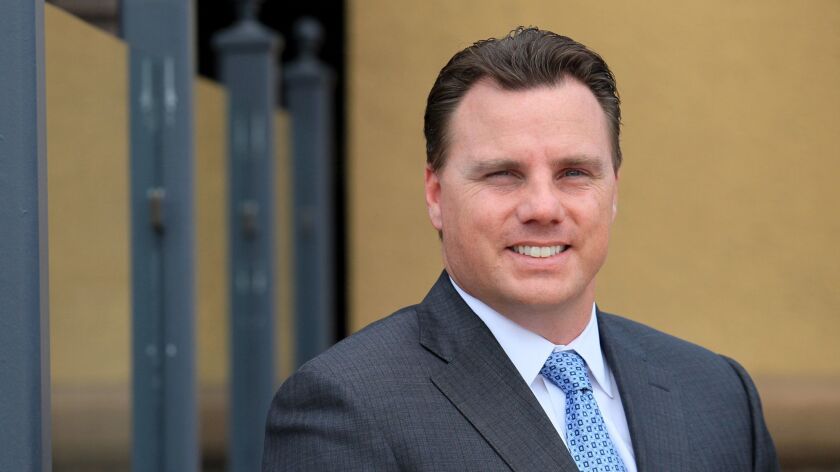 "I believe that as long as the mayor and members of the City Council are willing to defend the city against such a lawsuit, by your lawsuit you may chart a course to set new, uninvited legal precedent that finds the [California Voting Rights Act], or portions of it, unconstitutional, which will allow the city of Huntington Beach and other cities like it to conduct elections as they have been," Gates wrote in his letter.
However, according to the League of California Cities, no local government that holds citywide elections has ever won a lawsuit based on the California Voting Rights Act, the Times reported.
And Shenkman has had successes.
For example, the Newport-Mesa Unified School District announced in March that it will change to a district-based voting system in 2018 and that it had reached a legal settlement in which it would pay more than $100,000 in attorneys' fees and court costs for Shenkman's client, Costa Mesa resident Eloisa Rangel, who alleged the district's at-large election system diluted the voting power of Latino residents.
In 2012, Shenkman's firm sued the city of Palmdale and ultimately won. In a settlement, the city agreed to pay $4.5 million for plaintiffs' legal costs and to change to district elections.
Some local governments have turned to district-based elections just on the threat of a lawsuit from Shenkman's firm.
Costa Mesa, for example, will hold its first district elections in 2018. The city also agreed last year to pay $55,000 in attorneys' fees to settle a legal claim by Rangel and the Southwest Voter Registration Education Project. The claimants were represented by Shenkman.
Twitter:@benbrazilpilot
---
All the latest on Orange County from Orange County.
Get our free TimesOC newsletter.
You may occasionally receive promotional content from the Daily Pilot.