Costa Mesa paramedic is on the front line in effort to prevent first-responder suicides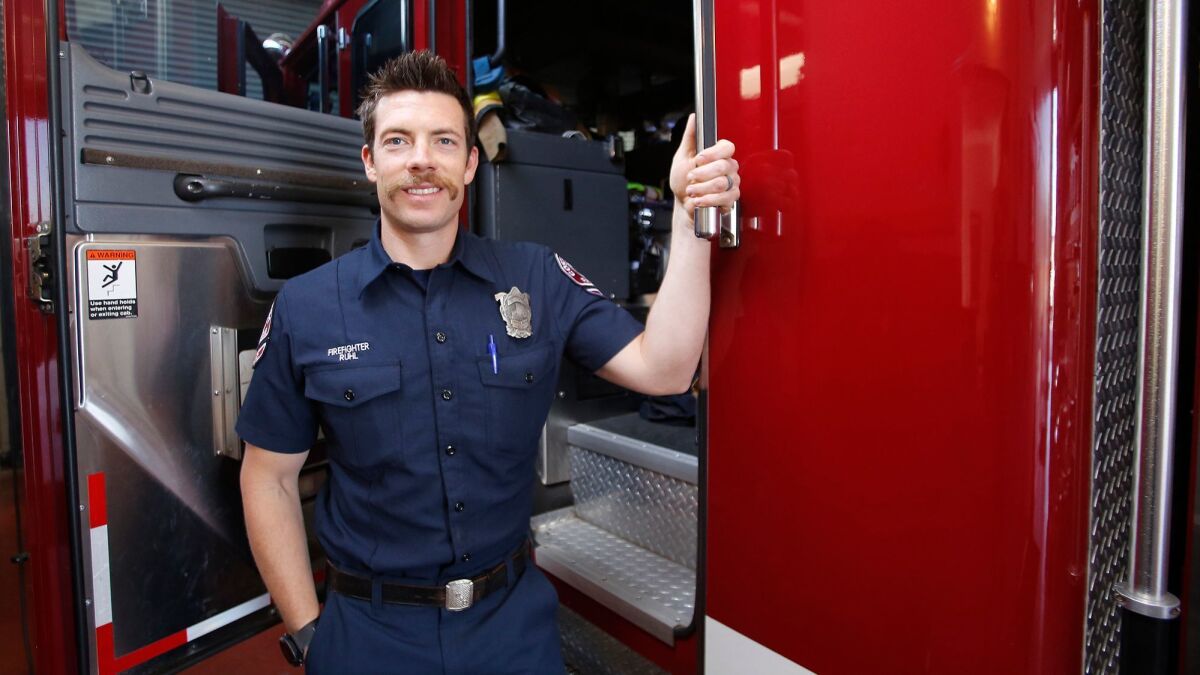 After the mass shooting at the Route 91 Harvest festival in Las Vegas, Orange County fire departments deployed support counselors to help first-responders cope with the trauma they had experienced.
Like members of many public safety agencies in Southern California, current and retired employees of the Costa Mesa Fire and Rescue Department attended the country music festival as spectators. Some suffered from survivor's guilt and trauma from what they saw the night of Oct. 1.
Costa Mesa firefighter and paramedic Mike Ruhl was one of the peer counselors who spoke with survivors, especially firefighters and paramedics who otherwise may not have sought mental health services.
Ruhl, a 31-year-old Mission Viejo resident, was recognized as Costa Mesa Fire and Rescue's Team Member of the Month in November, partly because of his passion for identifying and counseling firefighters and paramedics suffering from post-traumatic stress disorder or suicidal thoughts.
"Fortunately, I haven't had anyone close to me go down that path [suicide]," Ruhl said.
Though it hasn't gained the same attention as suicide among military veterans, suicide among firefighters is a national problem. According to the Firefighter Behavioral Health Alliance, an Arizona-based nonprofit that tracks firefighter suicides and offers workshops on prevention, the United States has had at least 711 suicides among firefighters and emergency medical services employees since 2000.
So far this year, there have been 90 confirmed suicides in that tight-knit community. The true numbers are estimated to be higher because yearly deaths are typically under-reported.
In the fire service, white males ages 18 to 24 and 40 to 55, along with people who have a traumatic history and acute or chronic stress, have been shown to be at increased risk of suicide, according to a study by Nova Southeastern University and the Broward County sheriff's office in Florida.
It is common for firefighters not to seek mental health services because they see themselves as unshakable protectors of the community, Ruhl said.
"Over time and through education and through events, we've learned that's not the best way to deal with it," said Capt. Chris Coates, public information officer for Costa Mesa Fire and Rescue.
Repeated and sustained exposure to traumatic incidents can break down mental barriers and manifest itself in isolation, alcoholism, substance abuse, gambling addiction and marital problems, Coates said.
"We have a problem and need to do something about it," he said.
The Orange County Fire Chiefs Assn. has tackled the issue through a mutual-aid program that trains firefighters and paramedics to reach out to employees in their departments or in neighboring agencies.
Plans for training peer counselors accelerated after the suicide of Capt. Eric Weuve of the Orange County Fire Authority a year ago. Weuve, 41, stepped off the Crown Valley Parkway overpass above I-5 in Mission Viejo and was struck by a big-rig. His memorial at Huntington Beach Pier Plaza was attended by hundreds of emergency services personnel from Orange County agencies.
Kristen Thompson, division chief of emergency medical services for the Newport Beach Fire Department, said taking down jurisdictional boundaries is important to make sure all affected employees get the counseling they need after a traumatic event.
In the event of a mass shooting in Newport Beach, for example, Ruhl would counsel traumatized first-responders. That would enable Newport Beach Fire Department peer support counselors to step back from a situation in which they may feel too emotionally connected.
Thompson said firefighters and paramedics shouldn't view symptoms of PTSD any differently than a back injury on the job.
"We have to break down that stigma that seeking help for a behavior health injury is different from a physical injury," Thompson said.
Whenever Ruhl approaches a co-worker, he emphasizes that their interaction is confidential. As someone who understands the stress of long hours, sleep deprivation and being absent from family events, his job is to serve as a bridge to mental health professionals.
Though Ruhl said he feels humbled to be recognized as Team Member of the Month, he's even more honored to help fellow firefighters and paramedics who are suffering.
"We operate at a very high level, and to be singled out and recognized is a huge honor," he said.
DANIEL LANGHORNE is a contributor to Times Community News.
---
All the latest on Orange County from Orange County.
Get our free TimesOC newsletter.
You may occasionally receive promotional content from the Daily Pilot.