Hatch hopes for 'quiet exit' as he departs as Costa Mesa city manager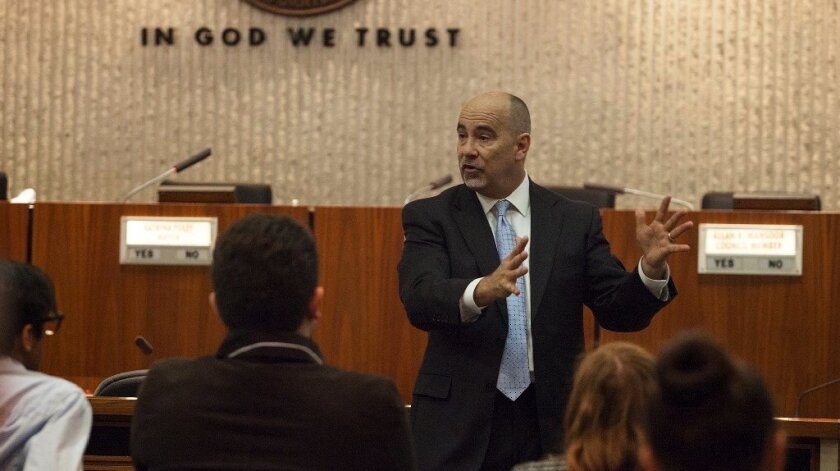 A day after a divided Costa Mesa City Council decided to terminate his contract, departing City Manager Tom Hatch said he hopes to make a "quiet exit."
"I love, care deeply about and have been honored serving the Costa Mesa community for the past 12.5 years," he wrote in a statement Wednesday afternoon. "The city of Costa Mesa has the most talented and dedicated staff of any city in Orange County, and we need to take care of those invaluable professionals and show them the respect they have earned by allowing them to do their work."
"As a departing city manager," he added, "I hope to make a quiet exit so the council, staff and community can move forward for the betterment of Costa Mesa. I want to sincerely thank the current and past city councils for giving me the opportunity to serve the best city in Orange County and wish the incoming City Council well."
He declined to offer any additional information beyond his statement or further elaborate regarding the circumstances behind his departure.
In Hatch's stead, Assistant City Manager Tamara Letourneau will take over temporarily as acting city manager, according to city spokesman Tony Dodero.
Hatch's tenure as city manager came to an end Tuesday, when the council in closed session voted 3-2 — with members Katrina Foley and John Stephens opposed — to terminate his contract.
However, both Foley and Stephens said Tuesday that Hatch effectively left the position earlier, as he had already moved out of his office.
"If he decided he didn't want to work for the new council, then I think the appropriate thing for him to do would have been to resign," Stephens said, referencing the results of last week's election — which saw voters choose Foley to be the city's first directly elected mayor and elevate Manuel Chavez, Andrea Marr and Arlis Reynolds to the council.
Councilman Jim Righeimer, though, said Hatch left because "it was clear to him, at least, that he wasn't going to be around much longer," given the election results — an allegation Foley called "just a flat-out misrepresentation."
As a result of the council's vote, Hatch is entitled to nine months' severance pay, which he will receive by Dec. 15. His annual pay was set at $237,960 under a contract revision approved last March.
Prior to becoming Costa Mesa's head administrative employee in 2011, Hatch served as assistant city manager for more than four years.
Twitter @LukeMMoney
---
All the latest on Orange County from Orange County.
Get our free TimesOC newsletter.
You may occasionally receive promotional content from the Daily Pilot.