Costa Mesa's newly elected mayor and 3 council members take their seats
A new era began for Costa Mesa politics Tuesday evening amid cheers and standing ovations with the swearing in of three new City Council members and the city's first directly elected mayor.
It was standing-room only at the Senior Center — the council's temporary meeting site while renovation progresses at City Hall — to see newly elected members Arlis Reynolds, Manuel Chavez and Andrea Marr join the council and new Mayor Katrina Foley return to the post she held in 2017 before council colleagues stunningly unseated her.
For the record:
10:00 a.m. Dec. 5, 2018The original version of this article incorrectly identified Jim Righeimer's daughter Morgan as Ellie.
Councilman John Stephens was appointed mayor pro tem.
It also was a chance to say goodbye to Councilman Jim Righeimer, who was first elected to the council in 2010 and is termed out.
The festivities began with a performance of the national anthem by Mariachi Herencia Michoacana Group, a youth ensemble. The choice helped signify new Latino representation on the council, which is believed to be a first in more than 60 years of city history.
Orange County Superior Court Judge Karen Robinson, a former Costa Mesa mayor, administered the oath of office for Foley and the new trio.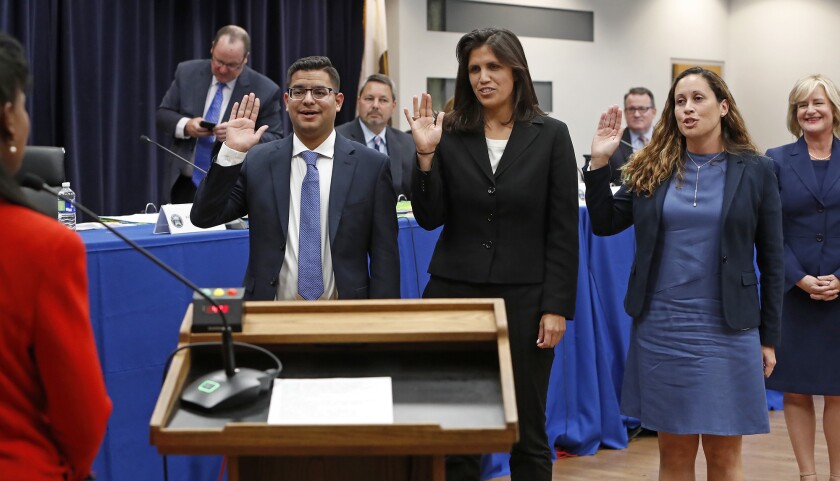 Marr, of District 3, said she will practice "authenticity" and follow her "moral compass" throughout her term.
"I'm going to be myself up here, whether you like it or not," she said. "I think that's what people want — honestly in their leaders."
Chavez, who at 23 may be the youngest council member in city history, noted how this year's debut of district-based council races helped put people with Latino heritage on the expanded seven-member dais. He was elected in District 4, a predominantly Latino slice of the Westside.
"We went from zero to three," he said, referring to himself, Reynolds and Marr.
Reynolds, of District 5, talked about her family's heritage of public service and her hard-working nature.
"I'm really excited to get to work with all of you," she said. "Please do stay engaged and let's get to work."
Foley — a council veteran who has been on the panel since 2014 and also was elected in 2004 and 2008 — returned to the mayor's seat after being removed from it on a 3-2 council vote in November 2017. Last month, she won it back against her successor, Sandy Genis, in a race that was Costa Mesa voters' first opportunity to directly elect a mayor. Previously, council members chose the mayor from among themselves.
Foley said she will exemplify her long-running campaign slogan, "Making Costa Mesa better for families." She said the new council will lead "with civility and respect for everyone, even with people we disagree with."
Genis, who will serve the remainder of her council term, which is up in 2020, said the city must stay away from a "winner-take-all attitude."
"My vision is a city where there's a spirit of justice, there's a spirit of truth and there's a spirit of service," Genis said. "I hope we would move forward with that attitude in the coming years."
Genis voted with the majority last year to remove Foley as mayor, saying she felt Foley sometimes disregarded the council's consensus on how to conduct certain business.
In his departing remarks, Righeimer said he does not plan to return to public life but wants to continue his affordable-housing efforts. He thanked his current and former council colleagues and emphasized that he always did what he thought was best — despite frequent clashes with Foley and criticism from local activists — and told his growing daughters to do that too.
He added that he feels "very happy about where we are in this community. I know that the best days … are forward from here on."
One of Righeimer's daughters, Morgan, earned applause from the audience when she thanked her dad for his service.
"My dad has thick skin," she said. "You can all learn something from him."
Bradley Zint is a contributor to Times Community News.
---
All the latest on Orange County from Orange County.
Get our free TimesOC newsletter.
You may occasionally receive promotional content from the Daily Pilot.